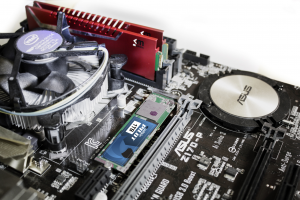 Forging the Future of Storage
Mushkin Pilot M.2 2280 PCle Gen3x4 NVMe SSD delivers premium storage performance, maximum reliability, and impressive endurance from a very small footprint. It will be a brand-new experience for DIYers. Don't settle for boring old storage and get your PC performance skyrocketed.
Faster Speed
No more performance hiccups even with heavy workloads and multi-tasks. Mushkin Enhanced Pilot Series SSD performs at sequential writes up to 1775 MB/s* and sequential reads up to 2710 MB/s*. It delivers 4KB random read speed of up to 283,000 IOPS*, and 4KB random write speed of up to 283,000 IOPS*.
Compact Form Factor
Mushkin Enhanced Pilot Series SSD is dimensioned at only 22 x 80 x 3.8mm (2280). Enjoy seamless integration into any ultra-small computing device, such as ultrabook.
Mushkin Enhanced Data-Protection Suite (M.E.D.S)
Built-in LDPC ECC provides the most vigorous data correction level available
End-to-end data path protection
Data shaping means greater endurance
StaticDataRefresh bolsters data integrity
Global wear-leveling provides increased stamina
3D NAND Flash
3D NAND Flash makes large capacity up to 1TB a reality with better storage density. It also delivers better reliability than 2D Flash. You can store seas of media files.
More SSD Advantages
Use Mushkin Enhanced Pilot Series SSD with peace of mind. It is shock resistant. With support for TRIM instructions, enjoy continuous and fast response.
* All data is for the 1TB model. Speeds may vary by capacity.