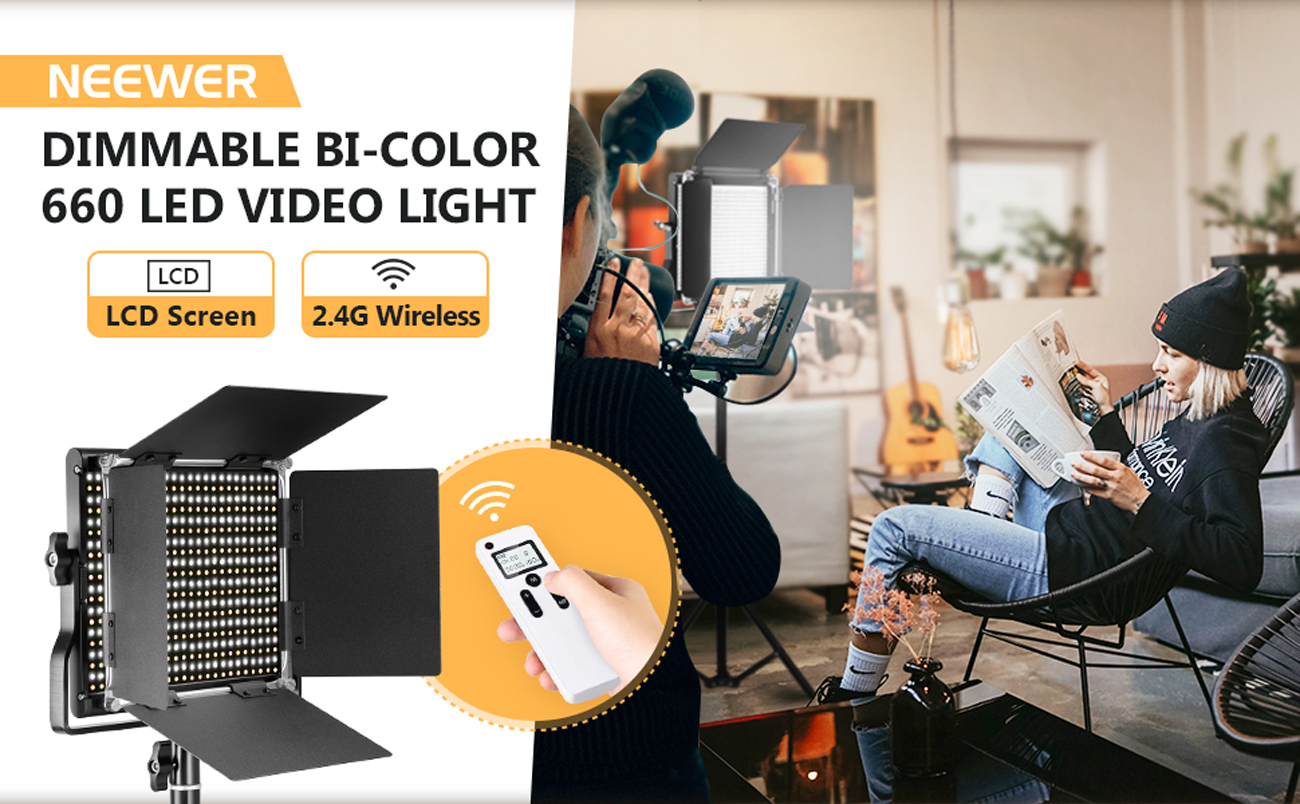 Neewer Advanced 660 LED Video Light, Dimmable Bi-Color LED Panel Lighting with LCD Screen and 2.4G Wireless Remote
This Video Light features 2 separate knobs on the back of the panel to adjust the color temperature from 3200K to 5600K and adjust the brightness according to your needs. White filter can make soften the light source and enhance skin tone in portraits photography.
Specially come with 2.4G Wireless Remote Control, it can easily adjust brightness, CH and color temperature within 20 meters distance of led light, allowing you to control one 660 light or control multiple 660 lights at the same time by setting the channel No. of the remote as "88" to achieve more creative work.
Note: Battery for led panel and battery for remote are Not Included.
660 LED Video Light:
LED Beads: 660 Pieces(330 White+330 Yellow)
Voltage: DC 12-15V; Power: 40W; Color Temperature: 3200-5600K; Lumen: 3360Lux/m; CRI: 96+
Battery Output: DC 14.8V; Input Voltage: 110-130V
Power Source: Power Adapter or Sony NP-F550 NP-F970 Li-ion Battery; Note: Battery is not included
2.4G Wireless Remote Control
Channels: 1-10 and "88"; Transmission Range (Approx.): 2.4G, 20m
Package Contents:
1x Dimmable 660 LED Video Light with LCD Screen; 1x White Diffuser; 1x Power Adapter; 1x Power Cable; 1x 2.4G Wireless Remote (Battery Not Included); 1x Carry Bag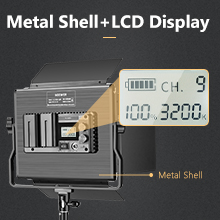 Metal Shell+LCD Display
Made of premium aluminum alloy material with excellent heat dissipation, it shows simple and elegant appearance and great for long time use.
Equipped with clear LCD screen, it will display the brightness, color temperature and power status of the light.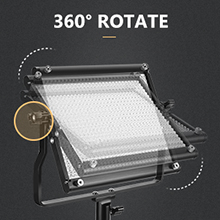 360 Degree Rotatable
Adjustable U mount bracket enables the light to rotate 360 degree to find appropriate angle for your creative work.
Detachable barndoor included helps better control the light, keeping stray light from other areas from reflecting into the camera lens and causing flare. When you close the barndoor, it can protect the lamp beads.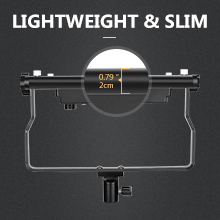 Lightweight & Slim
Light Panel Size: 9x7.87x0.74 inches/23.2x20x1.9 centimeters.
Slim and lightweight structure is convenient for you to carry around.
Powered by AC power adapter (Included) or Sony NP-F550 NP-F970 Li-ion Battery (Not Included). Perfect to use both indoor and outdoor.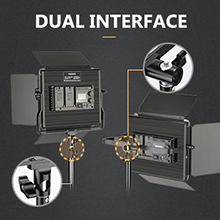 Dual Installation Interface
Come with adapter on the bottom of the panel light with dual installation interface, it supports the light's installation on light stand vertically and horizontally. More creative for your work.