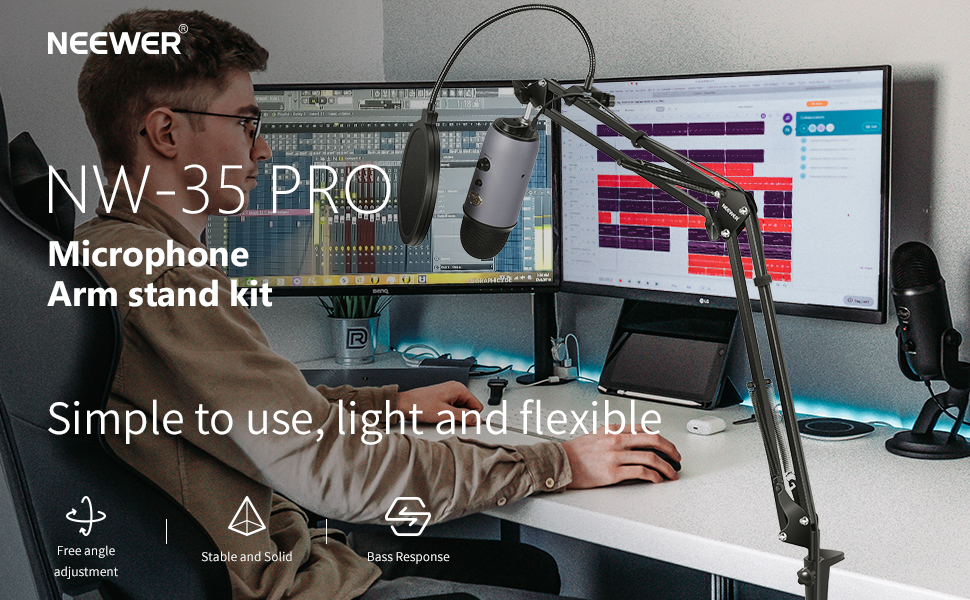 Neewer Upgraded NW-35 Pro Mic Stand Sturdier Microphone Arm Stand Compatible with Blue Yeti Snowball Ice, Max. Load 1KG
Compatible with heavy-duty microphones (Blue Yeti Snowball Microphone & Blue Yeti Nano, etc) and some other standard-sized hand microphones and partially condenser microphones.
Ideal for home, stage, and studio, podcasts, meetings, videos, lectures, broadcast, TV stations, and more.
Specifications:
Material (Shock Mount & Arm Stand): Iron
Material(Mic Clip): Plastics
Weight: 27.16oz/0.77kg
Max. Load: 2.2 lbs /1 kilograms
Each Arm length: 13.8 inches/35cm
Mic Clip Diameter: 1.8-2 inches/46-52mm
Shock Mount Max. Diameter: 2.05 inches/5.2cm
Package Contents:
1x NW-35 PRO Microphone Stand, 1x Mic Pop Filter, 1x Shock Mount, 3x Cable Straps, 1x Desk Clamp Mount, 1x 3/8" Male to 5/8" Female Screw Nut, 1x Foam Cap, 1x Tape, 1x Mic Clip
Universal microphone clip
Adapt to most long-handled microphones, adjustable angle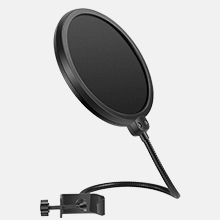 Pop Filter
Prevent interference caused by spraying wheat and breathing sound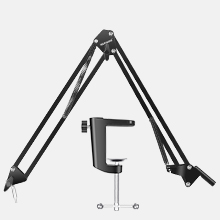 Scisssor Arm Stand
This Flexible Suspension Boom Scissor Arm Stand can be rotated to various direction for largely meeting your requirement.
Length of single scissor arm stand is 13.8 inches/35cm
Metal Shock Mount
Metal construction anti-shock mount can effectively reduce unwanted vibration, effectively prevent the noise of the jitter during recording.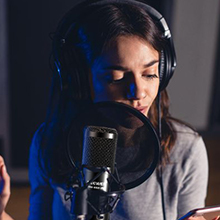 Singing and recording
Accurate recording range, able to capture instrument sound well
Game live
Noise reduction performance, convenience, make your live broadcast process more relaxed and enjoyable
Broadcast dubbing
Reduce noise and interference sound, provide convenience for post-production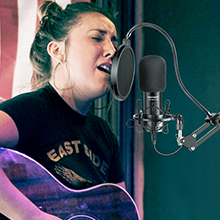 Song recording
Anti-blasting and anti-noise, let you sing boldly and show your voice