Featured Products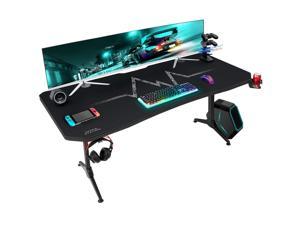 09/28 Yeston NVIDIA Graphics Cards, KILLABEE Massage Gaming Chair & More
Hey, Eggheads! Welcome to another jam-packed and exciting episode of Newegg Now. We got some lit items for you to see. First off, we have the Yeston NVIDIA Graphics Card, a powerful card with a touch of aesthetic appeal. It has a core clock of 1440/1710MHz along with 3 fragrant fans, RGB synchronization, and a high-efficiency heat dissipation module. Not to mention the beautiful anime-inspired artwork that is eye-catching. Next up is the IPASON AMD Ryzen 5 5600G Gaming Desktop. This premium gaming PC features 4 copper air pipes for sufficient cooling and a 550W 80 Plus power supply. If you're a gamer looking into a cost-effective gaming PC, this is the one for you. After that, we have the Wavlink USB-C Docking Station which will surely boost your productivity if you're working with tech. Simply connect with a wide range of devices through a single USB-C connection. You'll be able to effortlessly charge your laptop, transfer files, listen to music, and more. Coming up is the Fenvi FV-AXE3000R Wireless Adapter. This adapter delivers higher peak data rates and up to 4x the capacity for online functionalities such as steadier online gaming and 8K Ultra HD video streaming. Next on the list is the HUANUO HNTS3W Triple Monitor Stand, which is ideal for flexible multi-tasking and offers extra desk space. The universal triple monitor stand can fit three 13" to 27" monitors and adjusts in full-motion for easier positioning. Looking for a reliable desk to hold up your rig? The Furmax 63-Inch Gaming Desk is made of a carbon fiber plate with grain designs on the surface. With multi-function features and a sturdy frame, the desk will surely accommodate your gaming needs and ensure durability. Moving forward, we have the KILLABEE Massage Gaming Chair. For those long gaming sessions, it's no wonder that you'll want to game in comfort. The chair is constructed with memory foam and has a detachable massage lumbar support along with a heavy-duty metal base for ground stability. Lastly, any gamer or PC user needs a crystal clear, high-resolution monitor that is important for any PC set-up. The KOORUI 24-Inch Monitor is sleek, stylish, and ultra-fast with a 165Hz refresh rate and 1ms response time. That way, it reduces lag and frame rendering while users can view stunning images and media in vibrant, life-like details.
MORE NEWEGG NOW PRODUCT VIDEOS
Pricing subject to change and any price mentions in the livestream are only valid during the livestream.