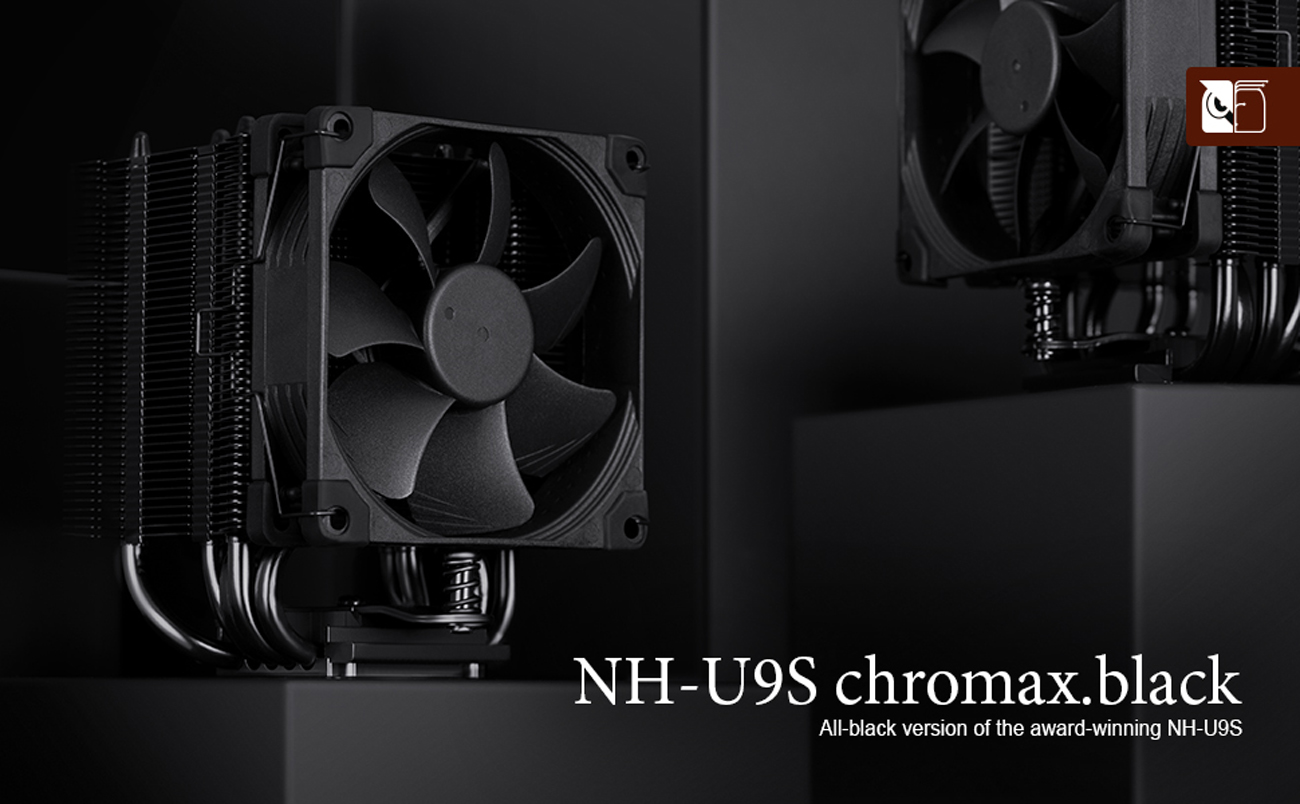 The NH-U9S chromax.black is an all-black version of Noctua's award-winning NH-U9S premium-quality quiet CPU cooler. Thanks to the same proven compact 92mm tower heatsink design and NF-A9 PWM fan, it stays true to the NH-U9S's successful formula of fusing strong cooling performance with excellent quietness of operation and outstanding RAM, case and PCIe compatibility. At the same time, the chromax.black version with its black fan and black coated heatsink combines these assets with a sleek stealth look. Topped off with the renowned SecuFirm2 multi-socket mounting system and Noctua's enthusiast-grade NT-H1 thermal compound, the NH-U9S chromax.black is a premium choice for customers who seek a compact, highly compatible 92mm heatsink that looks just as great as it cools.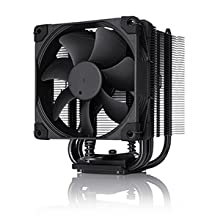 Award-winning NH-U9S cooler
Tens of thousands of enthusiast users all over the world swear by the NH-U9S's quality and performance. Recommended by more than 100 international hardware websites and magazines, it is renowned as being one of the best 92mm coolers on the market.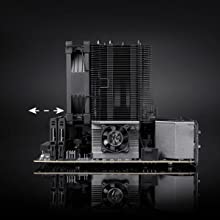 100% RAM compatibility
With its 95x95mm footprint, the NH-U9S does not overhang the RAM slots on current Intel and most AMD mainboards. This gives the user full access to the memory modules and ensure 100% compatibility with tall RGB modules, large heatspreaders or optional memory fans.
100% compatibility with PCIe cards on mini-ITX
Many mini-ITX motherboards have the PCIe slot sitting close to the socket zone. While larger coolers that exceed this zone are likely to block the PCIe slot, the 95x95mm sized NH-U9S provides full compatibility with PCIe cards, be it on ATX, microATX or ITX.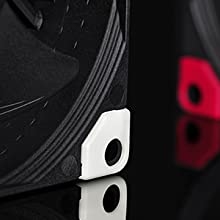 Color-customisable
Using the optional NA-SAVP5 anti-vibration pads (available in black, blue, green, red, yellow, white), the NH-U9S chromax.black can be fully customised to fit popular build colour schemes such as black and red or black and white.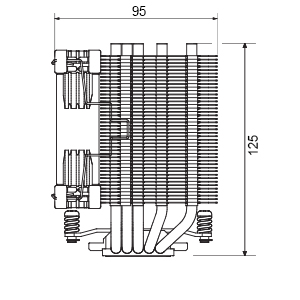 Cooler Specification
Scope of delivery
Black NH-U9S heatsink
NF-A9 PWM chromax.black premium fan
NA-RC7 Low-Noise Adaptor (L.N.A)
NT-H1 high-grade thermal compound
Black SecuFirm2 mounting kit
Black fan-clips for second NF-A9
Noctua Metal case badge
Fan compatibility:
92x92x25mm
Measurements
Height (without fan): 125 mm
Width (without fan): 95 mm
Depth (without fan): 68 mm
Height (with fan): 125 mm
Width (with fan): 95 mm
Depth (with fan): 95 mm
Weight (without fan): 524 g
Weight (with fan/s): 618 g
Materials
Copper (base and heat-pipes), aluminium (cooling fins), soldered joints & nickel plating.

Chromax.black design
The NH-U9S chromax.black is black from head to toe: Featuring a black coated heatsink, a black fan with black anti-vibration pads, black fan clips and black mounting parts, it's right at home in all-black builds and easy to integrate with other colour schemes.
| | | | | |
| --- | --- | --- | --- | --- |
| | NH-U9S | NH-U9 TR4-SP3 | NH-U9DX i4 | NH-U9S chromax.black |
| LGA2066 | ✓ | X | ✓ | ✓ |
| LGA2011-0 & LGA2011-3 | ✓ | X | ✓ | ✓ |
| LGA1200 | ✓ | X | X | ✓ |
| LGA115x (LGA1150, LGA1151, LGA1155, LGA1156) | ✓ | X | X | ✓ |
| LGA775 & LGA1366 | with NM-I3 | X | X | with NM-I3 |
| Xeon LGA2011 Narrow ILM / Xeon LGA1366 & LGA1356 | X | X | ✓ | X |
| Xeon LGA3647 | X | X | X | X |
| AM2(+), AM3(+), FM1, FM2 (+) | ✓ | X | X | ✓ |
| AM4 | ✓ | X | with NM-AM4 | ✓ |
| sTRx4, TR4 & SP3 | X | ✓ | X | X |