Are you an E-Blast Insider?

Shop without retyping payment details. Secure shopping made faster.
Check out with PayPal.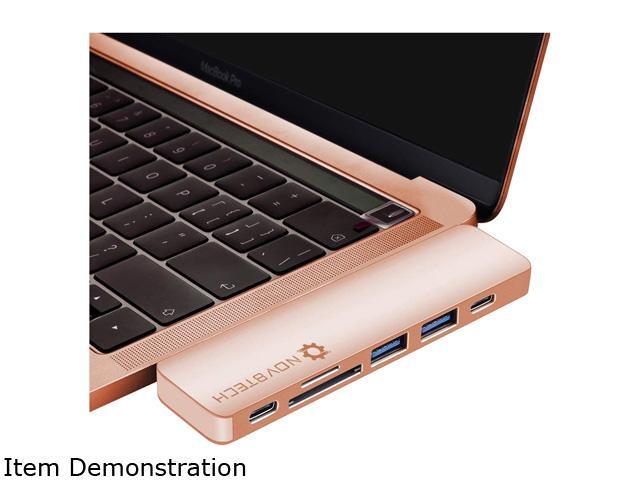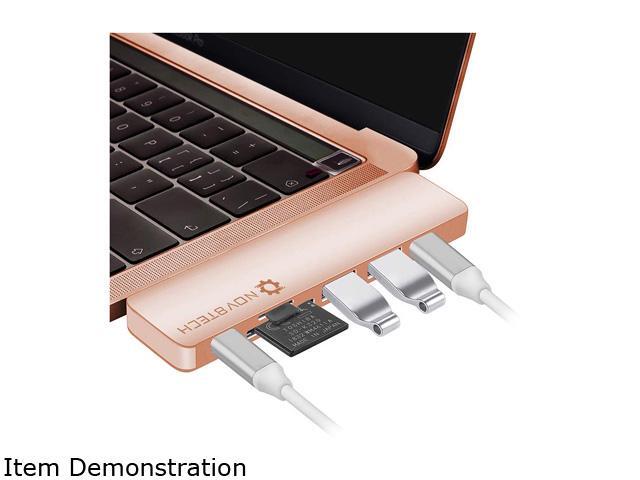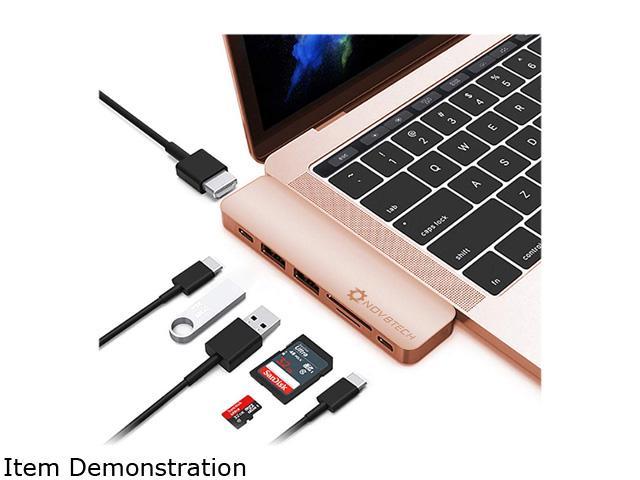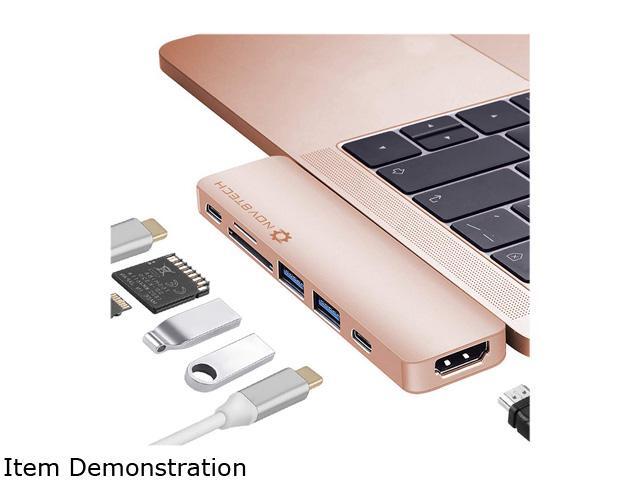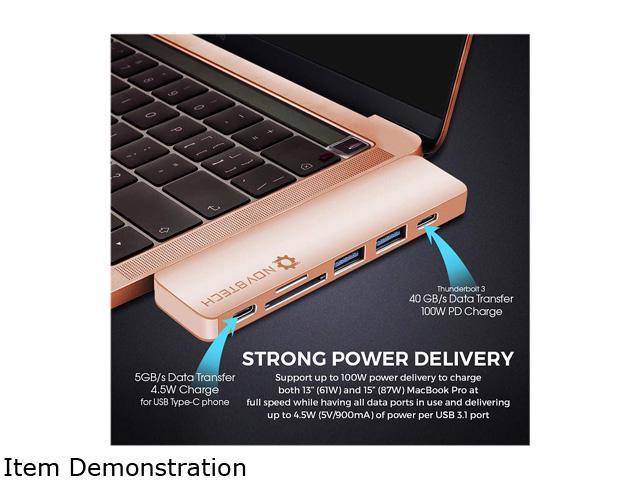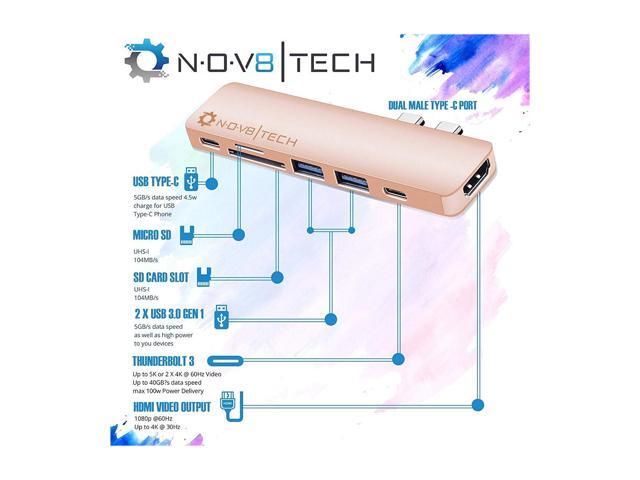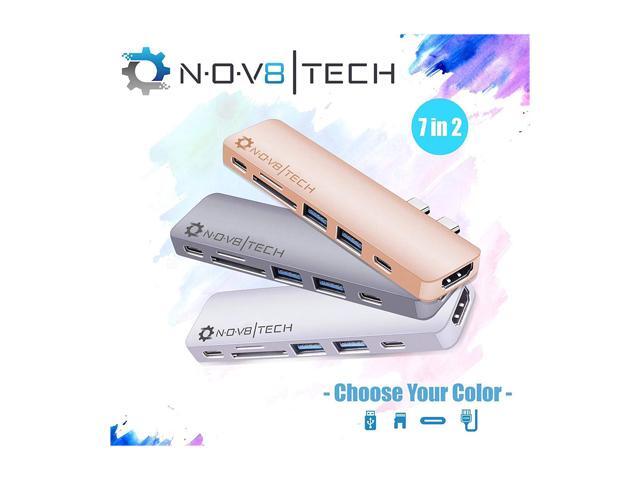 NOV8Tech USB C Hub Docking Station for MacBook Pro 2019-16 and MacBook Air 2019-18 7 in 2, 4K HDMI, Thunderbolt 3 100W PD Charger 40GBps Data, 2xUSB 3.0, USB 3.1 C 5GBps, SD/MicroSD Card Reader 7 in 1
In stock.
Ships from United States.
Most customers receive within 3-9 days.
PROFESSIONAL DESIGN: Our USB-C Hub's configuration and capabilities are modeled after the MacBook Pro 13"/ 15" 2016-2018 and MacBook Air 2018, thus offering the most adaptable USB-C hub, both in design and technology. Plus, it's aluminum alloy casing and color options perfectly match Apple's unique design and makes the USB-C Hub an unrivaled companion to your laptop!
MAXIMUM ADAPTABILITY: The 7 in 1 aluminum USB-C Hub comes in Space Gray, Gold, and Silver, matching the Apple product line colors. Its compact and smart design allows you to bring the complete capabilities of your laptop to the next level. Have your data completely secure and accessible, on the go. Start using your laptop's full potential and enjoy maximum connectivity. It also comes with SD/Micro SD Card Reader, so you have extra storage room to spare.
HIGHEST DEFINITION & STREAMING: Start streaming the highest resolution videos and shows via its 4K HDMI port. What's more, you can stream up to 5K via its Thunderbolt 3 port. It features one (1) USB C 3.1 port, two (2) USB 3.0 A ports and as well as one (1) 4K HDMI output video port, so you can plug to any device and enjoy all the USB-C hub has to offer. Kindly note this USB-C can support up to 3840x2160 4K@30Hz, 1920x1200, 1920 x 1080, 1280 x
1024. Lower resolutions must be set at 60Hz. FASTEST CHARGE & FASTEST DATA TRANSFER: Thanks to its Thunderbolt 3 port, (Max 100W PD with 40GB/s data) our USB-C hub can provide this max power and max data speed transfer to both 13" and 15" Mac
Book Pro. In addition, you won't need to download any software or wizard to start using it, just plug and play! Note that the USB type-c 3.1 data port can relay up to 5GB/s data speed transfer.
VALUE-ADDED PERKS: Buying the 7-in-2 USB-C hub will also get you: a welcome and setup guide, a 12-month warranty. We stand behind our products. If anything does not seem right, please contact us through Amazon messages. Our team will be happy to respond to your queries in 24 business hours or less through Amazon messages.
WARNINGS:
1. We have noticed most returns stem from customers purchasing silver for their space gray Mac
Book device or space gray for a silver Mac
Book device. Please note the exact color of your Apple Mac
Book device prior to purchasing.
2. Please note that the USB hub will NOT be able to connect to your Apple Mac
Book device if your Apple Mac
Book has a case on it. None of the pictures demonstrate that the USB Hub is compatible with an Apple Mac
Book device that contains a cover on it. STAY CONNECTED TO YOUR BIG SCREEN TV Thanks to its HDMI 4K/30Hz HD port now you may transfer a 4K resolution at 30Hz and 1920x1080 (1080P) at 60Hz. It enables you to directly stream 4K HD or FULL HD 1080p video to HDTV, monitors, or projectors. Compatible Apple Mac
Books: Apple Mac
Book Air 2018/2019 Apple Mac
Book Pro 13-inch 2016/2017/2018/2019 Apple Mac
Book Pro 15-inch 2016/2017/2018/2019 USB C Hub Type-C Mac
Book Pro Adapter 4K HDMI micro
SD/SD Thunderbolt Ethernet Mic/Audio Fast Charging USB C Hub Type-C Mac
Book Pro Adapter 4K HDMI micro
SD/SD Thunderbolt Ethernet Mic/Audio Fast Charging WARNINGS:
1. We have noticed most returns stem from customers purchasing silver for their space gray Mac
Book device or space gray for a silver Mac
Book device. Please note the exact color of your Apple Mac
Book device prior to purchasing.
2. Please note that the USB hub will NOT be able to connect to your Apple Mac
Book device if your Apple Mac
Book has a case on it. None of the pictures demonstrate that the USB Hub is compatible with an Apple Mac
Book device that contains a cover on it. USB C Hub Type-C Mac
Book Pro Adapter 4K HDMI micro
SD/SD Thunderbolt Ethernet Mic/Audio Fast Charging USB C Hub Type-C Mac
Book Pro Adapter 4K HDMI micro
SD/SD Thunderbolt Ethernet Mic/Audio Fast Charging STAY CONNECTED TO YOUR BIG SCREEN TV Thanks to its HDMI 4K/30Hz HD port now you may transfer a 4K resolution at 30Hz and 1920x1080 (1080P) at 60Hz. It enables you to directly stream 4K HD or FULL HD 1080p video to HDTV, monitors, or projectors. Compatible Apple Mac
Books: Apple Mac
Book Air 2018/2019 Apple Mac
Book Pro 13-inch 2016/2017/2018/2019 Apple Mac
Book Pro 15-inch 2016/2017/2018/2019 USB C Hub Type-C Mac
Book Pro Adapter 4K HDMI micro
SD/SD Thunderbolt Ethernet Mic/Audio Fast Charging USB C Hub Type-C Mac
Book Pro Adapter 4K HDMI micro
SD/SD Thunderbolt Ethernet Mic/Audio Fast Charging USB C Hub Type-C Mac
Book Pro Adapter 4K HDMI micro
SD/SD Thunderbolt Ethernet Mic/Audio Fast Charging INTEGRATED PORTS USB C Multiport Adapter: 2 x USB 3.0 Ports---up to 5 Gb/s 1 x USB C Type 1 x SD Card Reader---up to 512GB 1 x Micro
SD/TF Card Reader--up to 512GB 1 x Thunderbolt 3 Type-C PD Power Delivery-up to 100W 1 x HDMI Port---480p/720p/1080p/2K/4K
Warranty & Returns
Warranty, Returns, And Additional Information
Manufacturer Contact Info