HUE 2 RGB Lighting Kit
Consisting of one HUE 2 RGB controller and four LED strips (10 individually addressable RGB LEDs per strip), the HUE 2 RGB Lighting Kit lets you create a perfect lighting environment for your build easily. You can place the HUE 2 on PSU shroud or behind motherboard tray, and easily attach the magnetic LED strips on any metal surface. Intuitive CAM software makes it easy to change modes and sync lighting effects.
The HUE 2 offers four channels, and supports up to six accessories or a maximum of 40 LEDs per channel for maximum customizability.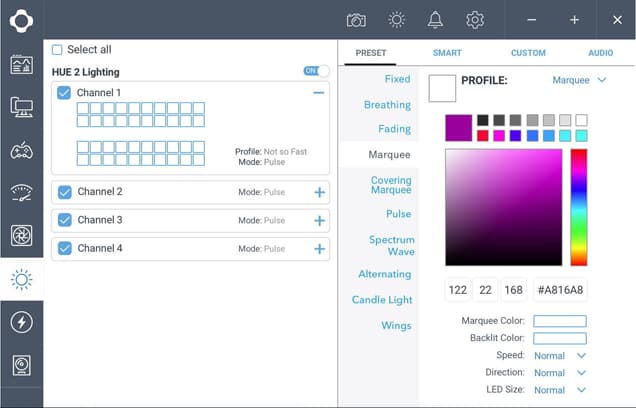 FASTER, SMARTER, BETTER SYNC
Featuring an advanced microprocessor, the HUE 2 delivers an amazing array of RGB lighting effects, synchronized across all HUE 2 accessories. Using CAM's intuitive interface, you can easily choose from a wide variety of preset, smart, and custom modes to create the perfect look for your PC.
MORE ACCESSORIES
The HUE 2 has a wide range of accessories that combine to create amazing PC lighting. Because each HUE 2 accessory is smart, CAM can auto-detect them, and you can mix-and-match them on any channel. HUE 2 supports up to six accessories and a maximum of 40 LEDs per channel and is compatible with existing HUE+ accessories*.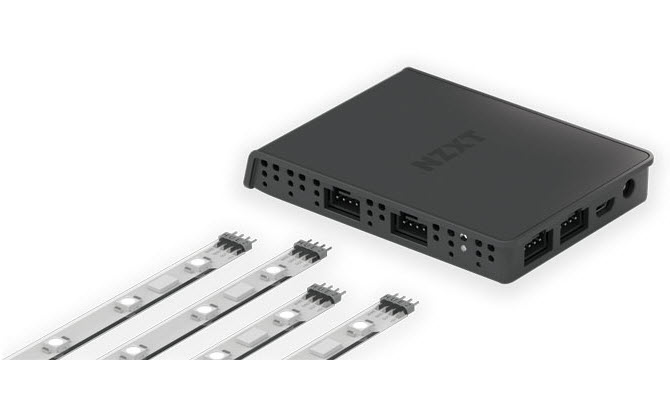 SIMPLE INSTALLATION
Everything you need to get started with RGB lighting is included: a HUE 2 RGB controller, four LED strips, and all required cables. The HUE 2 is designed to fit easily into your system, and the included RGB LED strips are magnetic and include double-sided tape so they can be placed virtually anywhere in your system.
Note:
* HUE 2 RGB lighting Kit is compatible with HUE+ LED strips and Aer RGB fans but cannot be mixed with HUE 2 accessories in the same channel. For HUE 2 accessories, each channel supports up to 40 LEDs and up to 6 accessories.