Free Calling with Your Home Phone
Use your existing home phone and your broadband router to make and receive calls over the Internet for free (or at a very low-cost).
Obihai OBi100 VoIP Telephone Adapter with Google Voice & SIP
Use your existing corded or cordless phone(s) and your broadband Internet to make and receive calls over the Internet for FREE (or at a very low-cost).
Via the OBi100's on-board phone connection, you have the power make and receive phone calls using VoIP services for FREE or at a fraction of the cost a traditional phone company would charge. The OBi100 supports up to two (2) VoIP services like Google Voice, RingTo, Anveo, Phonepower, OneSuite or a multitude of other SIP Internet phone services as well as calls to other OBi endpoints via Obihai's free OBiTALK network
Why You Will Love the OBi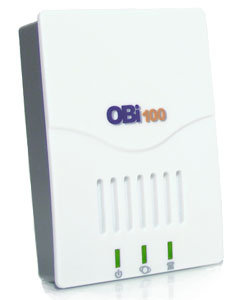 Save Money
Use

free

and low-cost VoIP services from OBiTALK Approved Service Providers to lower your phone bills... Maybe to

nothing!

Pay Only for the Device - It's Not Locked to a Service!
Easily add VoIP services, to make & receive phone calls to and from regular numbers. In addition, OBi to OBi calls are

free

.
Computer Not Required
All you need is your existing home phone and broadband router.
Fantastic Voice Clarity
Talk with your family and friends anywhere in the world, from the comfort of your home telephone.