Obihai OBi200 VoIP Telephone Adapter
With Support for Four (4) SIP and OBiTALK VoIP Services
Via the OBi200's on-board telephone connection as well as via the Internet to other OBi endpoints via Obihai's free OBiTALK network or up to four (4) available VoIP services, you have the power to make and receive phone calls and faxes as well as bridge mobile, fixed line and Internet telephone services. It is a dedicated device, built with a high-performance system-on-a-chip platform to ensure high quality voice conversations.
At about 2.7 inches square, the OBi200 packs the most power per square inch. The OBi200 supports T.38 fax for reliable facsimile calls over the Internet as well as a USB port for use with OBiWiFi and OBiBT.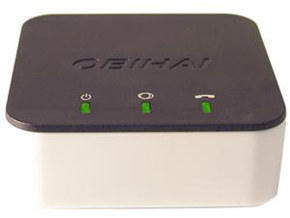 Versatile USB Port
The USB port serves multiple purposes. Using the OBiWiFi Wireless Adapter, the OBi200 can be placed anywhere within range of an 802.11b/g/n access point. Or, the USB port can be connected to a storage device to enable local and remote access of stored files over the Internet by authorized users.
Easy To Operate
The OBi200 has high availability and reliability because it is always-on to make or receive a call. With the OBi200, a computer is not required and a computer does not need to be on to talk to people. To get started, all you need is a phone, power and a connection to the Internet.
The OBi200 is Complemented by Other OBi Products & Services
OBiTALK: A web portal for device management and service configuration. OBiTALK also allows its members to add people and associated OBi endpoints to "circles of trust" such that additional functionality can be shared amongst authorized users. The OBiTALK portal is also where members can download the OBiON applications for smart phones and Internet connected devices like the iPhone, iPad, iPod touch & Android.
OBiON iPhone, iPad, iPod touch & Android Devices:
An application for iPhone, iPad, iPod touch and Android devices which makes possible placing and receiving calls to/from other OBi endpoints.
OBiON PC:
A middleware application for a PC that facilitates placing and receiving calls to/from other OBi endpoints.
Key Features of the OBi200 VoIP Telephone Adapter:
SIP Service Provider Support for Up to Four (4) SIP Accounts
Any Available Service Can be Accessed from the Phone Port
Aggregation / Bridging of Four (4) SIP and One (1) OBiTALK Service
Automatic Attendant for Simplified Call Routing (AA)
Call Back Service – Automatic Call Back to Connect User to the AA to Make a New Call or Ring the Attached Phone
OBiTALK Web Portal Integration
Configuration and Management of OBi Endpoints
Download OBi Client Applications for Smart Phones, Internet Devices & PCs
Creating & Joining Circles of Trust So You Can Share Your OBi
Setting Up Your OBi Endpoint Speed Dial Directory
Configurable to Work with Any SIP Compliant Internet Telephone Service
Analog Phone Impedance Agnostic
Robust Telephony Features:
Caller ID – Name & Number
Call Waiting
Message Waiting Indication - Visual and Tone Based
Speed Dialing of 99 OBi Endpoints or Numbers
Three Way Conference Calling with Local Mixing
Hook Flash Event Signaling
Call Forward - Unconditional
Call Forward on Busy
Call Forward on No Answer
Call Transfer
Anonymous Call
Block Anonymous Call
Do Not Disturb
Call Return
Repeat Dialing
Caller ID Pass-Thru
Powerful Call Routing & Voice Service Features:
SIP Support for Voice and Fax Over IP (T.38 and G.711 pass-thru) from Internet Telephony Service Providers
OBiTALK Managed VoIP Network for OBi Endpoint Devices & Applications
High Quality Voice Encoding Using G.711, G.726, G.729, iLBC Algorithms
Recursive Digit Maps & Associated Call Routing (Outbound, Inbound)