TREBLAB X2
TRUE REVOLUTION IN WIRELESS HEADPHONES
You can enjoy high-quality sound freely with TREBLAB X2 truly wireless earbuds whether you are running on the beach or training in the gym. The water-resistant and sweat-proof design lets you ramp up the intensity of your workout anywhere, while the 5-hour battery life extricates you from the hassle of frequent recharging. The ergonomic design helps the headphones stay put and is nice on your ears through the most intensive workouts. Just be ready to get in the zone with your favorite music.
BERYLLIUM ULTRA-HD SOUND
Made from beryllium, the X2's speakers create fetching, three-dimensional sound with every note clearly presented, enabling you to experience true intimacy with your favorite artists.
BEST EARBUDS FOR RUNNING
The sweat-proof and water-resistant X2 earbuds are built to work with you at your sweatiest times and won't fall out no matter how energetic you are. The 5-hour battery life (More than two charges in the Charge Box) and an included portable charge box let you wear the earbuds for long listening sessions.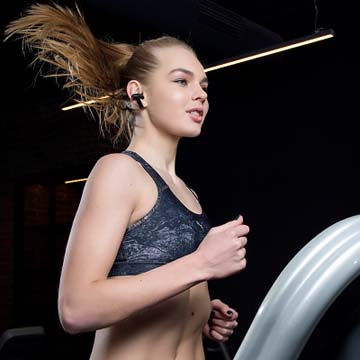 SECURE FIT GOES TO THE NEXT LEVEL
The multi-size X-Drop ear-fins and ear-tips make TREBLAB X2 earbuds fit your ears snugly and comfortably, totally satisfying your sports and workout demands.