Are you an E-Blast Insider?

Shop without retyping payment details. Secure shopping made faster.
Check out with PayPal.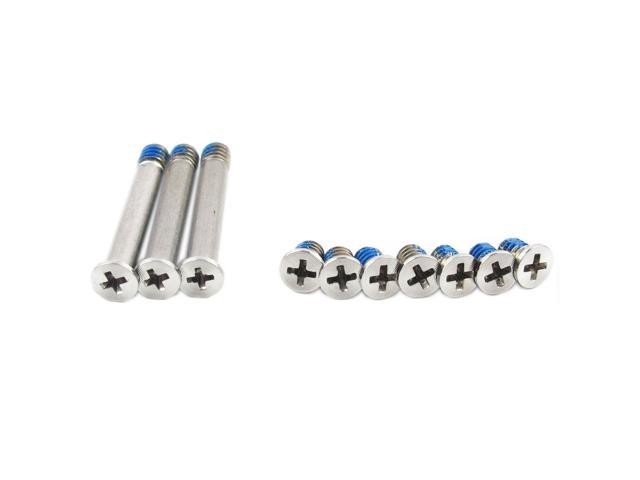 Authentic Apple MacBook Pro Rubber Feet Replacement Kit Bottom Case 13" 15" 17" A1278 A1286 A1297 (MacBook Pro 2008-2011)
In stock.
Ships from United States.
Macbook pro rubber feet replacement pad set include outer feet and inner plugs.Sprayed with Anti-slip Rubber, for Anti-slidding. The 3M adhesive is used as a placement guide but will require glue (not included) to stay in place. Macbook pro foot out feet is made of rubber and plastic mix which is the closest to replacement to the original, Inner plugs are full plastic.
MBP 13" MBP 15" MBP 17" Original MacBook Pro screws set have a rubber cement base for locking in the new screws after opening the bottom case. There are three long philips head screws and 7 philips head small screws.
There are 3 types of macbook rubber feet, check serial Numbers at the bottom case before order. This kind of bottom case screw and rubber feet are fit for macbook PRO macbook pro 13 MBP 15 MBP 17 A1278 A1286 A1297 ONLY, not for MBP AIR ONES( A1370 A1369 A1465 A1466) and NOT for MBP RETINA models (a1425 a1502 a1398)
Included: Macbook pro Rubber feet Outer foot set of 4, and inner plug set of 4, Macbook pro bo
MacBook Pro Full Kit Set - Feet with Outer + Inner Plugs + Adhesive, Screws + Screwdriver
Authentic OEM Apple Macbook Pro Rubber Feet Bottom Case Replacement Kit
DIY Foot Replacement Instructions

Note: Use the foot replacement kit for missing feet only. Do not replace well-adhered feet. Removing feet for the sake of replacement can damage the bottom case.

Tools Needed to Complete Repair:
Phillips 00 screwdriver
Tweezers
Paper clip or safety pin
Gloves are suggested for this procedure.


Preliminary Step
Before you begin, check the foot location requiring replacement and verify that the case plug, and the case foot in the kit, match the pictures below.

Place the computer upside down on a clean, lint-free cloth or other nonabrasive surface. Remove the bottom case.
Using the Phillips 00 screwdriver, remove the bottom case by removing 10 screws. Important: Screws at sides and front must be removed and installed at an angle.
Gently pull the bottom case from the side the display hinges are on and lift upwards at an angle.
Make sure the foot area on the bottom case is clean and free of debris. If any portion of the foot adhesive remains, peel it up with a pair of tweezers.
Clean both sides of the bottom case around the foot area. Allow the alcohol to evaporate.
Peel the outer foot from its packaging and affix it firmly to the bottom case. Do not use the glue to adhere the outer foot to the bottom case. Avoid touching the adhesive backing.
Use a paperclip or safety pin to open the glue nozzle. A paperclip or safety pin can also unplug the glue nozzle after storage. Apply a very small drop of glue on the bottom of the foot on the inner bottom case. Do not spread the glue.

Seat the plug onto the glued area.
Do not use your finger to press the foot plug down. Use the wooden end of a cotton swab to press the foot plug into place. Lightly press and hold the foot in place for 30 seconds.
Clean any excess glue with a cotton dry swab. Important: Do not wipe the glue; use the cotton dry swab to absorb any excess glue. Excess puddled glue may take hours to dry and may cause the bottom case to adhere to the logic board or interior cabling.
Using a timer, allow the glue to set for at least 60 minutes before applying the foot plug cover over the foot plug. Important: If laser etching is visible by the foot area, do not use the foot plug cover. Laser etching will normally be found on the left-rear foot area.
Reassembly Note: Install screws in order shown. If sequence is not followed, bottom case might wobble when placed on level surface.



SAFETY INSTRUCTIONS: GLUE IS AN EYE AND SKIN IRRITANT. GLUE BONDS TO SKIN INSTANTLY.

Contains ethyl cyanoacrylate. Avoid contact with skin and eyes. If eye or mouth contact occurs, hold eyelid or mouth open and rinse thoroughly but gently with water only for 15 minutes and GET MEDICAL ATTENTION.Liquid glue will sting eye temporarily. Solidified glue may irritate eye like a grain of sand and should be treated by an eye doctor.

If skin bonding occurs, soak in acetone-based nail polish remover or warm soapy water and carefully peel or roll skin apart (do not pull). Contact through clothing may cause skin burn. If spilled on clothing, flush with cold water. Avoid prolonged breathing of vapors. use with adequate ventilation. KEEP OUT OF THE REACH OF CHILDREN.
Warranty & Returns
Warranty, Returns, And Additional Information
Manufacturer Contact Info