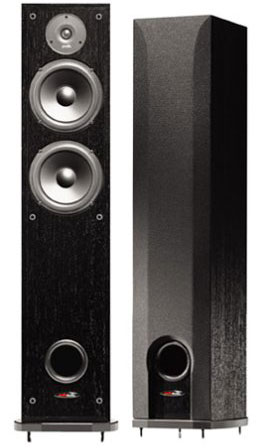 Polk Audio R50 Speaker, Sold in Single Unit
A two-way floorstanding speaker ideal for both music and movies. It comes equipped with a 3/4" silk/polymer dome tweeter for clean, crisp highs, and dual 6-1/2" dome woofers that pair with a front-fire bass port for dynamic mids and rich lows. Both the tweeter and dual woofers use exclusive Dynamic Balance technology, which is a combination of design technology, materials and construction techniques for delivering legendary Polk Audio sound.
This speaker is easy to install occupying less than one square foot floor area, and looks good featuring real wood veneer. Magnetic shiedd means you can place the speaker near TVs or monitors without causing interference or distortion. It's sold in single unit. Get two for your stereo arrangement, or four for your home theater surround setup as front and rear left/right channel.