Powered Speaker System
TEAC LS-M100 is a compact speaker system that fits easily on your desktop. Equipped with a woofer and a tweeter as well as a bass reflex port, it produces a wide frequency response of 80 Hz to 22 kHz. Coupled with the powerful 14W + 14W amplifier, the system trumps out clear sound at room-shaking volume level. With both RCA pin jacks and stereo mini jack, it is definitely the answer to your hunger for listening to various sources.
---
Place the Compact Cabinets Wherever You Like
Even with a 2-way system and rich power amplifier, the body size is only 4.5" x 6.7" (110mm x 170mm). It fits anywhere you like. No more need to designate a dedicated space for speaker stands. Experience an excellent listening environment right out of the box.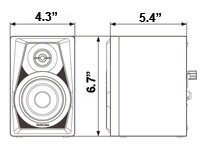 ---
A Wide Frequency Response
The difference of the LS-M100 from standard PC desktop speakers is the luxury sound quality. With a frequency response of 80 Hz to 22 kHz from its compact body, every sound is faithfully reproduced - from the body resonance of a bass drum to the tinkling wind chime. The wide response is due to the 2-way system - consisting of a woofer and tweeter - and the bass reflex port located on the rear of the cabinet.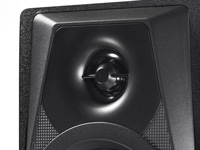 ---
The Excellent Built-In Power Amplifier
The integrated 14W + 14W power amplifier provides you not only powerful, full volume listening, but also features well-balanced listening at low volume. The LS-M100 can be utilized in any environment where higher volumes may be restricted due to time of day – as in multi-unit living complexes.
---
Versatile Connection
The speakers are equipped with RCA input terminals that are commonly used in audio components. This means that CD Players or Analog Players can be connected directly.
The LS-M100 also includes a 1/8" stereo mini input jack, which automatically shuts off the RCA inputs. Using a standard stereo mini cable, a portable MP3 player, iPad or smartphone can be connected.