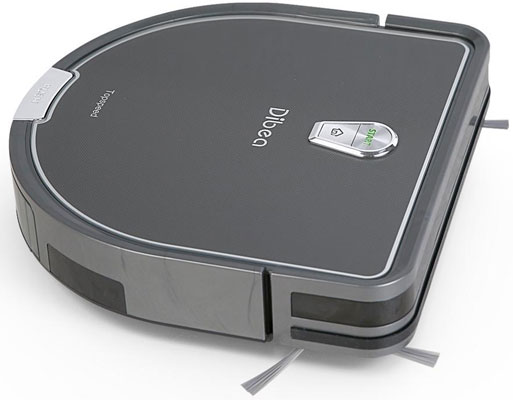 Dibea DT966 vacuum cleaner with mopping
Treat yourself to spotless, just mopped floors every day.
This vacuum cleaner is designed for cleaning on most types of floors, including hardwood, tile, laminate, marble floors and thin short carpets (<0.5 inch). With 1200pa suction, it loosens, extracts, and vacuums in dirt, pet fur, food crumbs and fine dust. For mopping, attach the mopping pad, fill the water tank, press a button and let your buddy do the rest. A large 350ml water tank reduces refills.
Please do not use the mopping function on carpets or rugs.
This product is not waterproof, do not let the product contact any liquid and shallow water, away from the source of fire.
Features
1. 3-inch compact design, allows it to fit under beds, nightstands and other furniture easily
2. Anti-scratch tempered glass cover, avoid being scratched by your lovely pet
3. Smart IR sensors for anti-bumping around 0cliff sensors for dropping from stairs
4. High efficiency H11 HEPA filter, traps fine dust and reduces air pollution. Highly suggest cleaning and replacing the HEPA filter regularly to maintain its best cleaning performance
5. Large capacity 2600mAh li-ion battery, provides longer run time up to 150 min
6. Self-docks and recharges when the battery power is lower than 20%. Please place the charging base against the wall in an open area near the working vacuum cleaner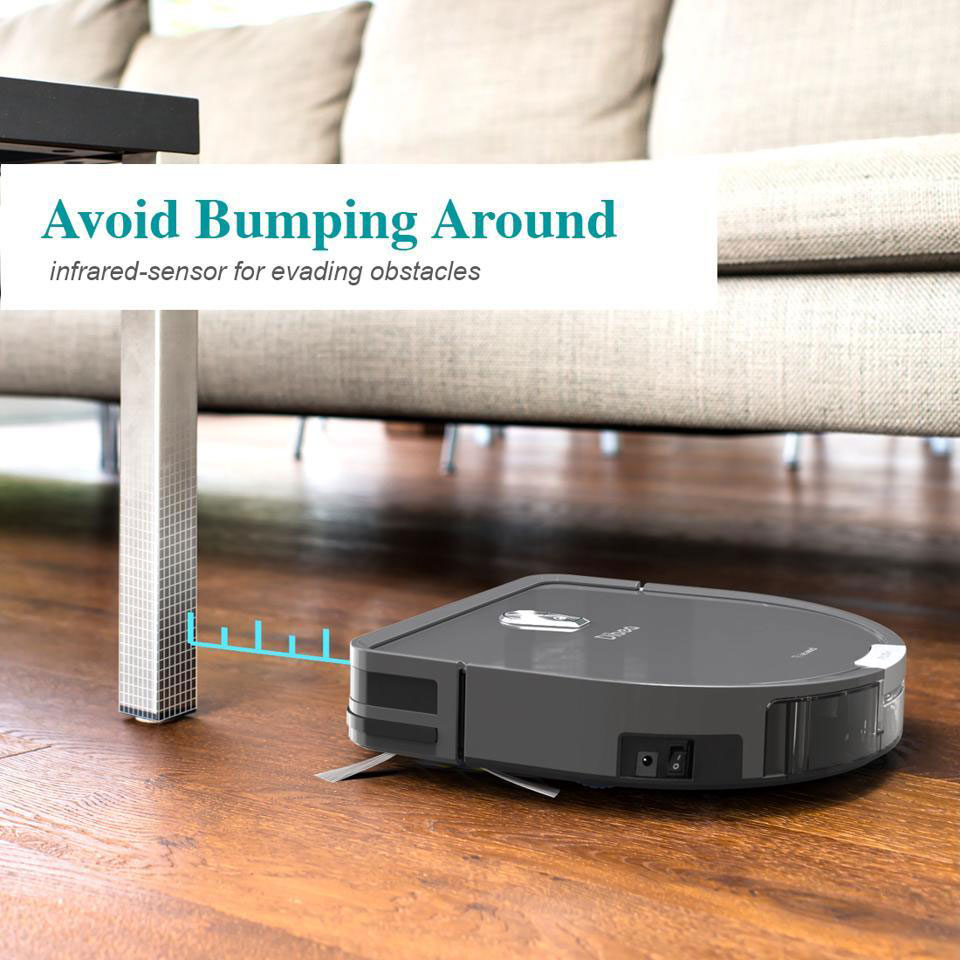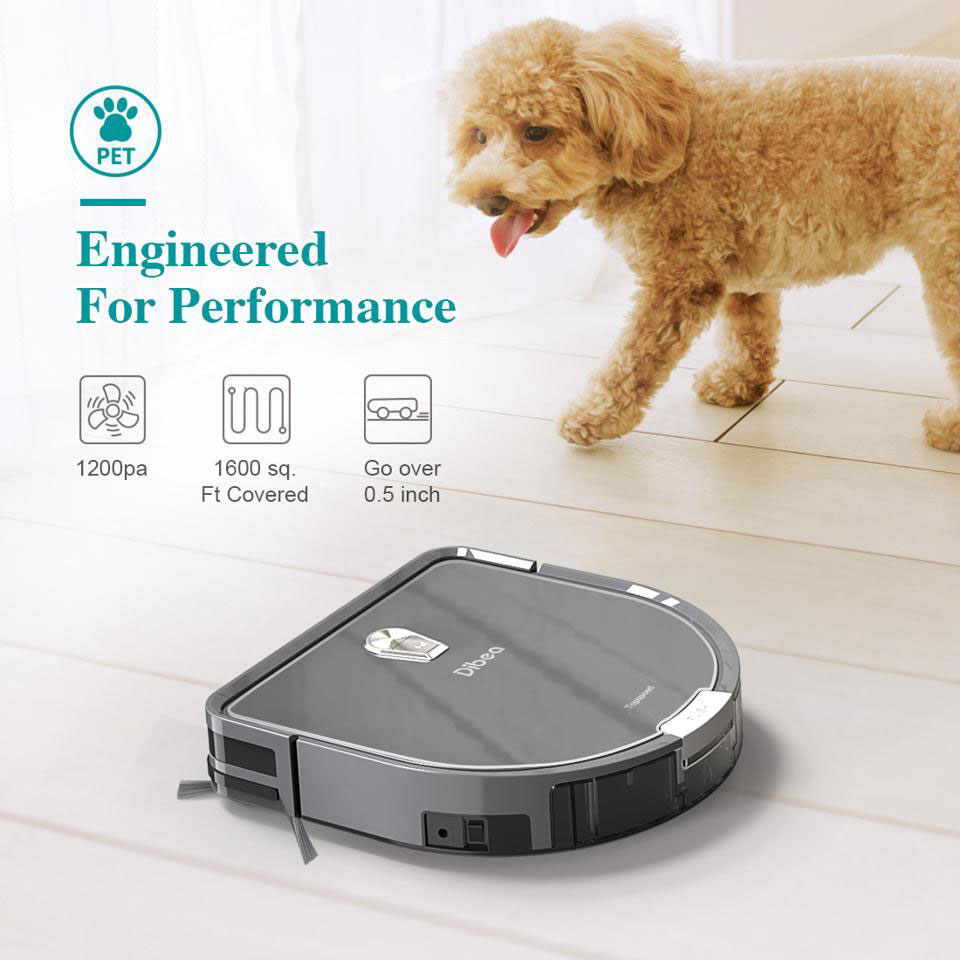 Specifications
Battery: 2600mAh Lithium battery
Adapter input voltage: AC100-240V
Charging Time: 4-5 hours
Suction: 1200Pa
Auto Charging: Yes
Dust bin capacity: 0.35
L Water tank capacity: 0.35 L
Product net weight: 6.6 lbs.
Accessories include: 2 side brushes, 1 high-performance HEPA filter, 1 water tank, 2 mop pads, 1 remote control, 1 charging base, 1 adaptor
Tips:
1. This machine have the side switch, after receiving this machine, need to open the side switch and fully charged, then this machine will begin to work
2. Please remote control the robotic vacuum cleaner or press the home place, then this machine will return to dock.
3. This Robotic vacuum cleaner cannot vacuum and mop at the same time, need to work separately.
4. It cannot work well in a fully carpeted area, this machine only uses on low- to medium-pile carpets, tile, laminate, and hardwood floors.
5. When charging this machine, need to use the original charger and turn on the side switch, after charged 3-5hours, then this machine can start to work.
6. Before use the mopping, need to wet the mopping cloth first, and only to fill 3/4 water in the water tank.
7. Clean the roller brush tank after 2-3 use, clean roller bar and empty the dust bin
8. Pull out the universal wheel upwards and clean it up after every use
9. Gently pull and pat the front bumper often.
10. clean or wipe charging contact piece with a cleaning tool or a piece of soft cloth, or let the machine connect charging contact piece properly
11. clean the HEPA, empty the dust cup after every use
12. If your machine runs into walls, it may be caused by front sensors covered by dust, buyer need to clean the sensors