Extend the Length of Your Ethernet Patch Cable
Just think about two lengths of ethernet cables you want to tie together. With ethernet couplers, there is no need to purchase another longer network cord anymore. The inline coupler performs the perfect connection between all of the wires in each cable. It is more cost-effective and time-saving than swapping-out short cables for longer ones.
No Signale Loss
With as many as eight connections on each side aligned just right and secured firmly, signals pass through without any loss of signal integrity or lag. Besides, nickel-plated contacts and easy snap-in retaining clip also provide this rj45 female to female coupler with secure and corrosion-free connection.
Compact Design
With the size of 1.65" x 0.98" x 0.9", Inline couplers are small, easily fitting into your palm. It provides multiple solutions for home networking, home office, audio, video, etc.

High Speed up to 10Gbps
The RJ45 female to female connector can speed up to 10 gigabit for connecting Cat7 or Cat6 ethernet cable.
Widely Compatibility
This 8P8C Ethernet extender adapter is compatible with Cat 7, Cat 6, Cat5e, Cat5 network patch cords, wallplates or blank patch panels.
The RJ45 inline jack coupler meets Category 6 performance in compliance with the TIA/EIA 568-C.2 standard. It is RoHS compliant.
Stable Connection
Compatible with all kinds of networks both home and industrial. Snap with all kinds of RJ45 connections (cat7, cat6, cat5, cat5e).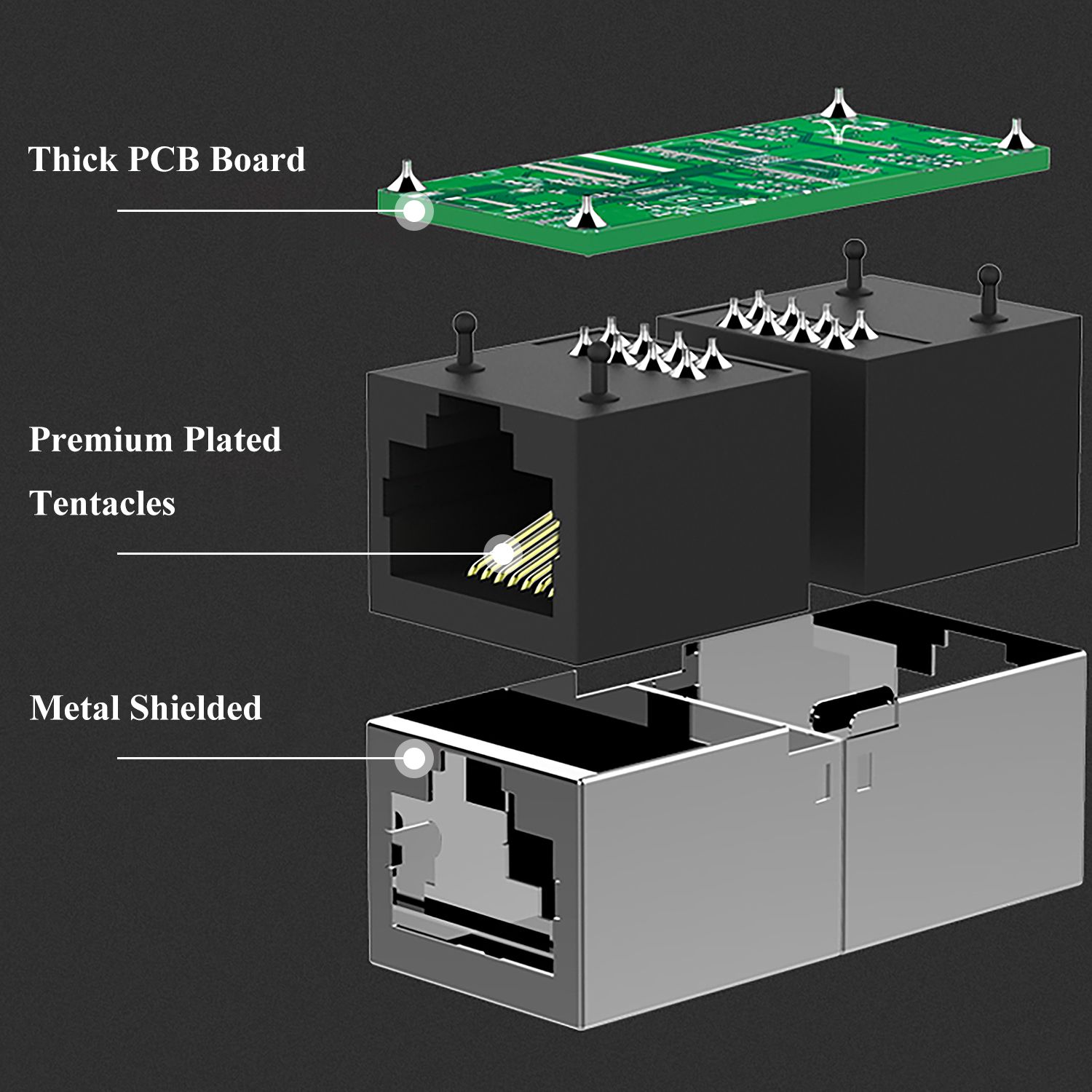 Pure Copper Plated Tentacles
Pure copper plated tentacles ensure strong signal transmission and high-speed performance.
ABS Material
RJ45 coupler is made of high-quality ABS material, flame retardant and stable.