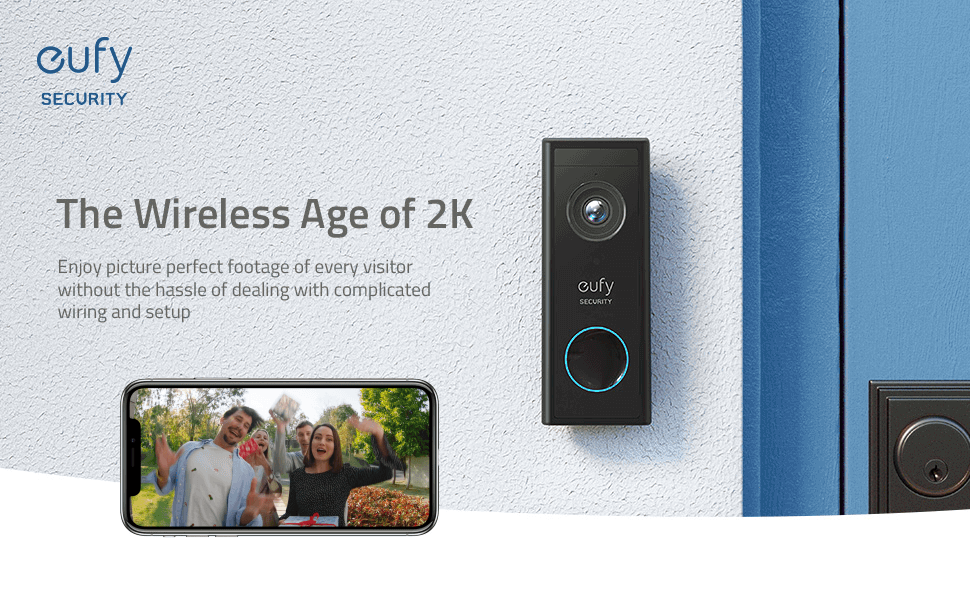 eufy Security Wireless Video Doorbell 2K (Battery-Powered)
The eufy video doorbell lets you check what's happening at your door via 2K HD videos in increased 4:3 aspect ratio, whether you're at home or away. You can also answer the door remotely with dual-way audio, or play pre-recorded messages. On-device AI recognizes and prioritizes human figures, so you'll only get alerts on your smartphone when visitors or intruders show up, but not every time the cat saunters by.
Works with Your Original Chime. Keep your existing chime simply by wiring to the Video Doorbell.

Privacy is Our Priority
Your privacy is something that we value as much as you do.
That's why we've taken every step to ensure your videos are kept in private. Stored locally. But accessible anytime, anywhere, via a secure 256-bit encrypted connection.
And this is just the start of our commitment to protect you, your family, and your privacy.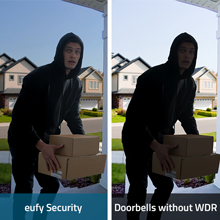 2K & WDR
See visitors in sharp detail as they approach your door against any backlighting.
Power-Savvy Connection
The private low-power wireless connection between the Doorbell and HomeBase reduces standby power consumption by 58%.
Storage You Can Trust
Military-grade AES-256 data encryption ensures your footage is kept private on transmission and storage. All recordings are stored directly onto your HomeBase that is located inside your home. This means that even if someone were to forcibly remove the doorbell all your data will remain secure.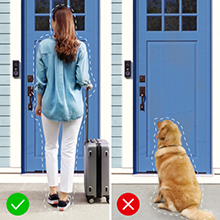 Enhanced Human Detection
The on-device AI instantly analyses each event and accurately determines whether or not a human is present. This ensures only relevant alerts are sent and that you are notified in real-time.
Customized Detection
Draw an Activity Zone to customize the area in which motion is detected. Exclude busy pedestrian areas or roads to reduce the number of false alerts you receive.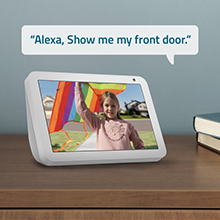 "Hey Alexa, show me my front door"
Connect your Doorbell to Google Voice Assistant or Amazon Alexa and check in anytime on what's happening outside your home.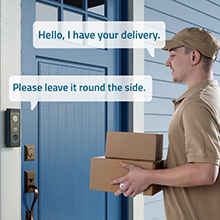 Respond in Real-Time
Speak directly to anyone who approaches your front door via two-way audio. Tell your friends to come round the back or that you have just run out to get some milk.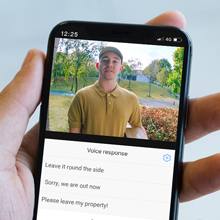 Interaction Made Easy
Record and set up to 3 instant responses. When you are notified of activity simply select one of your pre-recorded responses to interact and give instructions.
What' s Included:
Video Doorbell 2K (Battery-Powered), Screw Hole Positioning-Card, Mounting Bracket, 15-degree Wedge, USB Charging Cable, Extension Wires (for Hardwired Connection), Screw Packs, Doorbell Detaching Pin, HomeBase, Power Adapter (for HomeBase), Ethernet Cable (for HomeBase), and Quick Start Guide.