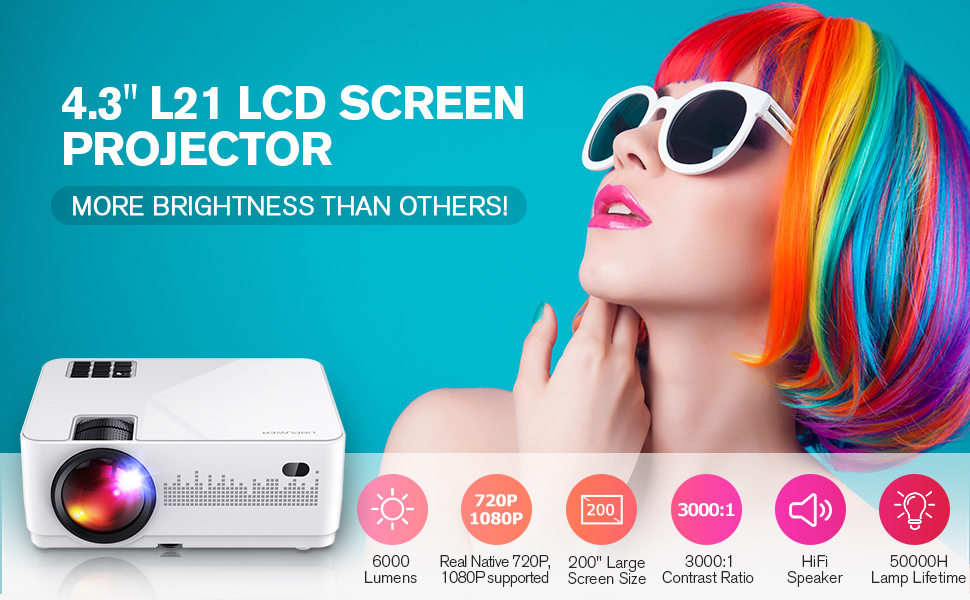 DBPOWER L21 Video Projector Upgraded Brightness to 6000 Lumen and Carrying Case Included Now !
DBPOWER technician team has upgraded the brightness again of L21 projector from 5000Lux to 6000Lux (200 ANSI), 4.3inch lcd screen, native resolution 1280*720P, full HD 1080P and 200'' display supported, also come with a portable carrying case in the package now, it will offers our customers a most cost-effective product and more convenient for customer out for travel and business. It's 80% more brighter and sharper than comparable 4inch 720p native projectors on the market, providing you with probably the best home cinema experience.
PS: Not recommended for PPTS, Word, Excel or business presentations. Dolby audio is NOT supported, if there is no sound, please turn off dolby digital in Netflix, Apple TV, Blue-Ray players and fire stick ect.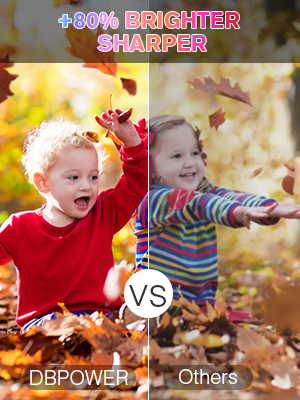 High Brightness, Full HD Visual Performance !
Portable Carrying Case Included !
Upgraded 6000 Lumens & 3000:1 Contrast Ratio brings +80% brighter than regular projector on the market, vivid visual feast.
Latest LED Light Technology
Latest Led light technology projects a clear image without inflicting the same optical harm as TVs, laptops, and tablets. This technology saves your eyes while still allowing you to enjoy movies, sports, TV.
Built-in Hifi Stereo Speaker
Built-in 3W hifi stereo speaker, you will enjoy louder and clear sound, get emmersive movie entertainment.
Upgraded 6000Lumen-4.3inch LCD Screen, 720p Native Full HD 1080p Supported
200 Large Screen Size, HiFI Stereo Sound, Loud Speaker
Portable Carrying Case Included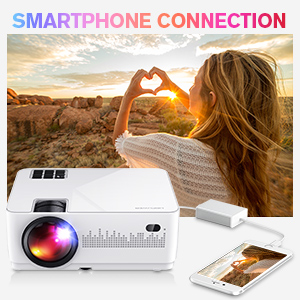 SMARTPHONE CONNECTION
To connect with smart phone or tablet, it is necessary to use a wireless HDMI adapter, this HDMI adapter is not included in the package, you need to buy it separately. For Android phones which support MHL, an MHL to HDMI cable is required; For iphone & ipad, a Lightning to HDMI cable adapter is required.
DUAL FAN COOLING SYSTEM
Equipped with double tube cooling technology with heat dispersion, as well as the fan sound cut in half with noise suppression, so the fan noise is lower than other basic LED projector, which will not influence you during watching movies or football games.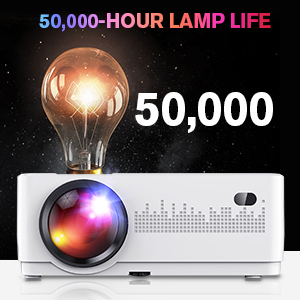 50,000-HOUR LAMP LIFE
Adopted the latest smart LED lamp care technology. The life of the lamp is 50000 hours, which means it can last for at least 20 years. Get rid of getting a replacement lamp, just enjoy your movie without any worries.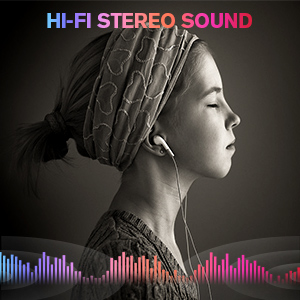 HI-FI STEREO SOUND
Built-in dual stereo speakers provide a surround sound style experience. Even when used outdoors, the powerful speaker gives you full-spectrum sound. It is a top choice for parties, football nights and movies with friends.
ImageTechnology: 4.3'' LTPS LCD Screen
Color Reproduction: 256K
Brightness: 6000 Lumen
Contrast: 3000:1
Aspect Ratio: 4:3\16:9
Native Resolution: 1280x720p
Supported Resolution: 1920x1080p
Keystone: Manual correction ?15?
Lamp Life: 50,000