GeChic 1503H 15.6" IPS 1080p Portable Monitor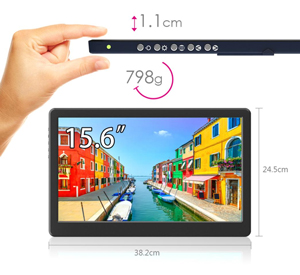 The narrow Bezel and lightweight design.1503H is a versatile portable monitor hands down. 798g ultra-light weight makes it easy to carry in your laptop bag. You can have your duel screen setup from your office or studio anywhere.
Rear Dock, Expand connectivity of your portable monitor!
Not just slim and light, portable monitor can also have great expandability. On-Lap1503 equips the unique Rear Dock to combine the power, signal and system connection together into the rear side. Tailored to your various purposes, you can combine 1503H with laptop, gaming console, mini-PC, compute stick and wireless display adapter. Multiple applications from one monitor!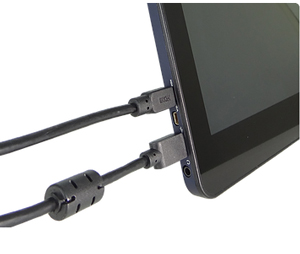 Side port Cables, Easy to reach and connect
Adopts lately USB-C for reversible plug. Supports HDMI and VGA proprietary video cable.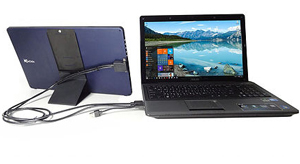 Rear port HDMI & USB. Shared Cable
The connector of 30 pins helps to hide the cables behind the monitor. Connecting HDMI-A & USB-A to dock port cable on the rear port of 1503H and your device to have a clean workspace.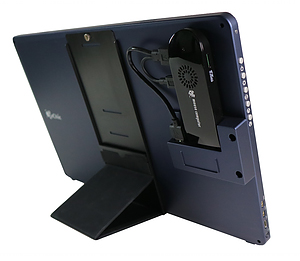 Rear port + Unique Rear Dock, All in One with Computer stick
The unique Rear Dock integrated power and signal transmission to 1503H. Plug the Rear Dock to the Rear port and insert a Compute stick. 1503H turns into a mini system in seconds.Likewise, inserting a HDMI wireless display adapter or TV stick can create a unique wireless entertainment center!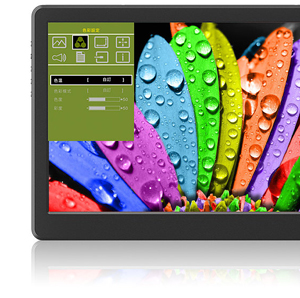 OSD Color setting Tuning colors of dual monitors
On -Lap 1503H with OSD color setting offers five patterns of color adjustment and can also adjust 6 colors settings separately. The flexibility of color setting helps you calibrate your portable monitors for the best color uniformity to your device.
*Red/Green/Blue/Cyan/Yellow/Magenta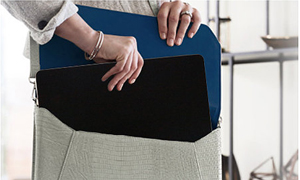 Rigid Protective Cover
On -Lap 1503 is outfit with a proprietary protective cover whose thickness and hardness is upgraded,It helps 1503H for bearing the external impact and protects the fragile panel while in a baggage or suitcases.
FHD IPS Panel Vividness without boundary
On Lap 1503H with Full HD and 16:9 IPS penal brings you the vivid pictures as well as refined color. Meanwhile, it keeps the same picure quality while watching from different angles.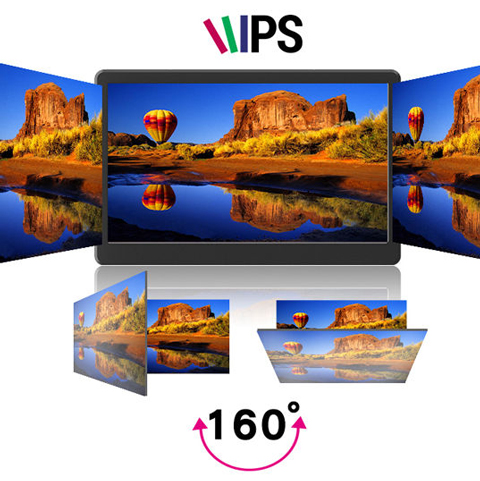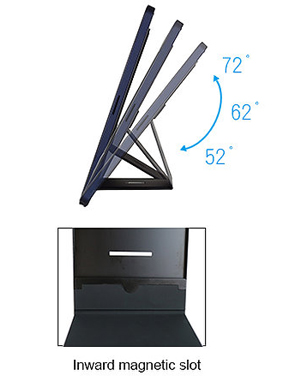 Vertical & Horizontal. A flexible Detachable Stand
To view the screen at different angles, GeChic upgrades the Cover Stand to "Detachable Stand". With this flexible design, you can set 1503H up in landscape or portrait display mode in a minute.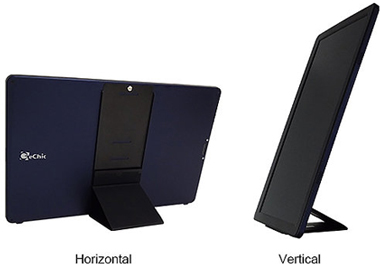 Triple Monitors, Gamer paradise
The powerful gaming Laptops allows the power gamers to game anywhere. With 1503H, you can even enjoy the panoramic view with your gaming laptop.Simply Connect 2 Full HD 1503H with Laptop or desktop PC, and get the 3-monitor whole scene on a small desk! Use these 2 Monitor for a paramtic set up for racing game, or stream your game while simultaneously interact on social apps and programs.
Wireless media sharing with ease
Connecting Chromebox or Microsoft Wireless Display Adapter with 1503H, you can share movie, music and TV shows from smartphones or laptop simultaneously. Wireless transmission allows you to watch your favorite show anywhere.
Different From Other USB monitors
HDMI monitors do not require drivers to use whereas USB monitors require a driver installation. USB monitors also use up your CPU power to display the output whereas HDMI monitors do not. A built-in video chipset performs calculation on the monior instead of tasking CPU power like Display Link USB monitors. Most importantly, HDMI monitors do not lag whereas USB monitors have a mouse lag.
| | |
| --- | --- |
| Model Name | GeChic 1503H Portable Monitor |
| Resolution | 1920 x1080 (262K colors) |
| Pixel Pitch | 0.179mm (H) *0.179mm (V) |
| Active Area | 344.2mm x 193.5mm |
| Viewing Angle(U/D/R/L) | 80°/80°/80°/80° (Typical) |
| Brightness | 300(cd/m2)(Typical) |
| LED Backlight | Lifetime: 15,000 hours (Brightness Declines 50%) |
| Contrast Ratio | 700:1(Typical) |
| Response Time | 12.5(ms)(Typical) |
| Rating Voltage | 5V-DC |
| Rating Current | 2A |
| Speakers | 2x 1.0W(Max.) (Rated Impedance 4O at 2KHz) |
| Connectivity | Headphone outx1 Micro-HDMI x1 VGA x1 (Optional) USB(C)*1 Rear Dock Port*1 Headphone outx1 Micro-HDMI x1 VGA x1 (Optional) USB(C)*1 Rear Dock Port*1 |
| Resolutions of PC inputs including HDMI and VGA input | 1920*1080(60Hz/50Hz); 1600*900(60Hz); 1440*900(60Hz); 1366*768(60Hz) 1280*1024(60Hz); 1280*960(60Hz); 1280*800(60Hz/50Hz); 1280*768(60Hz/50Hz) 1280*720(60Hz/50Hz); 1024*768(60Hz) (Caution: If video output frequency of computer graphic card is out of the above range, it may cause the panel damage.) |
| HDMI Video Display Capabilities | 1080P(60Hz/50Hz);1080i(30Hz/25Hz); 720P(60Hz/50Hz) |
| Authorized Protection | HDCP Compliant |
| Storage Temperature | -10~60 °C |
| Operating Temperaure | 0~50 °C |
| View-Angle of Stand | ?52°/62°/72° |
| Accessories in Retail Package | USB-A to USB-C power cable(1.2m) *1 HDMI-A to micro-HDMI video cable(1.2m) *1 Protective Cover*1? Stand*1?5V-2A adapter*1 Slotted Screw_silver(M2x7.5mm)*1?Philips Screw_Black(M2x3.2mm)*2 |
| Optional Accessories | Rear Dock: HDMI-A, USB-A, USB-C ports Proprietary HDMI-A and USB-A to dock port cable(1.2m) mini-HDMI to micro-HDMI video cable(2.1m) HDMI-A to micro-HDMI video cable(2.1m) USB-C to USB-A power and touch signal cable(2.1m) Proprietary VGA video cable (1.2m) |
| Dimension | 382mm*245mm*12mm(Monitor); 389mm*250mm*14.7mm(Cover on monitor) |
| Color | front bezel:black backcover:bluish black cover:black |
| Weight | 1064g (Monitor); 282g(Stand); 290g(Cover) |
| Certification | BSMI, CE, FCC,RCM, VCCI,KC and RoHS |
| Warranty | 1 year limited |