Plugable USB 3.0 Flash Memory Card Reader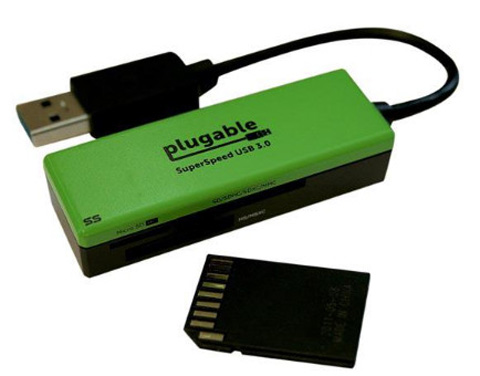 With support for different memory card formats, blazing-fast data transfer speeds, and easy portability, the Plugable USB3-FLASH3 is an ideal solution for on-the-go tech enthusiasts who looking for a way to speed up data transfer between their computers and flash media cards.

Support for a Variety of Memory Card Formats
The Plugable USB3-FLASH3 supports different flash memory card formats, including secure digital (SD) cards, MultiMediaCard (MMC) cards, memory stick (MS) cards, and more. It supports SDXC/MSXC cards up to 2 TB in size.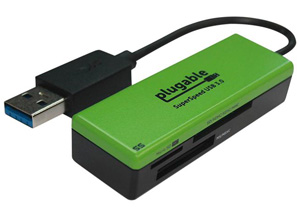 High Performance
The Plugable USB3-FLASH3 operates at USB 3.0 speeds. SD, SDHC, SDXC, MicroSD, MicroSDHC, and MicroSDXC cards are supported in UHS-I mode up to 104 MB/sec for maximum SD card performance.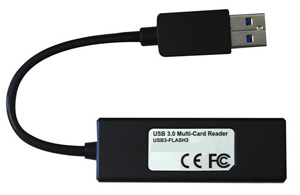 Portable Footprint with a Flexible USB Cord
The Plugable USB3-FLASH3 comes in compact size for easy portability, and has a permanently attached flexible USB cable to enable easy connection in tight spots.

Operating System Compatibility
Cross Platform Support: No driver install required on most modern operating systems. It uses built-in USB Mass Storage drivers.
Windows: XP/Vista/7/8
Apple OS: 9/X
Linux: All variants (including Android 4.x and Chrome OS) running kernel version 2.x, 3.x with USB mass storage support
Please note that not all Android 4.x systems have USB Mass Storage support. The Google Nexus 7 is one notable example that lacks this capability.
Warranty, Returns, And Additional Information