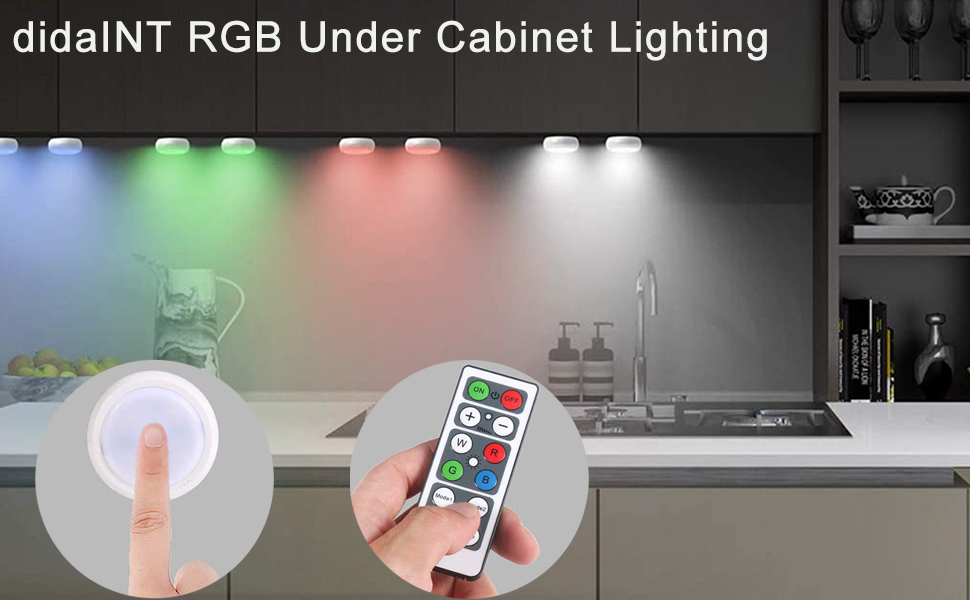 DIDAINT Stick On Under Counter Lights with Dual Remote Way and Powered Way
Dual Remote Ways: Touch or remote control, touch "+" /"-" on lights individually or with remote to adjust brightness and the colors.
Dual Powered Way: Powered by 3 x AAA batteries per wireless LED closet light. Very safe for your kids and your families; Can be powered by USB cable after connect to power supply..
Dimmable Lights: With natural soft lighting, 4 levels (10%, 20%, 30%,40%,50%,60%,70%,80%,90% ,100%) of brightness adjustment.
Timing Functions: With convenient timing off function, you don't need to leave your bed to turn off the light, the LED night light will turn off automatically after preset time of 10, 30, 60 and 120 mins.
Stick On: no drilling holes in the walls, easy to install, and space saving.
Perfect lighting for kitchen and laundry room, bathroom, basement, jewelry shelf, etc.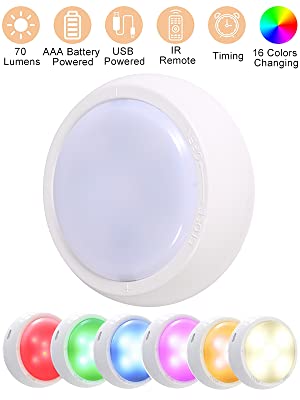 RGB Color Changing Night Lights
Product Parameters
Voltage: 4.5 V
Power: 0.3 W
Max lumen: 30lm
White-light color temperature: 4000K
Lamp bead model: SMD 5730/3528
Lamp beads quantity: 11
Shell material: ABS+PC
Power supply: 3 AAA batteries or Micro USB
Control mode: manual + infrared remote control
Remote control distance: within 3 meters of 90?
Packing not include 3 AAA batteries and USB cable
When install or change battery , just turn counterclockwise the bottom cover to open
The battery of remote is button battery, before use the remote, pls remove the transparent insulating sheet.
Do not soak in water, do not disassemble anyhow.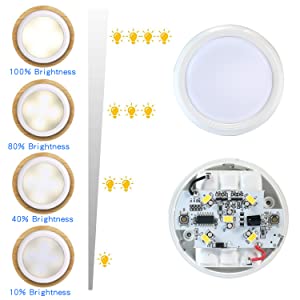 Dimmable & More bright
Adjust the brightness by press "+" / "-" button on puck lights or remote control.
With 5 warm light leds + 6 rgb light leds, more bright than other cabinet lights.
Low Power Consumption: only 0.3W, can last lighting up to 90hours. (Other regular cabinet light only lighting about 30 hours)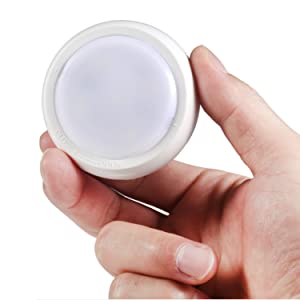 Small size & Portable
With the size 2.6*1.0inch, and light weight. Could be stick it more firmly on anywhere!
Unique Sleek design, matched with the Natural Soft Lighting.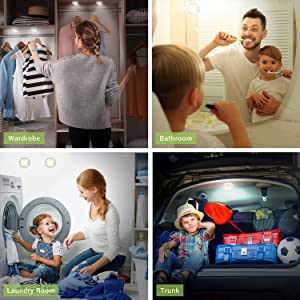 Widely Used & Versatile
Home Decor lights, for your bookcase, jewelry display case, kitchen, bedroom, stairway, cupboards, corridor, bathroom, car trunk and etc.
Function
With multiple colors and modes