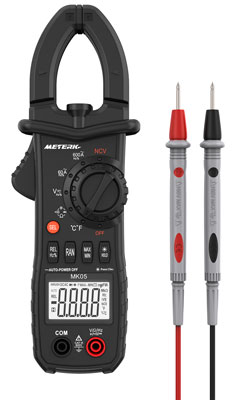 Meterk E2274 (MK05) Digital Clamp Meter Multimeter
A versatile multimeter that's able to measure AC/DC voltage & current, capacitance, resistance, frequency and even temperature. Non-contact voltage (NCV) detection offers you a safe way to test the presence of voltage, without touching the wire. Large LCD display, auto range and built-in flashlight give you more convenience in day-to-day use, while the lightweight, compact design is easy to take and use anywhere. Ideal for troubleshooting or working on failed appliances.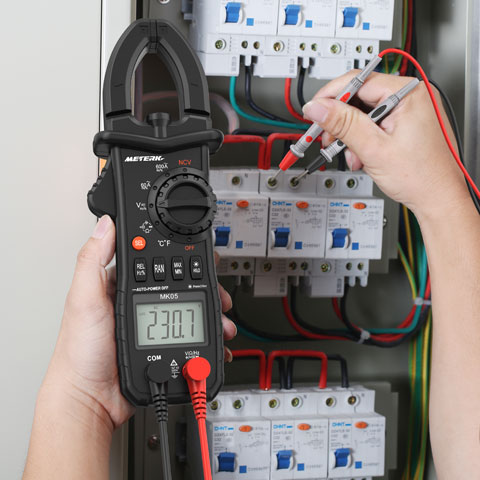 Multi-Purpose Clamp Meter with True RMS Auto-Range
Accurate AC/DC voltage, AC current, frequency, duty cycle, diode, capacitance and resistance measurement.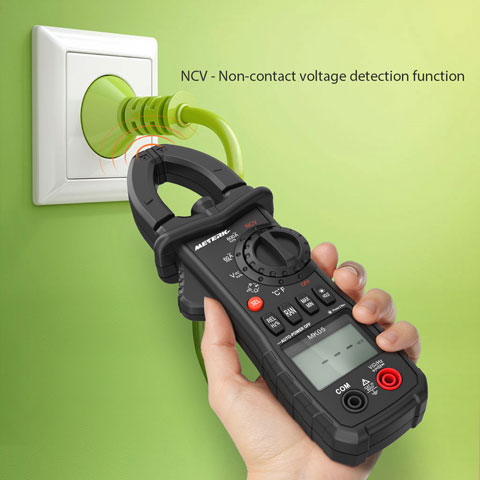 With NCV & Live Line Test Function
Non-contact voltage detection function uses a sensor to detect voltage and avoid electric shock, without you touching any wires. Light and sound alarm if the AC voltage (6-600V) or live wire is detected.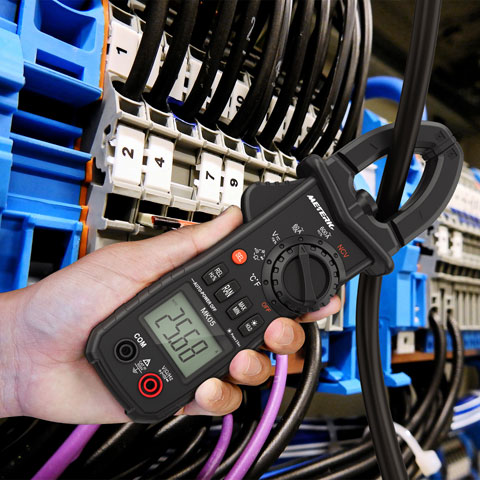 Continuity Test & Overload Protection
Designed to safely and accurately confirm the circuit conducts electricity, and features low voltage indication and overload protection. Shows "OL" on the LCD if over the range.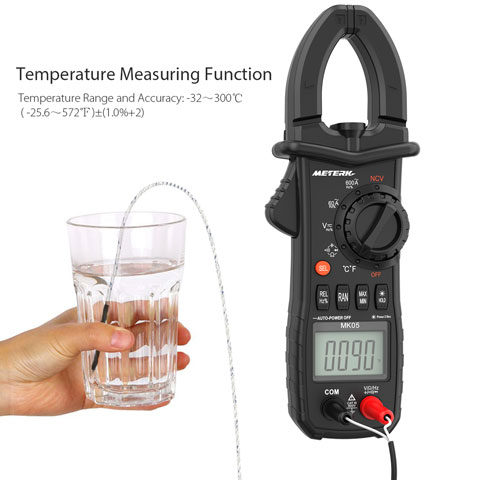 More Features
Easy to use and read with large LCD screen
Small and portable to carry and use
High resolution and low battery indication
An integrated flashlight for convenient measurement in the dark
Data hold, auto range and auto power off.
Specifications:
Brand Name: Meterk
Material: ABS
Color: Black
Operating Altitude: Max 2000 meters
Work Temperature: 18~28?
Storage Temperature: -10~50?
Display: Max 5999 Digits LCD
Max. allowable voltage between terminals and earth ground: 1000V DC or 750V AC
Safety Class: 600V CAT ?, pollution class ? CE
Sampling Speed: approx. 3 times / second
AC Current Range and Accuracy(A): 6A/60A/600A ±(2.5%+10)
AC Current Resolution: 0.001A/0.01A/0.1A
AC Voltage Range and Accuracy(V): 6V-60V ±(1.0%+5), 600V ±(1.2%+5)
AC Voltage Resolution: 0.001V/0.01V/0.1V
DC Voltage Range and Accuracy(V): 6V/60V/600V ±(1.0%+5)
DC Voltage Resolution: 0.001V/0.01V/0.1V
Frequency Range and Accuracy(V): 99.99Hz/999.9Hz/9.999kHz ±(1.5%+5)
Frequency Resolution: 0.01Hz/0.1Hz/0.001kHz
Resistance Range and Accuracy(Ω): 600Ω/6KΩ/60KΩ/600KΩ ±(0.8%+3), 6MΩ/60MΩ ±(1.2%+3)
Resistance Resolution: 0.1Ω/0.001KΩ/0.01KΩ/0.1KΩ/0.001MΩ/0.1MΩ
Capacitance Range and Accuracy(F): 9.999nF/99.99nF/999.9nF/9.999μF/99.99μF/999.9μF ±(3.0%+5), 9.999mF ±(5.0%+5), 99.99mF No Defined
Capacitance Resolution: 0.001nF/0.01nF/0.1nF/0.001μF/0.01μF/0.1μF/0.001mF/0.01mF
Temperature Range and Accuracy: -32~300? (-25.6~572?) ±(1.0%+2)
Temperature Resolution: 1?(1?)
Duty Ratio Range and Accuracy: 0.1-99.9% ±3.0%
Duty Ratio Resolution: 0.1%
Continuity Test: 0.1Ω
NCV: >1000V AC Voltage
Max Clamp Opening Size: 36mm / 1.42in
Max Measuring Wir Diameter: About 26mm / 1.02in
Auto Power Off: 15 minutes
Max Input Impedance: 10MΩ
Power: AAA 1.5V x 3(Included)
Product Net Weight: 255g / 9.00oz
Product Size: 208 * 78 * 35mm / 8.19 * 3.07 * 1.38in
LCD Size: 38 * 24mm / 1.50 * 0.94in
Package Size: 23 * 13 * 4.5cm / 8.66 * 4.13 * 1.4in
Package Weight: 508g / 17.92oz
Package List:
1 * Clamp Meter
1 * Pair of Test Probe
1 * Temperature Probe
3 * AAA Batteries (Inside the Clamp meter)
1 * Storage Bag
1 * User Manual (English + French + German + Italy + Spanish)