MUSETEX is a supplier of first-tier brands in Europe and the United States. In our generation, we decided to produce and sell products ourselves instead of only supplying goods for others.
MUSETEX has focused on creating the world-known brand of computer case. We have a complete supply chain from R&D the computer case and high-quality PC components, producing, sales .
MUSETEX insists that an enterprise without innovation cannot progress. Therefore, the company is committed to providing excellent quality, performance, and creative design computer case for customers.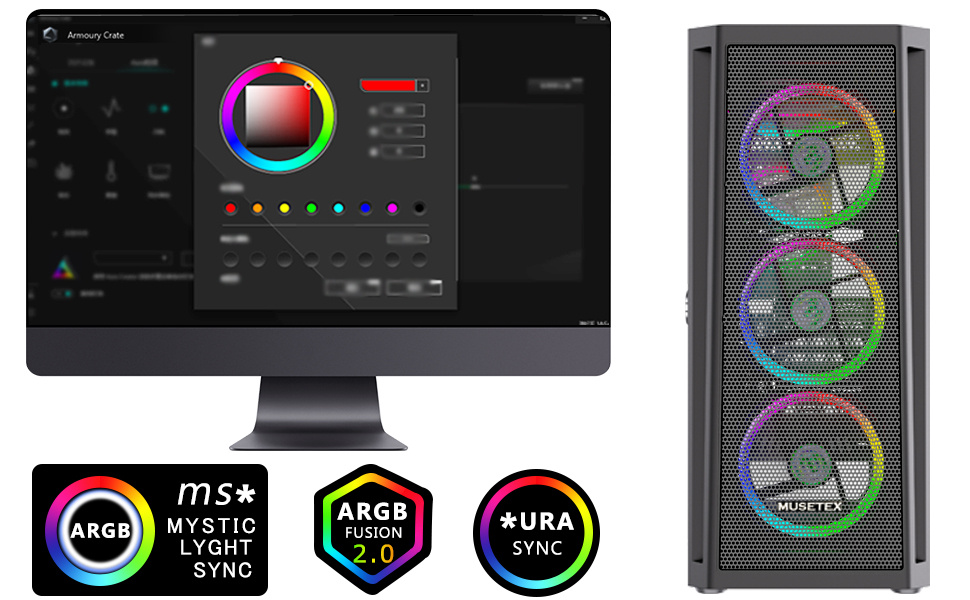 PC Case with Two Lighting Control Methods
ARGB fan refers to addressable and programmable, that is every light-emitting point on the fan can be controlled, and the color changes are very rich, makes the lighting effect more 34% radiant than RGB.
1.Button Control
There are 19 modes of ARGB lighting effects. Press the LED button on the I/O panel to easily switch the ARGB fan light. (Press the LED button twice to return to the original model)
2.Motherboard Control
Connect the 5V 3Pin ARGB header to motherboard, you can control the fans through the ARGB software of the motherboard.
Musetex motherboard cable only suitable for 5V 3PIN header. (press the button for three seconds to switch to motherboard mode)
Forbidden try to connect the 12V 4PIN header with the motherboard cable. consulting the motherboard seller to verify the motherboard interface firstly, If your motherboard is a 12V 4PIN header, please only use the button to control the ARGB fans to change the color.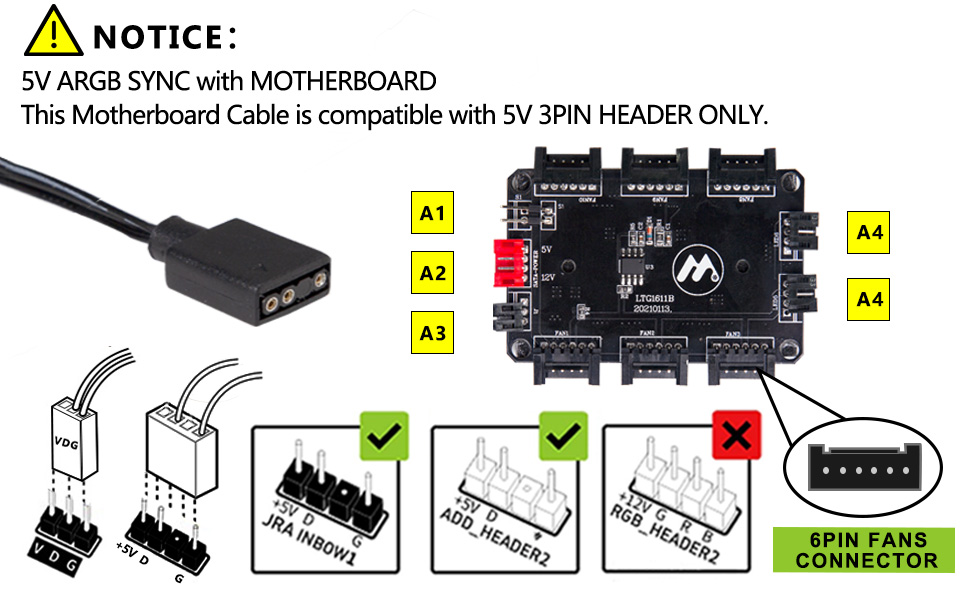 Musetex Mid Tower PC Case with Fan Control Board
Equipped with Musetex fan control board, please connect 5V 3PIN motherboard interface to control ARGB fan. ( Forbidden connect with 12V 4PIN header)
A1 : 2PIN LED line interface
A2 : Power cord interface
A3 : Motherboard line interface
Note: Control Board is 6pin fans connector.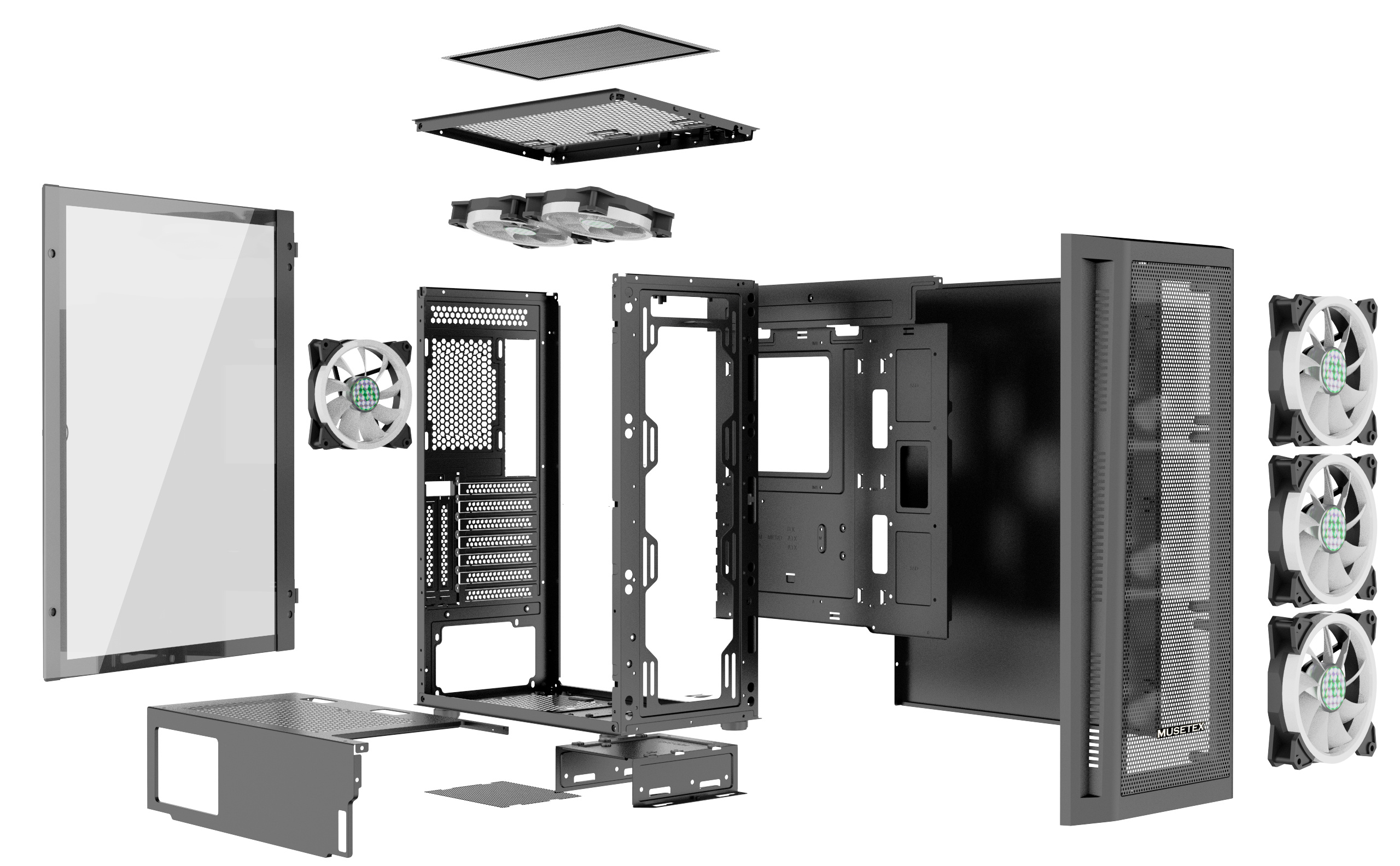 ATX Case Tempered Glass Design
Tempered glass with 21% increase in thickness, Metal thickness increased by 57% at the same time, all maximize the texture of the case.
With magnetic suction, the door design can expand up to 240 degrees. It's easy to disassemble and install accessories immediately, more bright, and allows you to showcase dazzling ARGB lighting.
The tempered glass side panel can display your accessories perfectly, internal easy to install ATX/Micro ATX/ITX motherboard; 240mm/280mm/360mm water cooling; maximum length 340mm GPU; maximum length 160mm CPU air cooling; maximum length 200mm PSU.
IO PORTS:
2 x USB 3.0, 2 x HD Audio, 1 x Power Button , 1 x LED Button.
FAN SUPPORT:
Front 3x 120 mm / 3x 140 mm
TOP 2x 120 mm / 2x 140 mm
Rear 1x 120 mm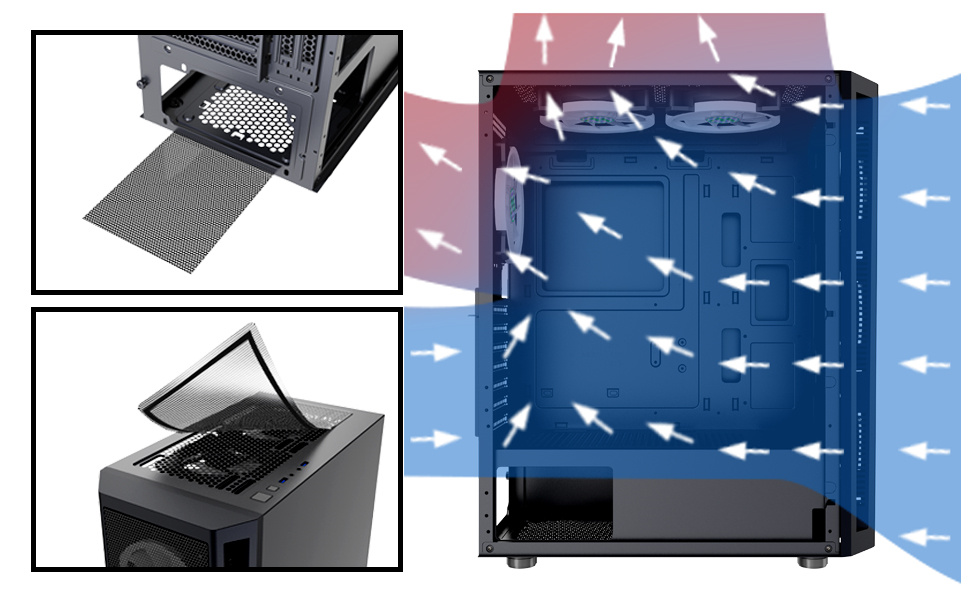 Keep cool with 6 x 120mm Pre-installed ARGB fans, no need to purchase separately.
Silent ARGB fan/Large air intake/Excellent heat dissipation effect.
The vents, on the top and bottom of the pc case, can give good ventilation. At the same time, the dust filters cover the top and bottom vents to prevent dust to get in. Effectively protect the important pc components.
The top is a dust-proof net with a magnetic stripe, which is firm and convenient.
The bottom is PSU dust-proof net, which is easy to disassemble and clean.
Cooling Method: Air, Water.
RADIATOR SUPPORT
Top 240 mm / 280 mm radiator
Rear 120 mm radiator
CPU COOLER HEIGHT CLEARANCE
160 mm
DUST FILTERS
1 x Top, 1 x Bottom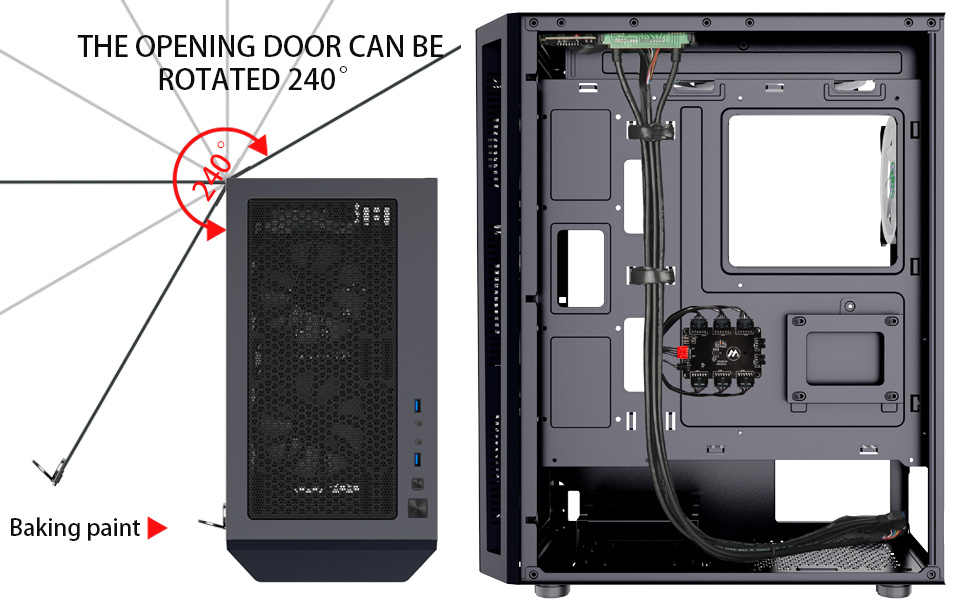 Cable Management Made Simple
6pcs ARGB pre-installed fans and motherboard cable, which can control ARGB fans in two ways.
Musetex Gaming PC case Motherboard Compatability: ATX/ Micro-ATX/ Mini-ITX.
PSU:Max.Length: 200mm. Power Supply Mounting Type: bottom Mount.
GPU LENGTH CLEARANCE
340mm
DRIVES
3 x 2.5" SSD / 2 x 3.5" HDD
EXPANSION SLOTS
9 slots
Item Dimension (L"x W"x H")
15.75 x 8.27 x 18.5
Weight
15.37 LB
| | | | | | | |
| --- | --- | --- | --- | --- | --- | --- |
| Products | MK7-WN5 | MK7-GN5 | G05MN6-HW | G05MN6-BW | G05MN6-HB | G05S6-HB |
| Package Dimension | 18"x17"x11" | 18"x17"x11" | 24"x20"x11" | 24"x20"x11" | 24"x20"x11" | 24"x20"x11" |
| Weight | 14pounds | 14pounds | 18pounds | 18pounds | 18pounds | 18pounds |
| Material | Steel chassis, ABS, Tempered Glass | Steel chassis, ABS, Tempered Glass | Steel chassis, ABS, Tempered Glass | Steel chassis, ABS, Tempered Glass | Steel chassis, ABS, Tempered Glass | Steel chassis, ABS, Tempered Glass |
| Motherboard Support | Micro-ATX/ITX | Micro-ATX/ITX | ATX/Micro-ATX/ITX | ATX/Micro-ATX/ITX | ATX/Micro-ATX/ITX | ATX/Micro-ATX/ITX |
| Fans Support | Front: 120mmx2 Top:120mmx2 Rear: 120mmx1 | Front: 120mmx2 Top:120mmx2 Rear: 120mmx1 | Front: 120mmx3 Top: 120mmx2 Rear: 120mmx1 | Front: 120mmx3 Top: 120mmx2 Rear: 120mmx1 | Front: 120mmx3 Top: 120mmx2 Rear: 120mmx1 | Front: 120mmx3 Top: 120mmx2 Rear: 120mmx1 |
| Maximum GPU Length | 340mm | 340mm | 380mm | 380mm | 380mm | 380mm |
| Maximum CPU Cooler Height | 180mm | 180mm | 160mm | 160mm | 160mm | 160mm |
| Maximum PSU Length | 200mm | 200mm | 245mm | 245mm | 245mm | 245mm |