Consisting of TL-PA4010 nano powerline adapter and TL-WPA4220 Wi-Fi powerline extender, this kit allows you to extend your home network by up to 300 meters over existing electrical circuit. Installation is easy—plug the nano adapter into an outlet and connect it to the home router using an Ethernet cable, then plug the Wi-Fi powerline extender (larger unit) into a wall outlet in your desired room. Press the 'Pair' buttons on both units to create a secure connection between them, with up to 600 Mbps bandwidth.
The TL-WPA4220 Wi-Fi powerline extender complies with 802.11 b/g/n, providing up to 300 Mpbs wireless speed. A Wi-Fi Clone button allows you to copy SSID and password of the home router with a simple press. Two 10/100 Mbps Ethernet ports are ideal for wired devices like set top boxes, game consoles, TVs and more.
* Powerline adapter and extender need to be connected to the same electrical circuit.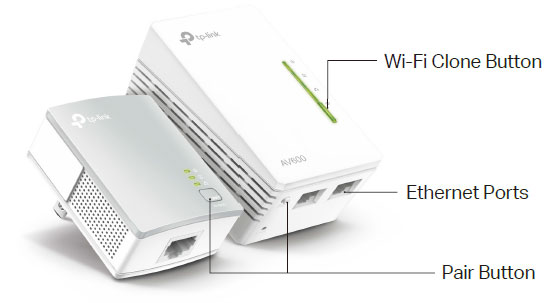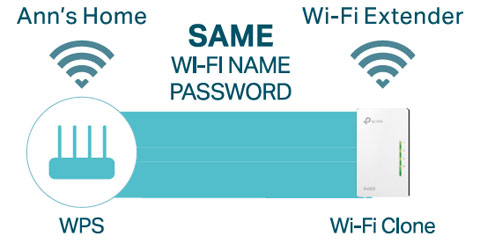 Simple Setup with Wi-Fi Clone
Copy your wireless network name (SSID) and password from your router instantly by pressing the Wi-Fi Clone button.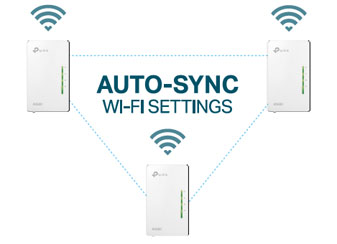 Settings in Sync with Wi-Fi Move
Any changes made to network settings will be automatically applied across the entire network.
600 Mbps over Powerline
HomePlug AV standard provides up to 600 Mbps high speed data transmission over a home's existing electrical wiring, ideal for lag-free HD or 3D video streaming and online gaming.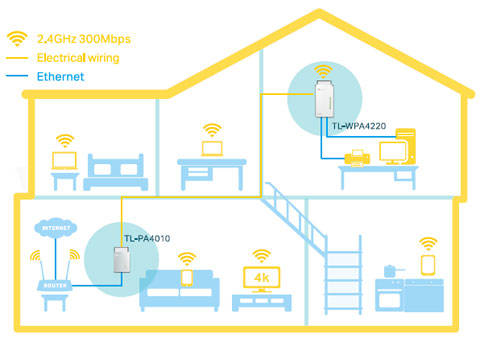 300 Mbps Wi-Fi
Extend 300 Mbps wireless connections to previously hard-to-reach areas of your home and office.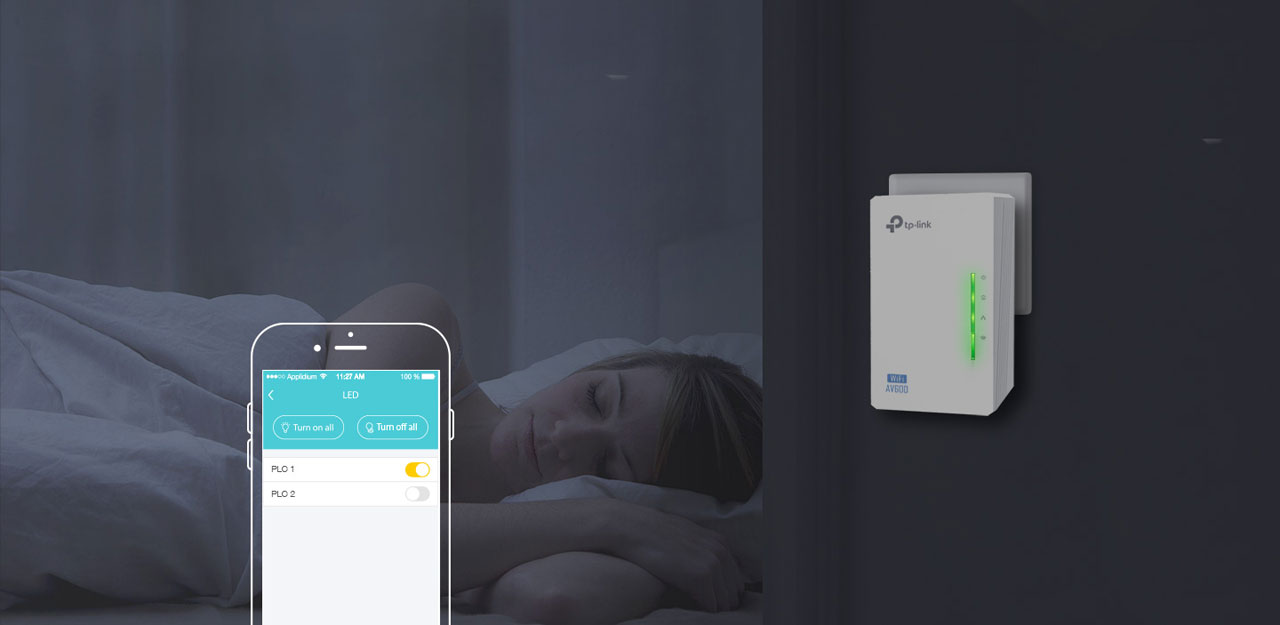 Powerline Management on Your Smartphone
The tpPLC Utility and tpPLC app make it easy to control wireless network settings, set schedules for Wi-Fi availability and even control the LED indicators on your adapters from any iOS or Android device. You can download the tpPLC app for iOS and Android devices. You can download the intuitive new tpPLC Utility for your PC at www.tp-link.com/en.

Speed
Wireless N Standard—Wi-Fi speed of up to 300Mbps
HomePlug AV—Provides up to 600Mbps high-speed data transmission over a home's existing electrical wiring
Multiple Ethernet Ports—Create faster connections with PCs, consoles, STB and more
Speed Optimization—Supports IGMP managed multicast IP transmission, optimizing IPTV streaming

Ease of Use
Wi-Fi Clone—Allows powerline extenders to copy the network name (SSID) and password from your router with one simple touch
Wi-Fi Move—Automatically adopts Wi-Fi settings from your existing powerline network
TP-Link tpPLC—Allows you to easily manage your network using the intuitive tpPLC App or the tpPLC Utility
Plug, Pair and Play—Set up your powerline network in minutes

Security
Pair Button—Provides a connection with 128-bit AES encryption, at the touch of "Pair" button
Parental Controls—Manage when and how connected devices can access the internet
Encryptions for Secure Network—WPA-PSK/WPA2-PSK encryptions provide active protection against security threats

Range
300 meters Range—Up to 300 meters/1000 feet range over existing electrical wiring
* The terms "AV600" and "300Mbps" are derived from applicable specifications and refer to the theoretical maximum physical-layer data transfer rate. Those terms are used on this product solely to indicate its compatibility with other "AV600" or "300Mbps" powerline devices. Actual data speeds vary and may be limited by the product's Ethernet port and other network conditions such as data traffic, electrical noise, and wiring issues. For better performance, powerline devices should be deployed on the same electrical circuit and rated for the same HomePlug standard. A minimum of two powerline devices are required to establish a powerline connection. If you are uncertain about your network conditions, you should consult an IT professional to assist in selecting a networking product.
* Maximum wireless transmission rates are the physical rates derived from IEEE Standard 802.11 specifications. Range and coverage specifications along with the number of connected devices were defined according to test results under normal usage conditions. Actual wireless transmission rate, wireless coverage, and number of connected devices are not guaranteed, and will vary as a result of 1) environmental factors, including building materials, physical objects and obstacles, 2) network conditions, including local interference, volume and density of traffic, product location, network complexity, and network overhead and 3) client limitations, including rated performance, location, connection quality, and client condition.