Sprinkler Controller Rebates – As an EPA WaterSense certified sprinkler controller, Yardian Pro is eligible for local rebates.
Smart Program – 100% fully automated Smart Program helps decide what days and the duration your schedule needs to keep your yard lush and green.
Real Time Weather Monitor – skip watering schedules based off real time weather forecasts for rain, freeze, or wind.
Full Range Power – with 110-220V, Yardian Pro can be used anywhere in the world without a power converter.
Water Restriction Database – Aeon Matrix's proprietary water restriction database automatically keeps you update to date with local municipal rules and regulations.

Weatherproof Outdoor Enclosure
Yardian's enclosure is water-proof, snow-proof, wind-proof, and all around weather-proof. Perfect for both outdoor or indoor use.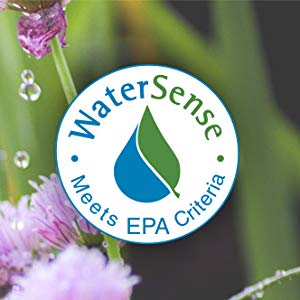 EPA WaterSense Rebates
As an EPA WaterSense certified sprinkler controller, Yardian Pro is eligible for local rebates and provide the highest savings on monthly water usage.
720P HD Security Camera
Watch over your Yard or Garage with Yardian's 720P HD live video streaming ad free cloud storage to protect your property 24/7

Smart program for the smart home
The most advanced Smart Program is only available with Yardian Pro. A 100% automated program which determine which days and the duration of water your yard needs with 0 input necessary from you. For even more control, our Conditional Program allows you to not only set skip rules, but also special watering if/then rules. Or choose to completely choose your own schedule with Manual Program.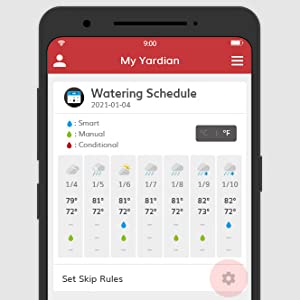 Pin point weather forecast
The weather is always changing and so should your sprinkler schedule. Yardian Pro uses targeted location to provide the most up to date forecasts to skip watering schedule when it detects a chance of rain, freeze temperatures, or high winds. Fully customize the skip rules based off chance of rain, temperature, and wind speeds.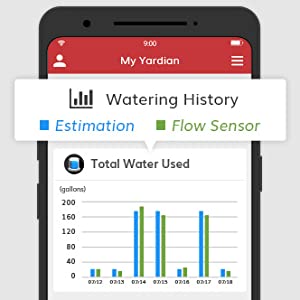 Track your water usage and history
Keep track of the total water used (and saved) each day and month to stay updated on your water usage. See your water needs change and update as seasonal adjustments are made through the year.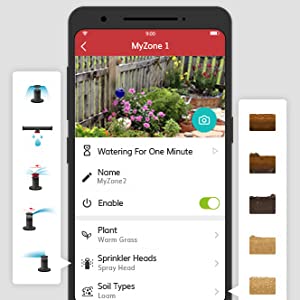 Tailor made for you and your yard
No two yards or zones are the same and your watering schedule shouldn't be the same either. With the Yardian app, your watering scheduled will be tailored specifically for each zone based off the plants, sprinkler heads, soil, sun exposure, overall area, and even the slope of the ground to create the optimal watering schedule.