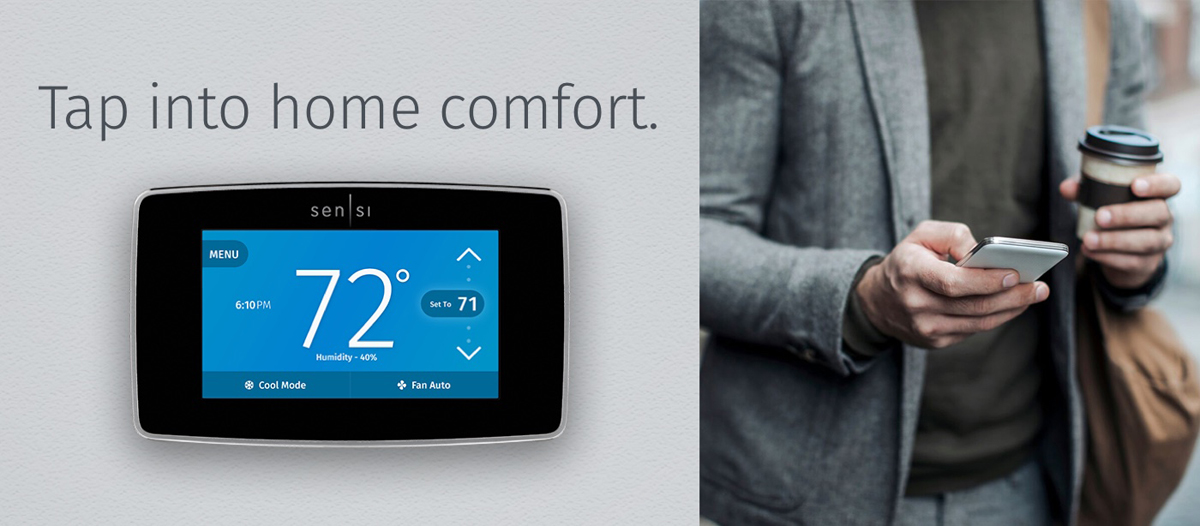 Your comfort on your terms.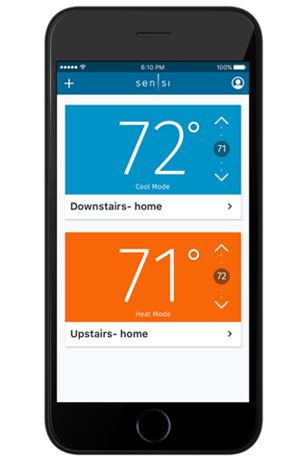 GEOFENCING
Sensi uses your smartphone's location to make automatic adjustments to your temperature settings, helping you avoid wasteful heating and cooling when you're away, and making sure your home is exactly how you like it when you arrive.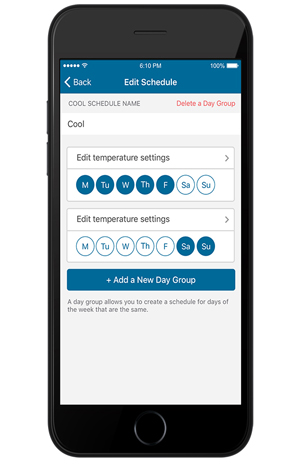 SCHEDULING
With independent programming options for each day of the week, your Sensi thermostat lets you create and customize your unique schedule to fit your lifestyle, and save on HVAC related energy costs.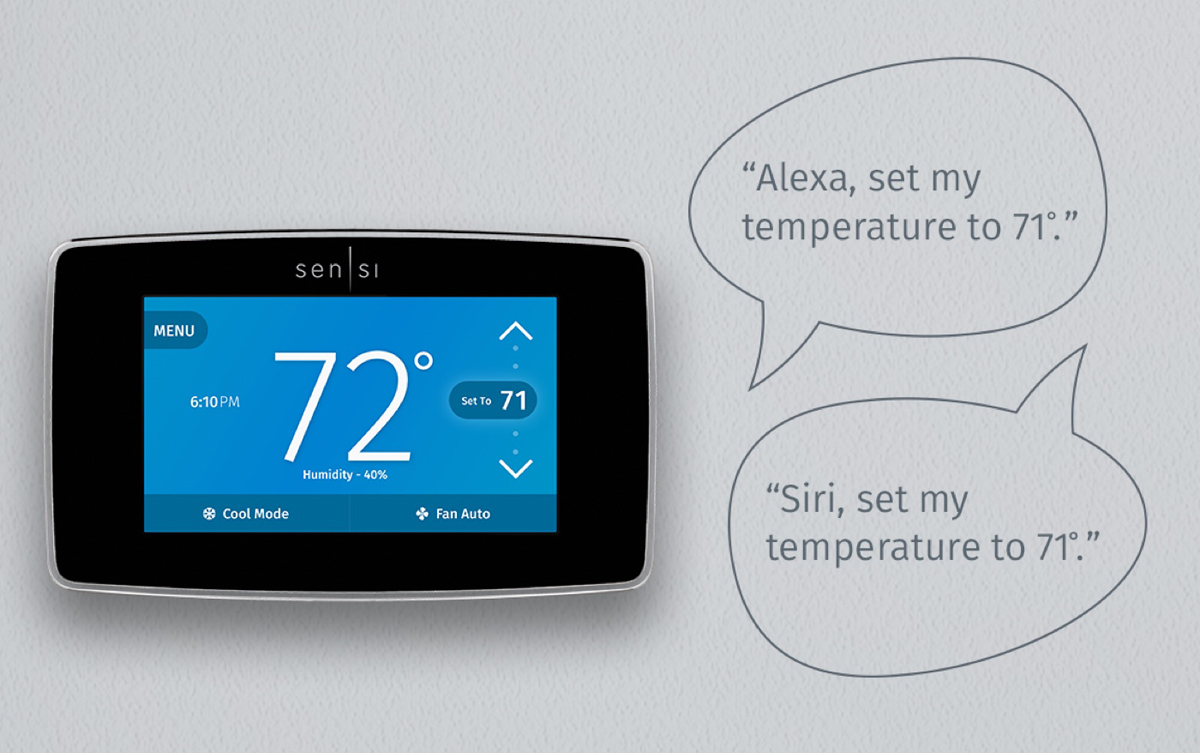 The smart home experience.
Your Sensi thermostat integrates directly with Apple HomeKit, Amazon Alexa and Wink smart home platforms.

Get up and running in no time.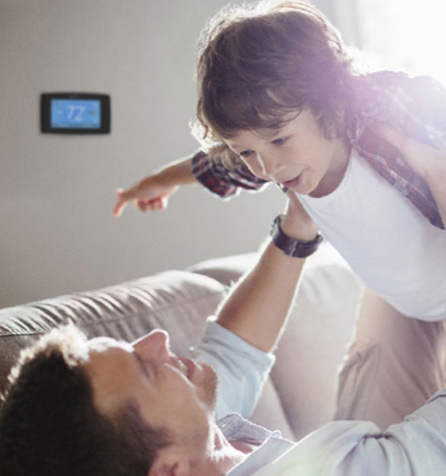 Designed to be installed in as little as 15 minutes, Sensi makes things quick and hassle-free, even if you have never installed a thermostat before.
Using the free Sensi mobile app, simply select the wires that are connected to your old thermostat, and let the app pick the setting that matches your home.
Your Sensi thermostat easily connects to your wireless network so you can be up and running in no time. Should you need any help along the way, our highly-trained Sensi Support Team can be reached at support@sensicomfort.com or 1.888.605.7131.
Extensive compatibility* with most home HVAC systems.
Conventional - up to two stages of heating and two stages of cooling (2H/2C)
Heat Only and Cool Only
Heat Pump (With or Without Aux) - up to 4 stages of heating and 2 stages of cooling (4H/2C)
Gas, Oil, Electric
Geothermal and Dual-fuel
*A c-wire is required for all system types. If you don't have a c-wire, 'Emerson Thermostat Common Wire Kit' is available for purchase.
Does not work with electric baseboard heat and some other systems.
Features & Specifications
HD Color Screen
Touchscreen Control
Illuminated Easy-Click Terminals
Indoor Humidity Sensor
Back Glow
Geofencing
Flexible 7-Day Scheduling
Auto Changeover
Fan Control

Local Weather
Keypad Lockout
Secure Network
Remote Thermostat Control
Multi-Thermostat Control
AC Protection
Built-In Level for Mounting
Auto Changeover
3-Year Limited Warranty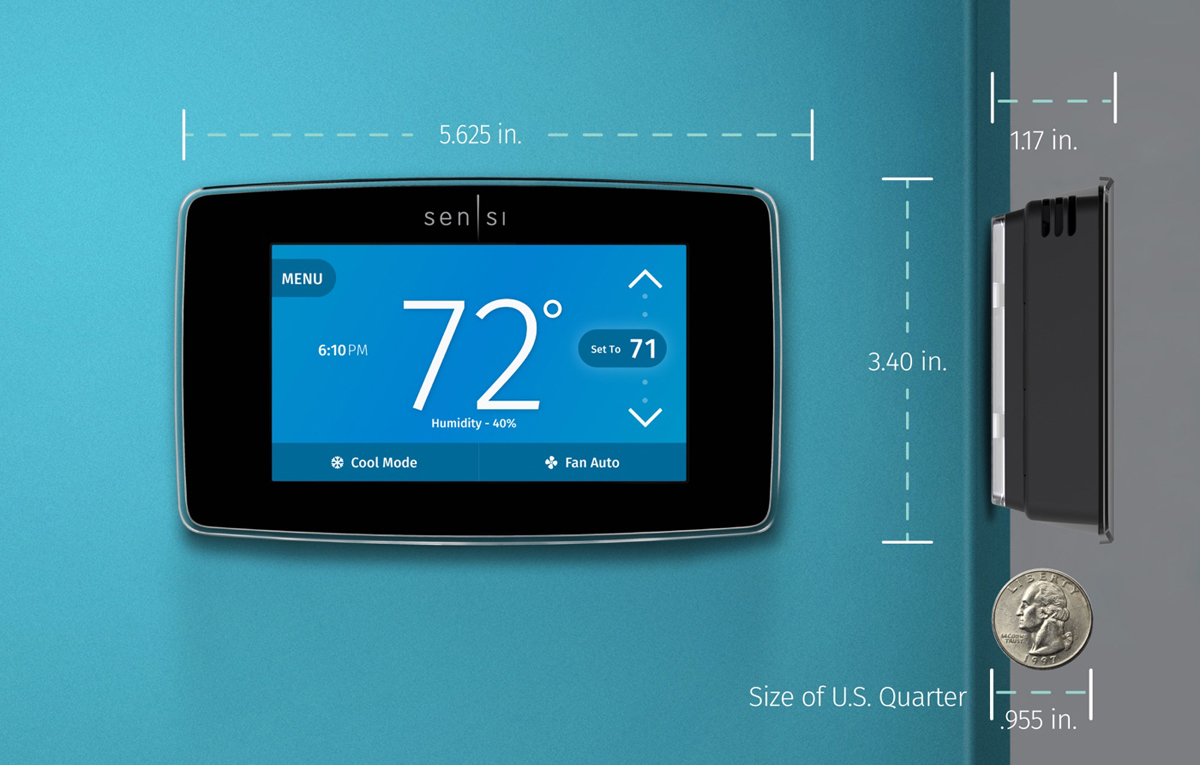 Thermostat Dimensions
5.625" x 3.4" x 1.7"
Screen Dimensions
4.3" full color LCD display
Thermal Specifications
Setpoint Temperature Range: 50° to 99°F (10° to 37°C)
Display Temperature Range: 32° to 99°F (0° to 37°C)
Electrical Specifications
Wired: 20 to 30 VAC through terminals C and Rc or Rh. NEC Class II, 50/60 Hz.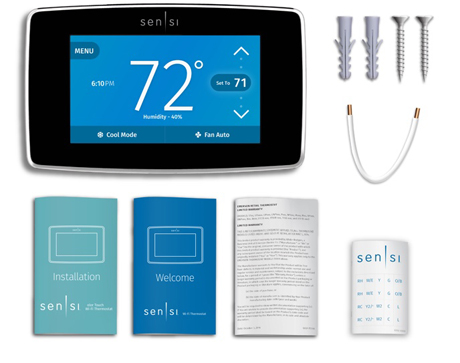 WHAT'S IN THE BOX:
Thermostat
Mounting hardware
Jumper wire
Installation guide
Welcome guide
Warranty booklet
Wire labels