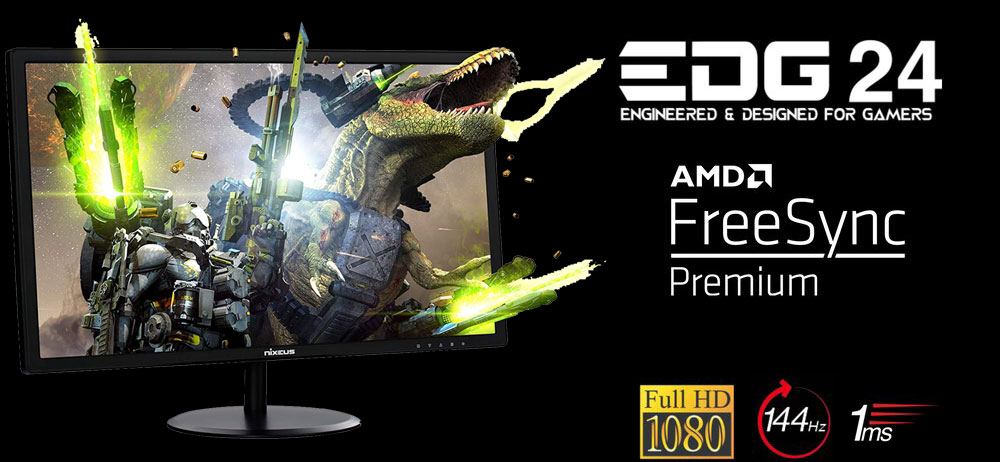 Nixeus EDG 24" gaming monitor
Give yourself an edge in battle with a gaming monitor engineered and designed for gamers. With 144 Hz refresh rate and 1 ms (GtG) fast response time, nothing will hold you back. AMD FreeSync certified of range 30 Hz to 144 Hz, this monitor brings smooth game visuals without tearing or stuttering. Full HD resolution on a 24" TN panel guarantees true to life clarity for games, movies and photos. Dual HDMI and one DisplayPort inputs, all of which support 144 Hz, flawlessly work with and bring out the best out of the latest gaming desktops, and next generation consoles. Stereo speakers are built onboard, which will come in handy.
Nixeus EDG 24" with AMD FreeSync Premium Technology
Gaming shouldn't be a choice between choppy gameplay or broken frames. With the Nixeus EDG 24" 1920 x 1080 AMD FreeSync 144Hz Gaming Monitor, it doesn't have to be. Get fluid, artifact-free performance at virtually any framerate with AMD Radeon FreeSync technology.
Get effortlessly smooth gameplay with the Nixeus EDG 24 with AMD Radeon FreeSync technology in AMD Radeon GPUs, A-Series APUs and Ryzen CPUs, with Radeon Vega and Radeon Navi graphics.
The NX-EDG24 also features Low Framerate Compensation (LFC) that is automatically active with AMD FreeSync to ensure an optimal visual gaming performance.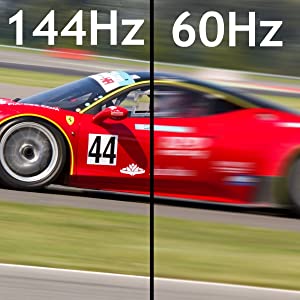 Designed For Gamers—Casual, Competitive, and eSports Professionals
24" 1920×1080 TN LED Display Panel: 24" displays are professional eSports industry standard that provides the perfect field of view allowing gamers to see and react without unnecessary eye, head and mouse movements.
144Hz Ultra High Refresh Rate: Produces more fluid looking animations by allowing up to twice as many video frames that can be seen on a 144Hz monitor versus a regular 60Hz monitor. Gaming visuals will appear much smoother and responsive—allowing for the best competitive gaming experience.
Tested and Verified to work with Nvidia G-Sync by Nixeus: Adaptive-Sync technology for support with Nvidia G-Sync with the latest Nvidia G-Sync compatible drivers (on DisplayPort input).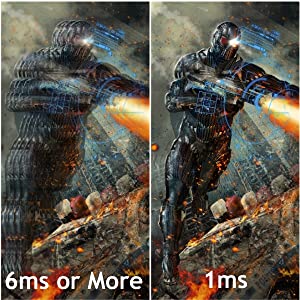 1ms Fast Response Time
1ms Gray to Gray: Fast GTG response time to reduce ghosting to improve your gaming experience in fast twitch and fast motion games. The balance of power often lies with a single millisecond. Make every one of them count with the incredibly responsive performance of AMD Radeon FreeSync technology in the NX-EDG24.
Low Input Lag: Utilizing a gaming grade display panel that is the #1 choice of professional gamers and eSports tournaments, the NX-EDG24 has one of the lowest input lag in the gaming display industry—perfect for competitive First Person Shooters, MOBAs, and Fighting Games.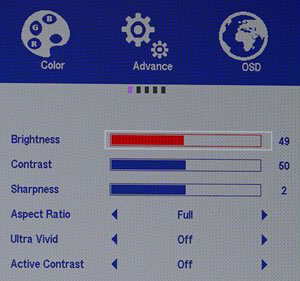 On Screen Display Menu (OSD)
Customize your NX-EDG24 display to your gaming preference by adjusting Brightness, Over Drive, Contrast and Color Temperature settings—a feature normally available in more expensive monitors.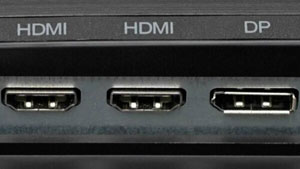 Multiple Inputs
One DisplayPort 1.2 and two HDMI 2.0 all support PC gaming up to 144Hz. HDMI 2.0 inputs support Microsoft Xbox gaming consoles up to 120Hz.
Built-in stereo speakers allow you to enjoy music and audio without the need for additional audio peripherals.
NX-EDG24S with Base Tilt Only Stand
The NX-EDG24S includes a base tilt only stand. The stand is removable allowing for installation of a custom VESA mount with 75mm x 75mm VESA pattern (not included).