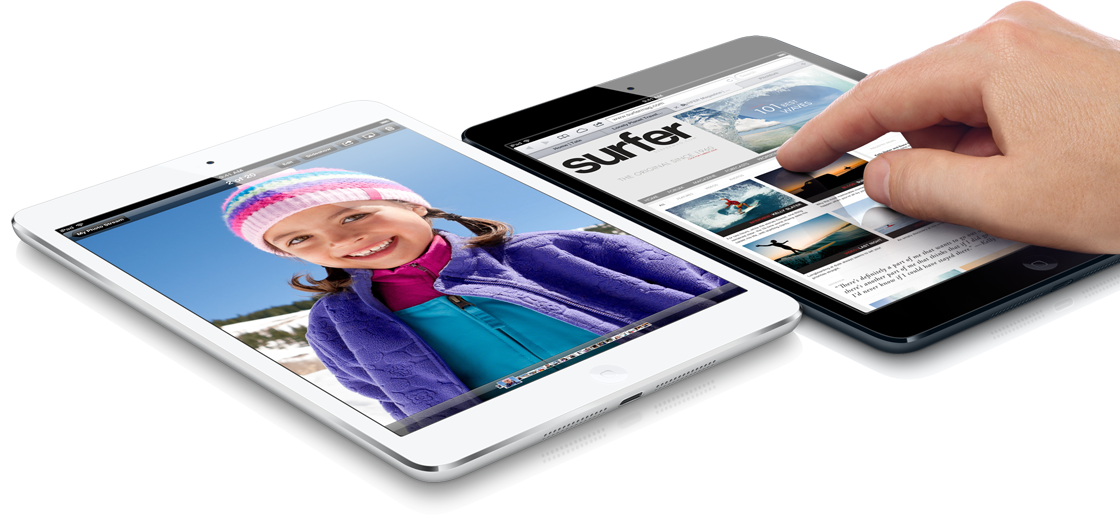 The whole package. In a smaller package.
iPad mini gives you full iPad experience in a thinner and lighter profile. A beautiful display, powerful A5 chip, FaceTime HD camera, iSight camera with 1080p HD video recording, ultrafast wireless, and over 275,000 apps ready to download from the App Store empower your iPad mini to do what an iPad can do. iPad mini is an iPad in every way, shape, and slightly smaller form*. It is precisely and beautifully made for incredible fit and finish. Its lightning connector is small and reversible for extremely easy operation.
*Compared with iPad (3rd generation). Actual size and weight vary by configuration and manufacturing process.
Beautiful 7.9" Display.
A screen worthy of iPad.
Perfectly Sized LED-Backlit Display.
iPad mini makes one thing clear: Its 7.9-inch display more than measures up to the complete iPad experience. View web pages in Safari. See where you are and what's around you using Maps. Flick through your photos and watch videos in vivid detail. And wave hello to the family on a FaceTime call. The iPad mini display uses the same LED backlight technology as iPad to give you plenty of pop per square inch. And it's perfectly sized to work with hundreds of thousands of apps made for iPad.
Thin and Light Design.
iPad mini has everything that makes an iPad an iPad, but it's a fraction of the size. At just 7.2 millimeters, it's pencil thin and unbelievably light. You can easily hold it in your palm. And stash it in your smallest bag without a second thought, so it's always close at hand.

Incredible Performance.
Mini is mighty.
Powerful A5 Chip.
iPad is known for its fast, fluid performance, and iPad mini doesn't disappoint. It features the powerful and power-efficient A5 chip, which makes everything you do feel smooth and natural. From the little things like switching from app to app and swiping from page to page, to the big things like editing photos, watching movies, and playing games.
FaceTime and iSight Cameeras.
With two built-in cameras. Every side is its good side.
Wave Hello with FaceTime Video Calling.
With FaceTime built into iPad mini, you can make a video call over Wi-Fi or cellular. The front-facing FaceTime HD camera gives everyone a great view of you, while the iSight camera on the back lets you show others what you're seeing. So even when you're out and about, your friends and family are never out of the loop. You can hear every laugh and see every smile. And with the 7.9-inch display, you've got more than enough screen to take in the whole scene. You can also use the front-facing camera for taking self-portraits or recording 720p HD video.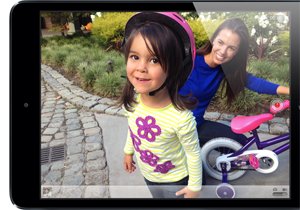 Record HD Video in Full 1080p.
An impromptu performance on the subway, the winning shot at your daughter's soccer game, an awesome 360-degree view from the top of the mountain — the iSight camera on iPad mini lets you capture all these unpredictable, beautiful, spectacular moments. In 1080p HD, no less. The spacious iPad mini display gives you a great view of whatever you're filming. And with automatic video stabilization, your recording is free of bumps and shakes. So your videos are instantly ready to share.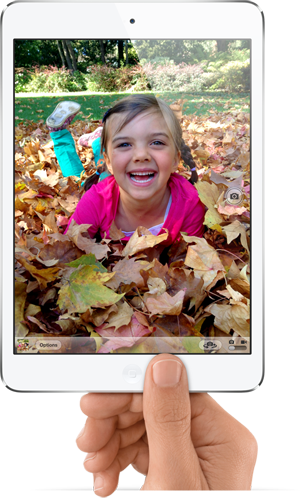 Shoot 5-Megapixel Still Images.
The 5-megapixel iSight camera features a backside illumination sensor that captures great-looking pictures whether by sunlight or candlelight. When you shoot photos, the big, beautiful iPad mini display becomes a big, beautiful viewfinder — giving you plenty of room to compose your shot. Autofocus, tap to focus, and tap to set exposure functions mean every photo you take instantly becomes frameworthy. And with built-in face detection that automatically balances focus and exposure across up to 10 faces, there's more room for more grins. So everyone look at iPad mini and say "Cheese."
Ultrafast Wireless
Fast connections. The world over.

Advanced Wi-Fi Technology. Built in.
iPad mini features advanced Wi-Fi that's up to twice as fast as any previous-generation iPad. With dual-band (2.4GHz and 5GHz) 802.11n Wi-Fi and support for channel bonding, download speeds can reach up to 150 Mbps. Translation: The things you do every day may start to feel a whole lot faster.

Cellular Connectivity at Breakneck Speed — up to LTE.
If you want to connect to the Internet even when you don't have access to Wi-Fi, choose iPad mini with Wi-Fi + Cellular. It can make ultrafast cellular network connections around the world — including LTE7 and other advanced wireless networks such as HSPA, HSPA+, and DC-HSDPA. So you can download content, stream video, and browse the web at amazing speeds — without a contract or long-term commitment.
AirPlay
Play it on your iPad mini. Watch it on your HDTV.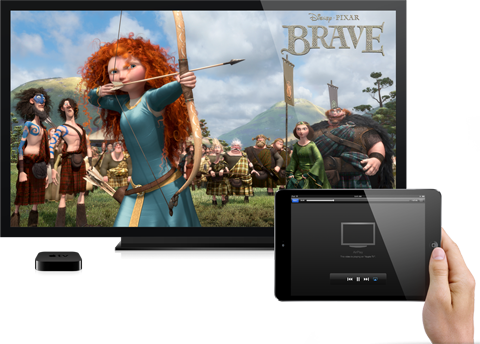 Stream via AirPlay.
All the great stuff on your iPad mini — your music, photos, and videos — can stream wirelessly to your HDTV and speakers via Apple TV or to AirPlay-enabled speakers over a Wi-Fi network. With just a tap of the AirPlay icon, you can rock the house with your favorite album, have a movie night, or show off some photos. And go big.

Print via AirPrint.
Print right from your iPad mini over Wi-Fi with AirPrint. There's no software to download, no drivers to install, and no cables to connect. Print from Mail, Photos, Safari, and iBooks. Or any of the iWork apps — Pages, Keynote, and Numbers. With just a few taps, you can send whatever's onscreen to an AirPrint-enabled printer.
Lightning Connector
Smaller. Smarter. Durable. Reversible.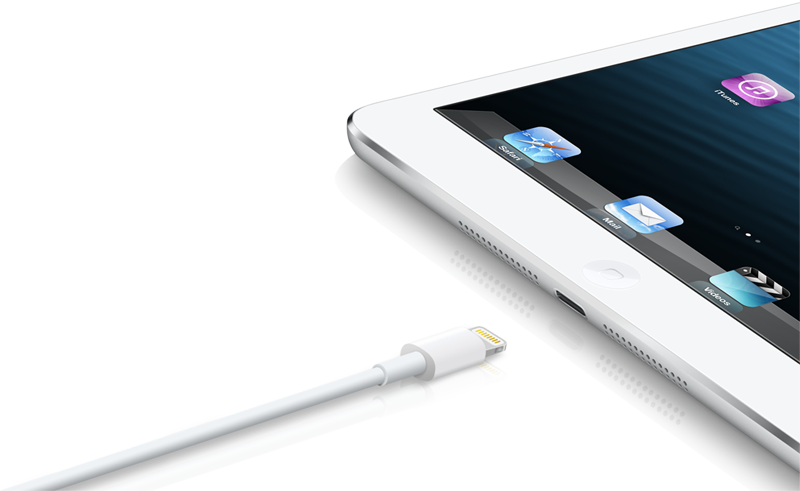 A New Way to Get Connected.
iPad mini is so thin and light, it requires an ultraslim connector. It's called the Lightning connector, and it features an all-digital, eight-signal design that's significantly more durable than the 30-pin connector. Another brilliant feature of Lightning: It's reversible. Which means there's no wrong way to plug in the cable.
Lightning to 30-Pin Adapter.
If you have an iPad accessory that depends on the 30-pin connector, you can still connect it to your iPad mini. Simply use a Lightning to 30-pin Adapter (sold separately).