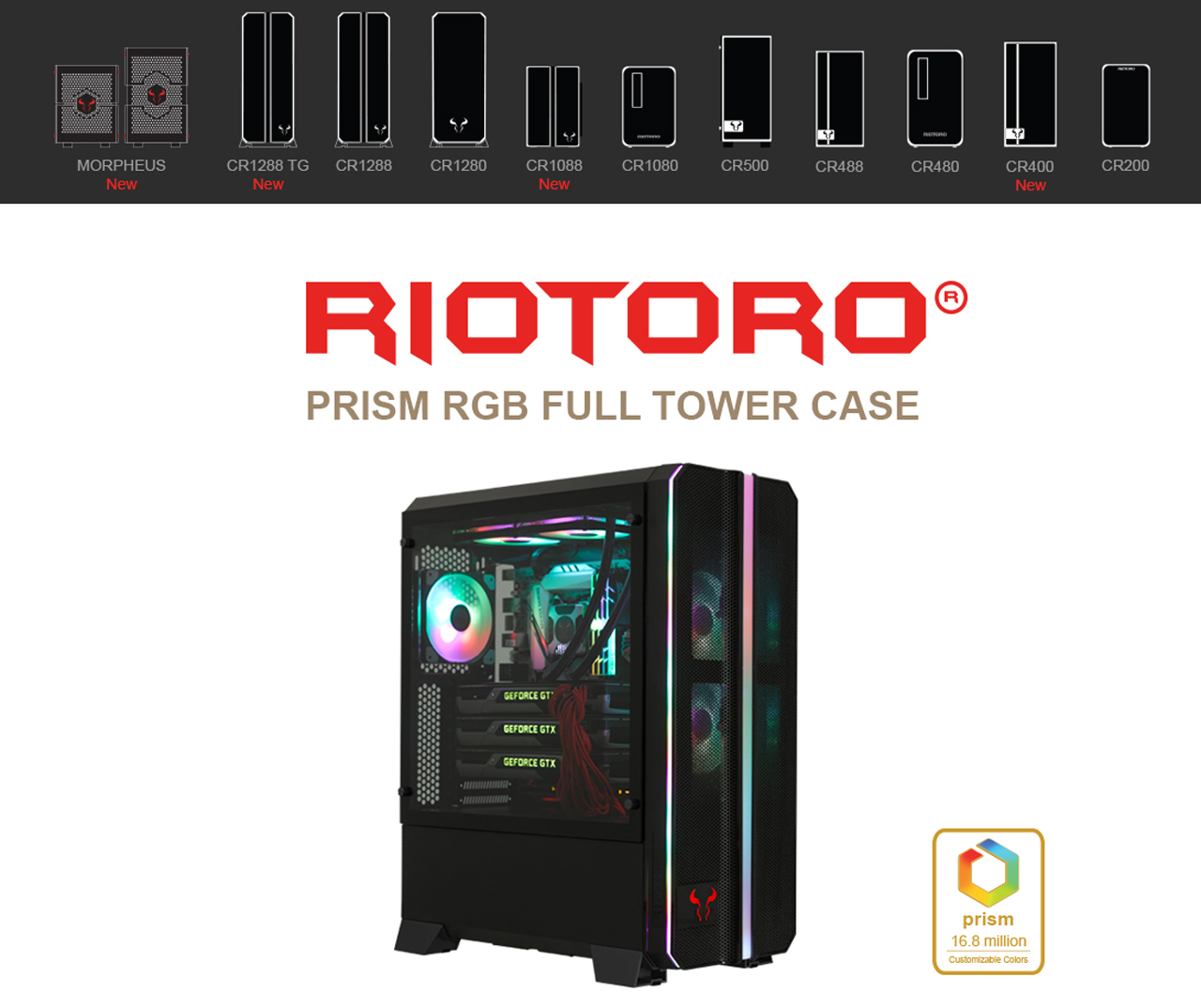 FULL-TOWER CASE WITH RGB & TEMPERED GLASS
The CR1288TG Prism RGB full-tower case builds upon RIOTORO's CR1288 by adding a large tempered-glass side window and multi-colored RGB lighting effects.
MULTI-COLORED RGB LIGHTING EFFECTS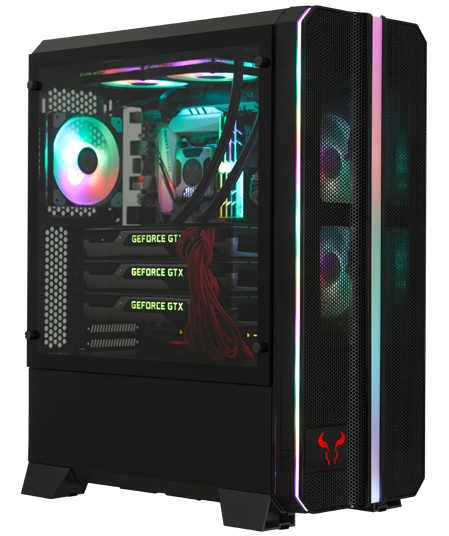 Integrated multi-colored lighting RGB lighting
The front panel is equipped with integrated multi-colored lighting RGB lighting with pre-programmed lighting effects. Alternatively, the case's lighting cables can be connected to your 5-volt, RGB-ready motherboard to control lighting from your motherboard's software.

TOP-PANEL LIGHTING & FAN CONTROL
The Quickest Lighting Customization in a Full Tower
The top-panel buttons provide quick lighting customization with on-the-fly control of effect modes, colors, brightness and effect speed. Of course, power, reset, USB 3.0 and audio ports are also included for quick, easy access.
Press the RGB Button to Select Blue or Any of 256 Colors to Suit Your Mood

If you need some quiet time, press the LOW fan-speed button. Or press the FAST button and you're instantly cooler. Of course, there are USB and audio ports for quick, convenient access.
DUAL CHAMBERS
The most simple, elegant and smart way to build your gaming machine.
The CR1288TG Prism has separate compartments for the motherboard, power supply and drives to help direct airflow through the CPU, GPU and motherboard and to isolate sensitive drive storage.
DIRECT AIRFLOW
The included 140mm fans directs airflow over the hottest components the graphics cards, CPU, and motherboard power circuitry.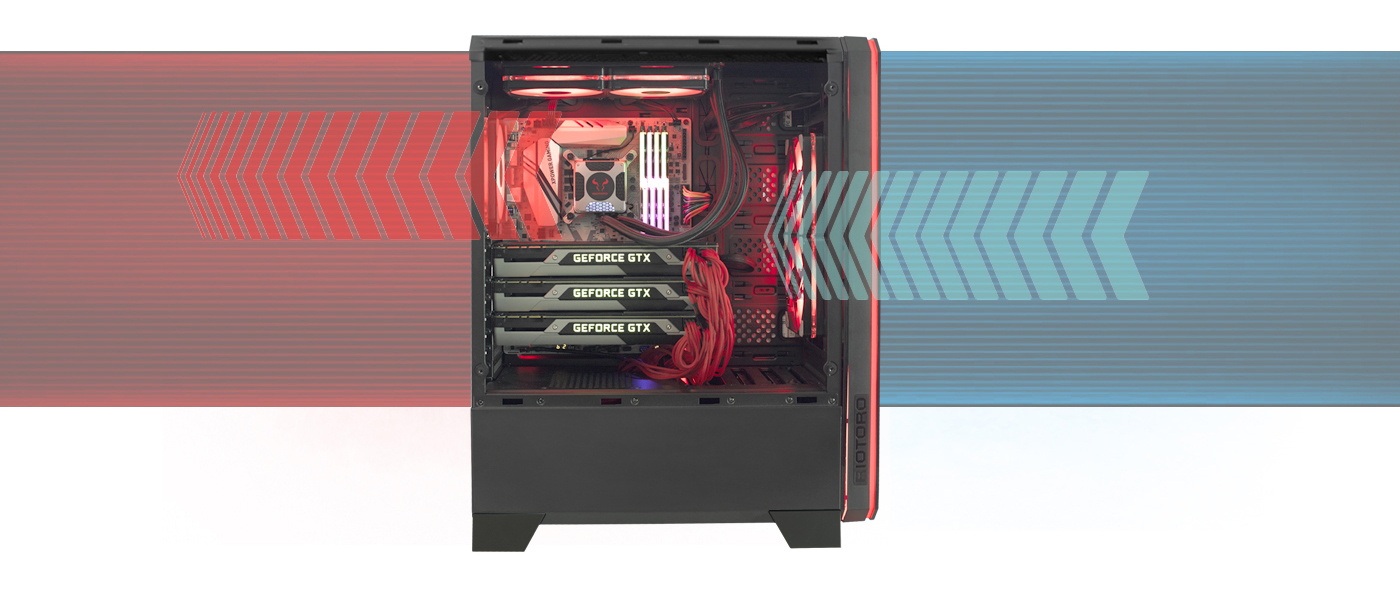 These cases have been amde with separate compartments to help direct airflow over critical components and isolate sensitive drive storage
ULTRA-COOL FLEXIBILITY
Now you have an incredible number of cooling options.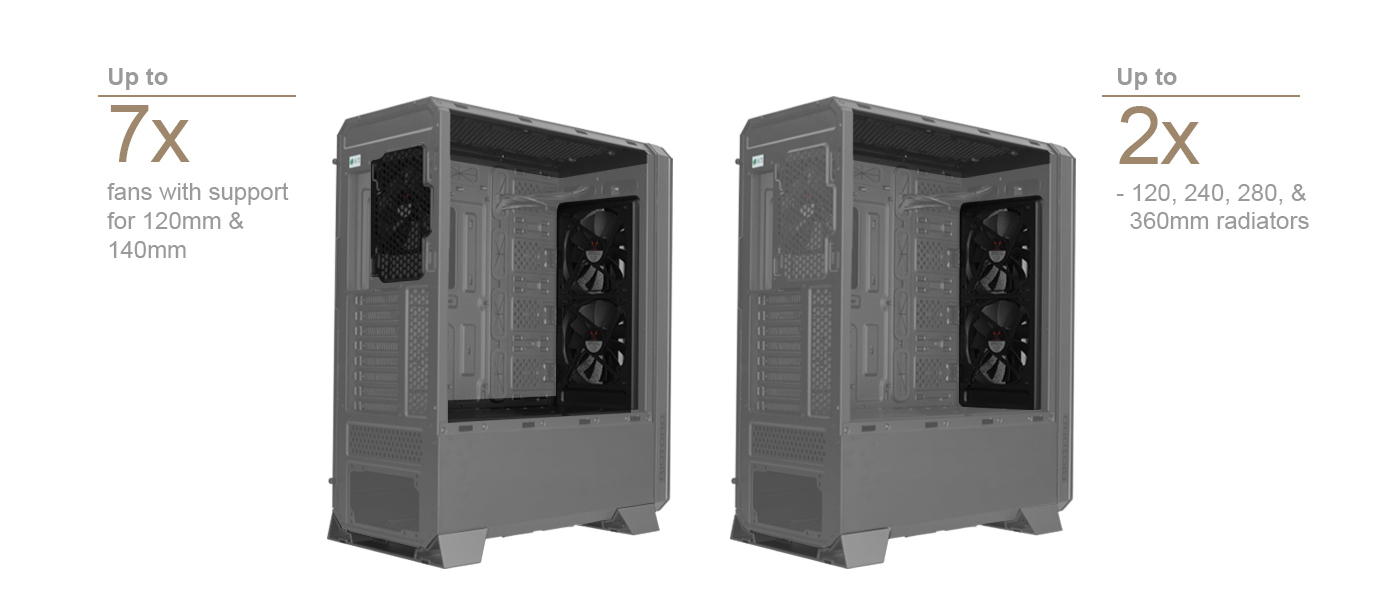 The case's mesh front panel, dual 140mm intrake fans and rear 120mm exhaust fan provide ample cooling for extreme gaming rigs. For users that want a little more cooling, the CR1288TG has additional mounting points for fans and support for 120, 240, 280 and 360mm radiators.
BUILDER-FRIENDLY CABLE MANAGEMENT
The spacious interior incorporates modern builder-friendly features easy installation and customization.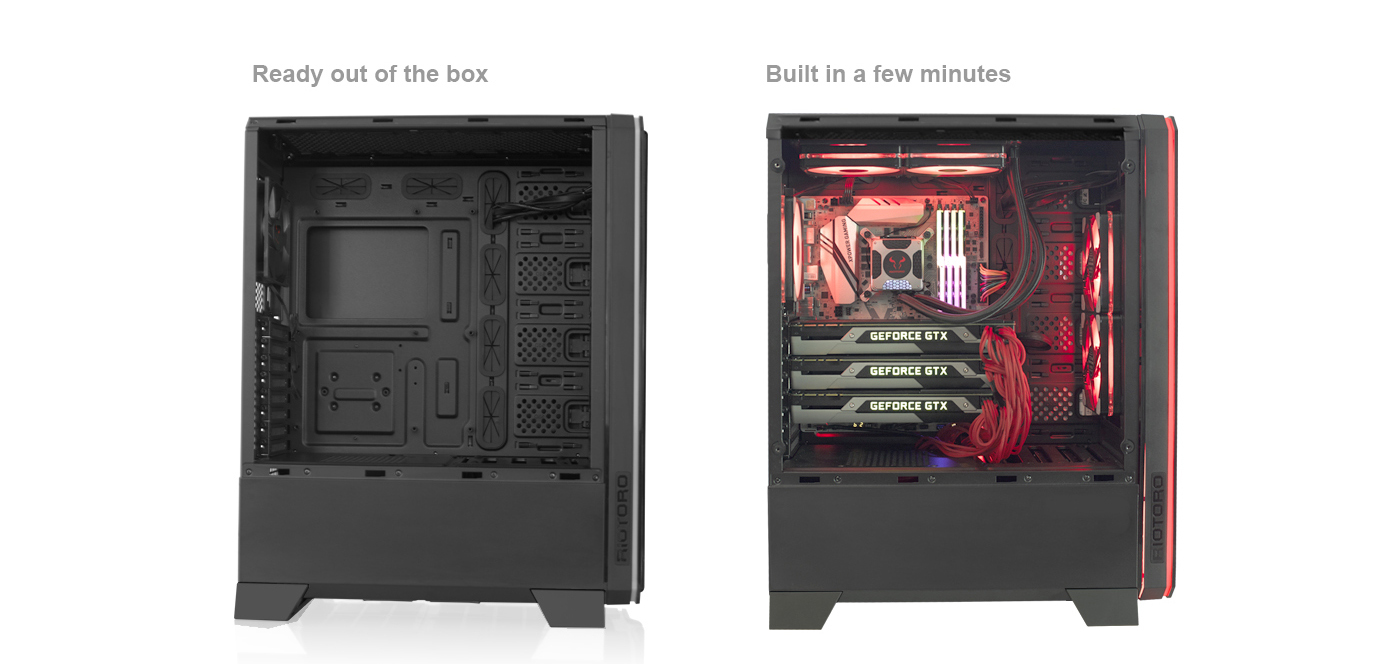 The spacious interior incorporates modern builder-friendly features for easy installation and customization. The integrated cable management is thoughtfully designed to provide optimal routing paths and tie-down points that allow users to easily secure and conceal loose cables. Tool-less drive mounts make installing hard drives and SSDs a snap.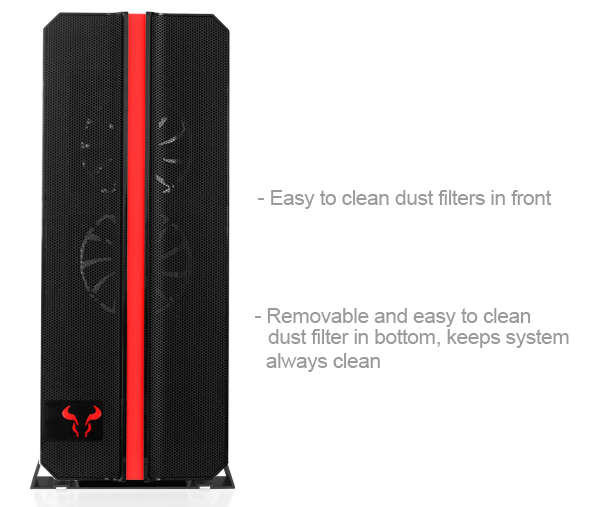 Top Magnetic Washable Dust Filter
Helps keep your computer clean and dust free.
Top Acrylic Panel
Designed for improved heat dissipation and aesthetics.
DIMENSIONS & WEIGHT
This is the lightest full-tower case in the world with full RGB functionality.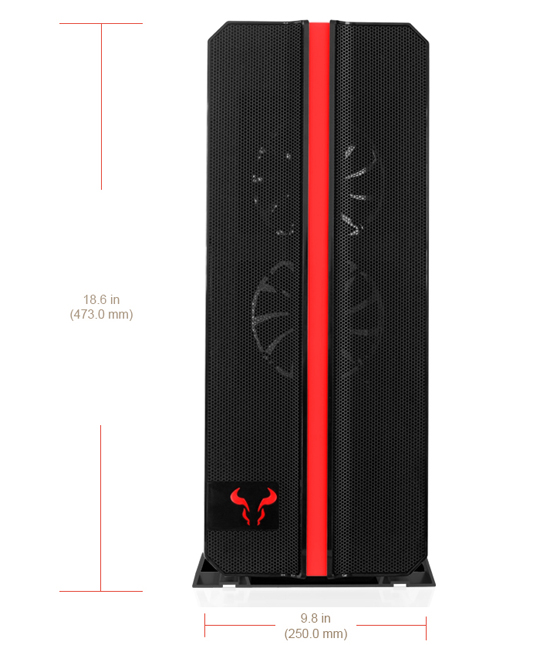 Unboxed Dimensions: 18.6 x 9.8 x 22.8in. / 473 x 250 x 580mm
Unboxed Weight: 17.8 lbs / 8.1 kgs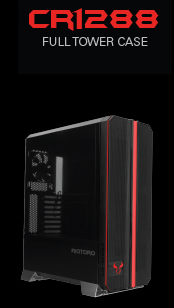 Contents and Specifications
Package Contents
1x CR1288TG PRISM full-tower case
2x 140mm case fans
- 1x 120mm case fan
- Manual, accessories / spare-parts box
Product Features
Pre-programmed multi-colored RGB lighting effects that are controllable via the top panel
Mesh front panel and dual compartments to streamline airflow
Two 140mm intake fans and a 120mm exhaust fan for quiet, efficient cooling
Mounting points for 120mm and 140mm fans, and up to 360mm radiators
Cable routing and CPU cutouts for easier installation
Edge-to-edge, tempered-glass side window