With a Nippon Labs™ Premium 18"" (1.5 ft) SATA II cable, you can connect both SATA I and SATA II devices to a connector, such as a hard drive to a motherboard. Use them when building a new computer from scratch or adding an extra hard drive to an existing setup. Since many SSDs and HDDs don't include SATA cables, it is always a good idea to keep several on hand.
SATA II to SATA I Cable Backward Compatibility
With this SATA II cord, you get transfers speeds at 3Gbps when connected to a SATA II port. However, it is also backward compatible with SATA I ports. This is useful when working on older computers. Keep in mind that the speeds may only go as fast as the port can handle. Connecting to a SATA I port means transfer speeds may not go past 1.5Gbps.
Useful SATA II Hard Drive Cable Features for Easy Connecting
This 1.5 ft SATA cable provides plenty of length and a narrow design that makes routing throughout the computer case easier. This also helps improve airflow as the cord won't take up much space and block the air. Also, one end of the cable has a locking clip that guarantees a proper and tight connection to the device.
SATA II Hard Drive Cable for eSATA Drives
Use SATA or eSATA cables for both internal and external hard drives. This Nippon Labs cord allows for hot-swapping, which means you can switch devices without turning off the entire system. This is particularly useful with external drives that you move from device to device to transfer data.
Nippon Labs SATA Cable
A premium SATA cable for connecting a SATA HDD/SSD to your motherboard, it complies with SATA II standards for up to 3Gbps bus bandwidth. It's made of 26 AWG wire and features latching connector for solid, secure connection. And the narrow cable design helps reduce interference with the airflow wide case when compared with the wide ribbon PATA (IDE) cable.
With locking capability
Hot-swap capability
Locking latch connector guarantees proper connection to device
Locking Latch connector is compatible with non-locking connector
RoHS Compliant
Shielded 26 AWG SATA II cable with 7 pin connectors
Connect high-speed Serial ATA and Serial ATA II devices to a Serial ATA controller
Support data transfer rates of up to 3.0 Gbps.
Narrow cables design:

simplifies cable routing and installation
improves air flow within case (no more big ribbons blocking air movement)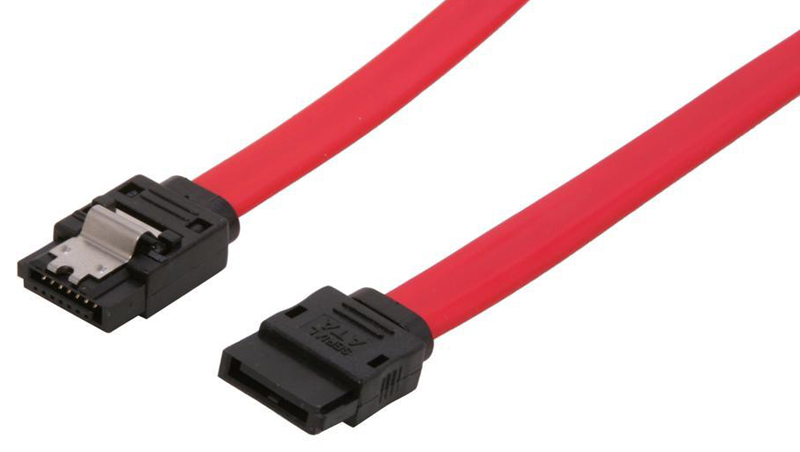 Warranty, Returns, And Additional Information
Return Policies

Return for refund within: 45 days
Return for replacement within: 1 year

This item is covered by Newegg.com's 45/1 Return Policy.