Do not settle for a stock air cooler, go liquid with ease with the CORSAIR Hydro H50 water cooling solution.
Your PC will run cooler and quieter when you replace your CPU's standard heatsink with a Hydro Series H50. Installation is straightforward. If you can get to the back of your PC's motherboard, you can install H50. All you'll need is a screwdriver and you'll be up and running in minutes. Maintenance is minimal thanks to closed-loop architecture and pre-filled coolant, which also deliver unmatched durability and reliability for trouble-free use for years to come.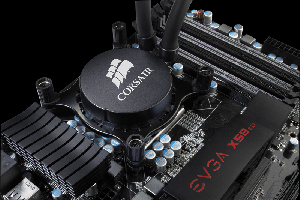 Completely Self-Contained
Hydro Series H50 comes pre-filled, and never needs refilling or priming.
Tool-Free Mounting Bracket Kit
The modular design makes installation simpler, and it's compatible with Intel processors.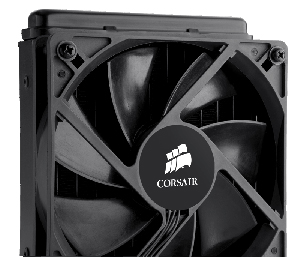 Low-Noise, Low-Speed 120mm Fan
The low speed and wide diameter reduces noise levels over the smaller, faster fans used on stock CPU coolers. The three-pin connector is compatible with fan controllers.
Low Permeability Rubber Tooling
Minimal coolant evaporation helps ensure long life, and the resilient rubber offers both high flexibility and excellent leak protection.
Low-Profile Pump
The pump unit provides high-speed circulation without taking a lot of space. This makes installation easier, and helps improve your case's airflow.
Latest generation micro-fin copper cold plate with pre-applied thermal compound.
Copper has excellent thermal transfer characteristics, and the fin design is optimized for efficient heat exchange.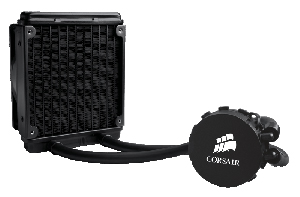 Low-Profile Black Aluminum Heat Exchanger
The low-profile design reduces the airflow requirement, which helps make H50 quieter. The small size also allows for easier installation and improved compatibility, and the black finish looks great.