Thrustmaster T150 PRO Racing Wheel with T3PA Wide 3-Pedal Set
Say hello to the all-new 1080° force feedback T150 PRO racing wheel and enjoy a thoroughly realistic racing gaming experience. The ergonomic racing wheel is ideal for a variety of racing games. Drive system with adjustable force feedback lets you feel every detail (the road or track's relief, loss of tire grip, braking, bumps and impacts, etc.)while you're racing. The racing wheel is officially licensed for PlayStation 4 and PlayStation 3 systems, and is also compatible with Windows. A T3PA 3-pedal pedal set is also included.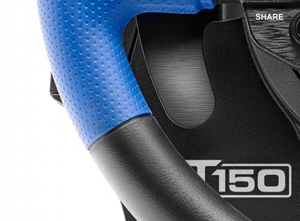 Maximum Racing Comfort
The wheel features reinforced rubber-coated grips. Sequential gear shifts are facilitated by the two large (5"/13 cm tall), 100% metal wheel-mounted sequential paddle shifters.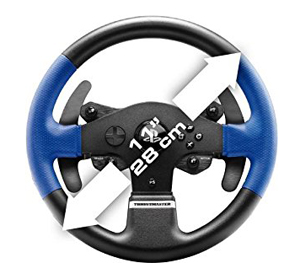 Perfectly Realistic Wheel
11 inches/28cm diameter racing wheel with an ergonomic design is perfectly adapted for all driving games (GT, Formula 1, NASCAR, rally, etc.).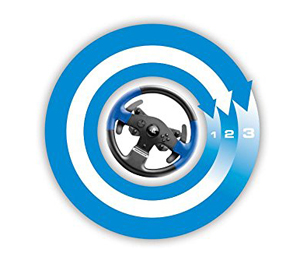 Extreme Racing Precision
A rotation angle adjustable from 270- to 1080-degree allows gamers to race in all vehicles with unrivalled realism. High-precision racing wheel: optical reading with 12-bit resolution (i.e. 4,096 values on the wheel's steering axis).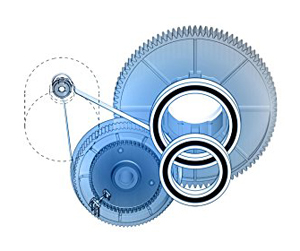 Realistic Force Feedback Effects
Experience every racing sensation to the fullest thanks to the realistic Force Feedback – the road or track's relief, loss of tire grip, braking, bumps and impacts, etc. A smooth, precise and silent racing wheel features a mixed belt-pulley and gears system.
Official Racing Wheel for PS4 and PS3
The official racing wheel ensures automatic recognition by PS4 systems. The PS4/PS3 sliding switch ensures optimum compatibility with both systems. The T150 PRO racing wheel can also be used on PC, thanks to Windows 10/8/7/Vista compatibility.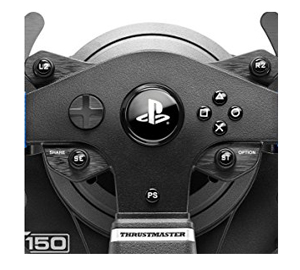 All Controls within Easy Reach
Never take your hands off the wheel, thanks to the built-in official buttons (PS / SHARE / OPTIONS) for PlayStation 4 system. Easily access all social functions, switch between the game and the system, navigate through the console's menus, etc.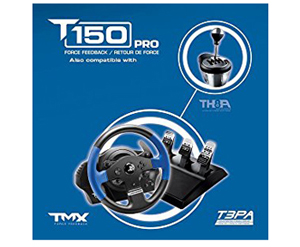 Compatible with Thrustmaster TH8A* Shifter
The T150 PRO racing wheel is compatible with the Thrustmaster TH8A* shifter. It comes with two included shift-plates: "H"-pattern (7+1) and Sequential (+/-).
*Sold separately.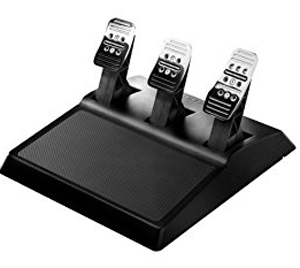 T3PA 3-pedal Pedal Set Included
The T150 is bundled with the three-pedal Thrustmaster T3PA pedal set, whose pedals and internal structure are all 100% metal. The T3PA is fully adjustable (spacing, angle and gas pedal with an adjustable height setting), and users can even adjust the push force independently for each pedal. An optional Conical Rubber Brake Mod is also included, allowing for an authentic feel with ultra-progressive resistance at the end of the pedal's travel.