TX-NR626 7.2 Channel Network A/V Receiver
Go Completely Wireless!
Built-in Wi-Fi and Bluetooth audio technology streams hi-res, lossless, and compressed formats from smartphones, tablets, PCs, and NAS devices. 4K pass-through and upscaling, high-res video from smartphones and tablets, six HDMI inputs for gaming and other sources are just a few things that make the TX-NR626 a knockout punch of value and performance.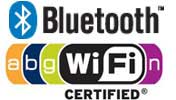 Built-In Wireless and Bluetooth
Stream Audio from Virtually Anywhere and Anything
The TX-NR626 connects to the wireless home network
without
LAN cables or adapters. Send a huge range of hi-res, lossless, and compressed files to your home theater from a smartphone, PC, tablet, NAS, and online sources using our remote app to control playback. Or, pair up and stream high quality wireless audio using built-in Bluetooth technology.
HDMI for High Resolution Playback
Six HDMI Inputs Let You Watch Pretty Much Anything
Qdeo™ technology from Marvell upscales standard video to silky-smooth 1080p (for regular HDTVs) and to an incredible 4k on compatible displays. Also, this receiver will passthrough 4K resolution from source devices (like a Blu-ray player) to an appropriate display. The TX-NR626's six HDMI inputs take surround sound formats from Dolby® TrueHD and DTS-HD Master Audio™, and supports 3D video. The two outputs have Audio Return Channel, so you can boost your TV's sound through your receiver.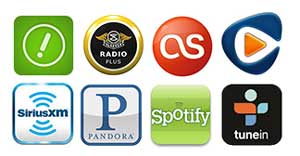 Music from Everywhere
Sounds Even Better THrough an Onkyo
The TX-NR626 has the most Internet radio and music streaming services of any receiver in its class. Period!
Quick and Easy Remote App
Makes Control Easy and Convenient
The Onkyo remote app for iPod touch®/iPhone® and Android devices is a convenient way to control your home entertainment from anywhere within wireless range. The app has a clear graphical interface to control playback, adjust settings and handle content across multiple zones. Find the Onkyo Remote App for your Kindle here.

The Foundation of Onkyo Sound
WRAT: Wide Range Amplifier Technology
From the quietest passages to booming explosions, Onkyo's exclusive technology enhances the audio of your movies, music and games like never before.
Deep, Defined Bass
Powerful Bass and Clear Vocals
Onkyo's Phase-Matching Bass optimizes low frequencies while preserving mid-range clarity. This means that powerful bass plays back with clear vocals; it doesn't overpower them.
MHL™ and Easy Video Switching
Your Phone's Photos and Videos on HDTV
MHL displays your mobile's 1080p video and other media on your HDTV with 7.1 channels of surround sound. InstaPrevue™ technology names your HDMI devices and displays live video thumbnails of available content. Switch sources easily, with just a glance. No need to remember what's connected to which port.
Audyssey Technology for Awesome Sound
Auto-Adjustments for Optimal Sound
Audyssey MultEQ® room-correction technology delivers clear, well-balanced, natural sound. Audyssey Dynamic EQ® maintains consistent bass, tonal and surround sound effects at different volume levels. Audyssey Dynamic Volume® automatically compensates for volume fluctuations, for example during loud commercial breaks.

Powered Zone 2
And Zone 2 Line-Out
For distributed audio playback in another room, like the kitchen or deck.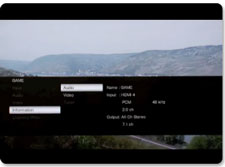 Overlaid Menus
For Quick Adjustments on the Fly
The Quick Set-Up button on your remote puts menus over the program you're watching to switch inputs or change settings without interrupting your viewing. Similarly, the Home Menu button calls up simple icons for choosing a media source and menus for system settings.
Comparison Data
TX-NR727

TX-NR626

TX-NR525

TX-SR313

Power Output (per channel)

110W

95W

80W

65W

Channels

7.2

7.2

5.2

5.1

THX Certified

THX® Select2 Plus™

—

—

—

HDMI In/Out
(3D-ready and ARC:
Audio Return Channel)

7 + 1 / 2

6 / 2

6 / 1

4 / 1

Wi-Fi-Certified
Wireless LAN Capable

Built In

Built In

Ready

—

Bluetooth
Audio Streaming

Built In

Built In

Ready

—

4K Pass-Through
(from compatible source devices)

?

?

?

—

4K Upscaling
(Qdeo™ Processing by Marvell )

?

?

—

—

Surround Sound Formats

Dolby TueHD,
DTS-HD Master Audio
Audyssey DSX,
Dolby Pro Logic IIz

Dolby TueHD,
DTS-HD Master Audio

Dolby TueHD,
DTS-HD Master Audio

Dolby TueHD,
DTS-HD Master Audio

Audyssey Room Calibration

MultEQ®

MultEQ®

MultEQ®

—

Phase-Matching
Bass Enhancement

?

?

?

—

Internet Radio

?

?

?

—

Remote App for iPhone /
Android / Kindle Fire

?

?

?

—

Video Upconversion
(Analog to HDMI)

—

—

—

—

InstaPrevue Technology

?

?

?

—

MHL
(Mobile High-Definition Link)

?

?

—

—

Multi-Zone Playback

Powered Zone 2, Zone 2/3 Line Outs

Powered Zone 2, Zone 2 Line Out

Zone 2 Line Out

—

WRAT (Wide Range
Amplifier Technology)

?

?

?

?

?

?

?

—

Hybrid Standby
Energy Saving State

?

?

?

—

Overlaid On-Screen Display
(OSD) via HDMI

1080p

1080p

1080p

Text

USB Ports

2 (Front/Rear)

2 (Front/Rear)

2 (Front/Rear)

1 (Front)
© 2013 ONKYO USA Corporation. All rights reserved. Onkyo features and specifications subject to change without notice.