The name "Monitor" is special to Polk Audio. The original Polk Audio Monitor Series, produced in the mid-1970s, ushered in the modern loudspeaker era by setting the standard for performance and value. The original Monitor Series is the line that made Polk Audio famous with its simple, sturdy construction, clear, accurate sound, powerful bass and superior imaging—all at a price that made great sound available to everyone. The newly reborn Monitor Series II is classic Polk: a quality-built, affordable line of high performance loudspeakers for music and home theater.
They are highly efficient, so they can be driven easily by unpretentious receivers, and they are voice matched for lifelike surround sound environments. The Monitor Series boasts a stylish contemporary look, with real wood veneer finishes, modern dark grey faces, and bold stabilizer feet on the tower models. Built for speed, sound quality and value, the Monitor Series is a great introduction to high performance sound.
Exceptional Sound Quality
The Polk Audio Monitor40 boasts two 5.25" Bi-Laminate composite dynamic balance drivers stiff with good damping for high efficiency, excellent bass and midrange clarity with lower distortion. And a 1-inch Fabric/Polymer Composite Dynamic Balance Dome Tweeter with powerful Neodymium magnet structure delivers clear and detailed high frequency response for realistic reproduction of vocals and instruments.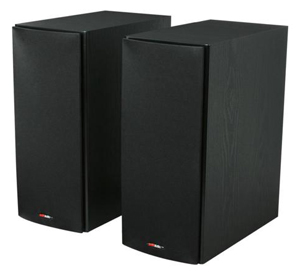 Enhanced Features
The Polk Audio Monitor40 features small-diameter driver design that delivers wide dispersion, better mid-range, and more detailed bass response for an open, "box-less," three-dimensional sound. Non-resonant all-MDF enclosure construction with ¾ "-thick baffles ensures cleaner, clearer, more lifelike sound quality. Crossovers use Mylar bypass capacitors for more detailed high frequencies. Critically Tuned Flared Port minimizes port noise ("chuffing") for good low frequency extension with low distortion, resulting in natural, full-bodied sound with rich bass.
Magnetically Shielded
The magnetically-shielded Polk Audio Monitor40 can be put at any proximity to display devices such as TVs and LCD monitors without loss of sound quality caused by interference.