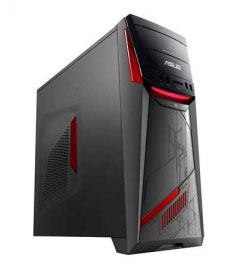 ASUS G11CD-WB51-GTX1070 i5 8GB 1TB 2.7 GHz Windows 10 Desktop Gaming Computer
Latest NVIDIA GeForce GTX 1070 Graphics Card, Founder's Edition with 8GB VRAM
6th generation Intel Core i5-6400 Quad Core 2.7 GHz processor (Turbo Boost up to 3.4
8GB DDR4 (2133Mhz) memory and 1TB HDD for fast performance
Customizable Chassis lighting with 8-million color LED light effects
802.11 AC WiFi, Bluetooth 4.0, 24X DVD-RW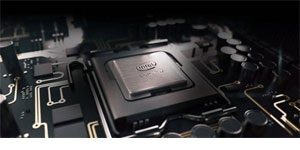 Blazing performance for remarkable gaming
Powered by Intel Core processors. The latest 6th-generation Intel Core i5 processor gives you the power to take on the most demanding of tasks, allowing you to play games at the highest settings, watch videos in 4K/UHD, and even create awesome websites or 3D models for work. You get a 23% performance boost and 22% more efficiency over the previous generation of Intel processors.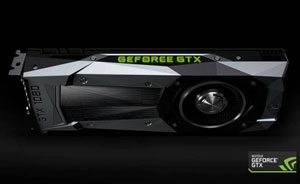 10: Gaming Perfected
The ASUS G11CD Gaming Desktop now comes equipped with NVIDIA's flagship GeForce GTX 1070, the most advanced gaming graphics card ever created. Enjoy gameplay with up to 3x the performance over previous generation GPUs, plus innovative new technologies that enhance VR experience.The ASUS G11CD is built with GeForce GTX 1070 Founder's Edition that uses premium materials and components, including a die-cast, tessellated aluminum body that's machine finished and heat treated for strength, durability, and rigidity.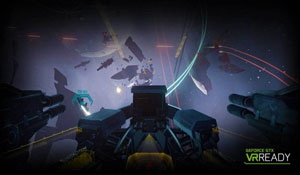 Next-Generation VR Performance
Discover next-gen VR performance, the lowest latency, and superior compatibility with leading VR headsets driven by NVIDIA VRWorks™ technologies. VR audio, physics and haptics let you hear and feel every moment.Put on your headset and let ASUS G11 and the latest NVIDIA technologies immerse you in a lag-free and stutter-free VR experience.
Designed for Gamers
Advanced design with Mayan-inspired detailing.ASUS G11 evokes an air of mystery, thanks to its futuristic outer space-inspired design. With its menacing red and black color scheme, and Mayan-inspired markings, it radiates the power and performance that lies within.Accessory Display:Use your accessory display chat boxes or in-game maps. You can even use it to catch up on e-sport streams, TV shows or movies, and even surf the web. In time, developers may even add official support for the accessory display, allowing you to use it for real-time maps and other game-enhancing tools.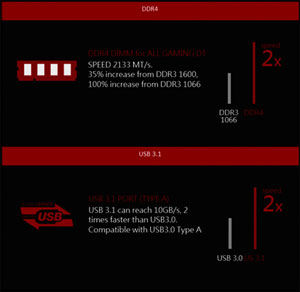 More gaming, Less waiting
DDR4 SDRAM provides speeds of up to 2.1 MT/s — twice that of DDR3 — to give you highly stable performance. DDR4 is also more efficient, requiring just 1.2V, so you get 20% in energy-savings over DDR3. There's even USB 3.1 for double the data transfer rates of USB 3.0.
ASUS-exclusive AEGIS II Utility
The exclusive Aegis II system performance monitoring app enhances your gaming experience, helping you track CPU/memory use, download and upload status and more. GameAlive lets you record and edit gameplay videos to share your frags on social media. Boost Launcher automatically frees up CPU and RAM resources to ensure smooth gameplay.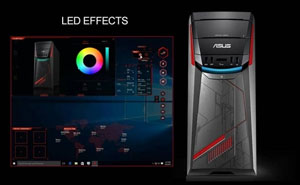 Custom LED Effects
You're immediately drawn to the three red 'flames' on the flanks of the ASUS G11, before your gaze moves on to the 8-million color customizable LED effects that dominates the center of the front chassis face. You can create ambient lighting to suit the game you're currently playing;or you can use Pulse mode – with emits a soft pulsing glow that makes it seem that ASUS G11 is slowly getting ready for its next battle.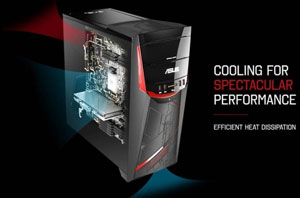 Cooling for Performance
Efficient heat dissipation:The chassis design of the ASUS G11 incorporates up to eight air vents to facilitate air intake and heat dissipation. Large 5mm side vents are dedicated to cooling the CPU, while the front air intakes draws air into the chassis for effective thermal management so G11 stays cool even in the heat of battle.
Quiet performance
ASUS G11 runs whisper-quiet at just 26dB at idle – quieter than a library! It has been designed to keep noise levels down to a minimum, so you can leave this silent performer on all night to download files while you get a good night's sleep.
ASUS desktops Most recommended Windows desktop brand
Innovation, design and reliability are at the heart of all ASUS computers. ASUS has won a PCMag.com Readers' Choice Award for its desktops four years running, leading the competition in both overall satisfaction and likelihood to be recommended. This proves that ASUS is better at delivering what customers want than rival Windows desktop PC companies. ASUS also had the lowest percentage of units needing repairs within the last 12 months, further proof of its trusted quality and reliability.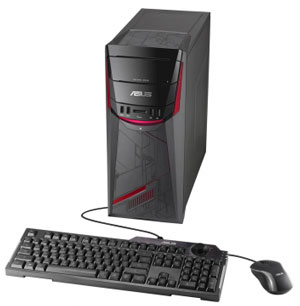 What's in the box
G11CD PC
USB Keyboard
USB Mouse
Power Cord
Warranty Card
Quick Start Guide