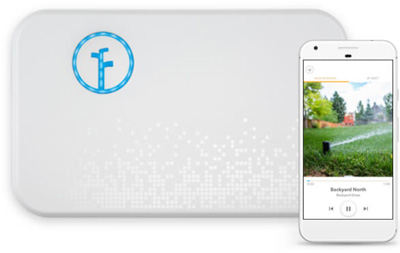 Generation 2
Smart Sprinkler Controller
The Rachio Generation 2 Smart Sprinkler Controller automatically creates watering schedules that lower your water bill and ensure a beautiful yard, while the mobile app lets you manage your sprinkler system from anywhere.
The smart watering leader.
Take control of your watering with the controller that sparked a smart watering revolution. Manage watering on smartphone, create customized schedules and more with the best-selling Rachio Generation 2 Smart Sprinkler Controller.
The Rachio App takes the worry out of watering.
Your personal watering assistant makes maintaining a beautiful yard easy with mobile control, smart home integrations and customized schedules that automatically adjust for changing weather.
Water smarter with the Rachio App.

Control sprinklers from anywhere using a smartphone, tablet or laptop.

Create customized schedules that water with accuracy.

Weather Intelligence automatically adjusts schedules for changing weather.

Works with Nest, Amazon Alexa, Google Assistant, IFTTT and more.
Installation is easy.
Get the Rachio Generation 2 Smart Sprinkler Controller up and running in just three easy steps. Install in 30 minutes or less - no special tools or expertise required!
REPLACE YOUR OLD CONTROLLER.

PLUG EXISTING WIRES INTO RACHIO.

COMPLETE SETUP IN THE RACHIO APP.