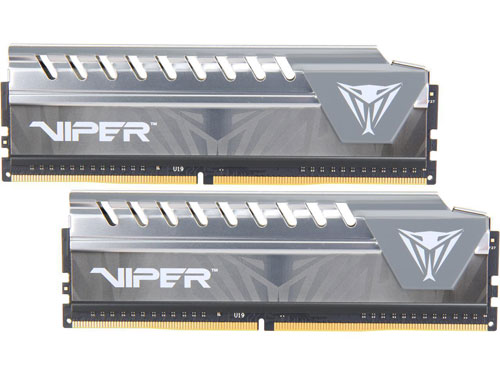 Patriot Viper Elite Desktop Memory
Patriot's Viper Elite memory modules sharpen your sluggish desktop computer with outstanding speed and absolute stability. Tested across latest Intel and AMD platforms, they give your PC the resources it needs to perform without compatibility problems. The aluminum heat spreader ensures swift heat dissipation to sustain its superb performance. Patriot's Viper Elite series is available in dual channel kits with capacities from 8GB to 32GB, and speeds from 2400 MHz to 3200 MHz.
VIPER ELITE FOR THE LATEST DDR4 SYSTEMS
Viper Elite DDR4 memory are offered in dual channel kits up to 3200 MHz. Manufactured using only the highest quality ICs and 100% hand tested on the latest Intel and AMD platforms, Viper Elite DDR4 memory ensures you will get an ultra-responsive faster overall system to handle high memory intensive applications.
LOW POWER CONSUMPTION
The Viper Elite high performance DDR4 memory utilizes only 1.2V of power. That's a 20% overall power savings and does it without sacrificing system performance.
XMP 2.0 SUPPORT
Patriot's Viper Elite DDR4 memory kits offer XMP 2.0 support. Simply enable XMP on your system, and it automatically adjusts the timings for truly amazing and reliable performing system.