Phanteks PH-LEDKT_COMBO RGB LED Strip Combo Set
Phanteks LED strips are currently compatible with the Enthoo Luxe, Mini XL, Evolv ATX TG, and P400/P400S. These strips will match the exterior LED strips on either case and will change all 10 different colors.
High-Brightness LED Chip
Our Phanteks RGB LED strips are extremely bright and it is a great addition to any case for interior lighting.
Magnetic with 3M stickers included
Phanteks RGB LED strip has integrated magnets in the silicone housing allowing for easy installation to the metal chassis. For aluminum chassis, our LED strip includes double-side 3M tape.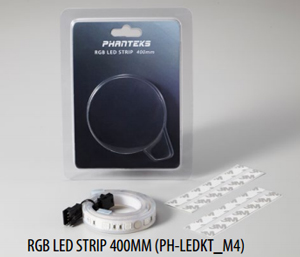 Flexible and Better Cable Management
With our 1 orientation connector, the color channels are always in the right position. The RGB LED strip is also chainable and can be expanded by adding more light strips.
Efficient, Low Profile and Long-lasting
The strip is made of flexible PCB material and comes with a silicone housing which is more durable compared to commonly used Epoxy strips. They will not dry up or crack over time. Long lasting and waterproof.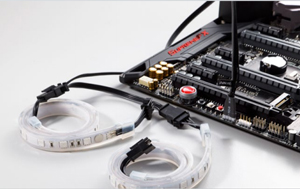 RGB LED Adapter for M/B Compatible 4-pin RGB Header
The RGB Combo Set comes with an RGB adapter that allows the LED strip to work with motherboards that features a 4-pin RGB header (+12V, G,R,B). This will allow you to control the LED strips with the motherboard's software and enhance the interior look of your case.
The Combo Set is compatible with universal chassis in combination with a compatible motherboard featuring 4pin RGB headers.
*RGB LED Adapter included with PH-LEDKT_CMBO only

Model
RGB LED STRIP COMBO SET
RGB LED STRIP 400MM
Model NO
PH-LEDKT_CMBO
PH-LEDKT_M4
UPC Code
886523000884
886523000877
Applications
Phanteks chassis with RGB controller
Universal chassis in combination with M/B with RGB LED 4-pin (+12V, G, R, B) header
Phanteks chassis with RGB controller
Expansion on PH-LEDKT_CMBO
Color
10 colors with Phanteks Case RGB controller
Full RGB color spectrum with M/B RGB Control S/W
Connections

INPUT: Phanteks 4-pin (female) connector
EXTENSION: Male to Female extension cable M/B
ADAPTER: RGB LED adapter 4pin (+12V,G,R,B)
EXPANSION: 4-pin (male) connector

INPUT: Phanteks 4-pin (female) connector
EXPANSION: 4-pin (male) connector

Input Voltage
+12V
Current (Single strip)
MAX:0.42A
Current (Dual Strip)
MAX:0.84A
Wattage (Single strip)
MAX:5.04W
Wattage (Dual Strip)
MAX:10.08W
Cable compatibility
PHANTEKS 4-pin connector / *M/B 4-pin RGB header (12V, G,R,B)
LED Color
5050, Full Color R.G.B Chip
LED Number
21 LEDs/400mm LED strip
Magnet number
6 pcs per strip
MTBF
20,000 hrs
*RGB LED Adapter included with PH-LEDKT_CMBO only