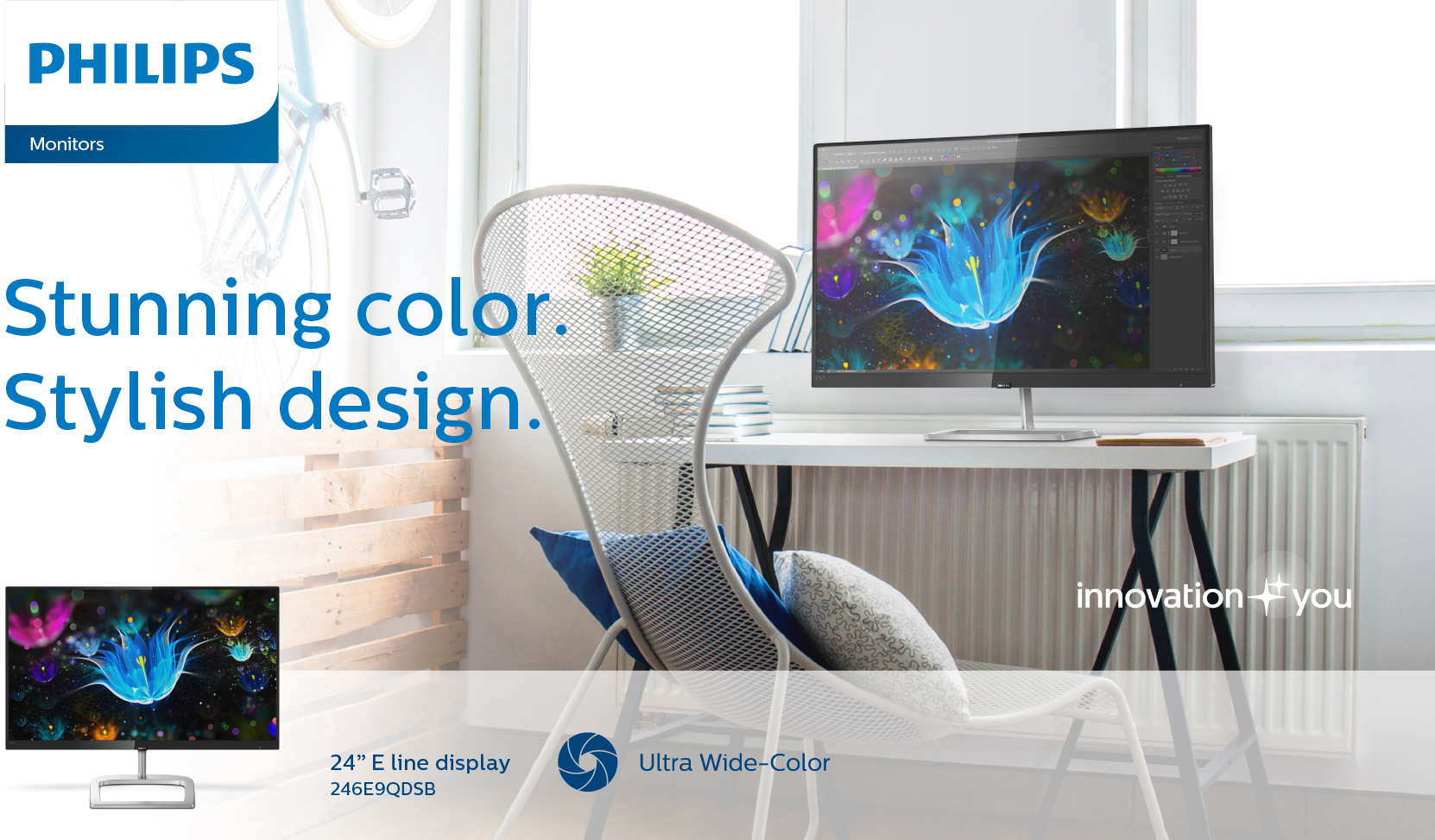 Stunning color, stylish design - 246E9QDSB (E Series)
The latest Philips E-line monitors deliver stunning color, in a stylish design. The E246E9QDSB is a 24-inch Full HD monitor with superb picture quality. The IPS panel along with Philips Ultra Wide-Color technology enables high color accuracy with up to 129% sRGB gamut, producing natural-looking greens, vivid reds and deeper blues. The panel is wrapped in a stylish design with narrow borders for a seamless appearance in a multi-monitor setup. Philips LowBlue and FlickerFree technology also prevents damages to your eyes and reduces fatigue, for your well-being. Philips is also eco-friendly, having engineered this monitor with eco-friendly materials meeting international standards such as EPEAT Silver and is packaged with 100% recyclable material for a more sustainable future.
About Philips Monitors
We believe there is always a way to make life better. Moreover, we believe the way to do that is through innovation – innovating to improve people's lives. For over 120 years, that has been our mission.
Nothing affects your computing experience more than the monitor you see the world through. High-performance monitors from Philips offer smart innovations, vivid imagery, and timeless style to make the most of every minute you spend behind the screen.
No matter what your requirements are, our easy-to-use multimedia monitors combine excellent picture quality with intelligent features that help you achieve more.
Superb Picture Quality
Ultra Wide-Color wider range of colors for a vivid picture
23.8-inch sized IPS LED wide view technology for image and color accuracy
16:9 image ratio with Full HD 1920 x 1080 pixels
Smooth gameplay with AMD FreeSync technology
For Your Wellbeing and Convenience
Narrow border display for a seamless appearance
Less eye fatigue with Flicker-free technology
LowBlue Mode for easy on-the-eyes productivity
Wall mount compatible (VESA mounting)
4-Year Warranty with 4-year Advanced Replacement Service in US
Eco-conscious
Made with eco-friendly materials that meet major international standards (EPEAT Silver)
Low power consumption saving energy & cost
Packaged with 100% recyclable material
---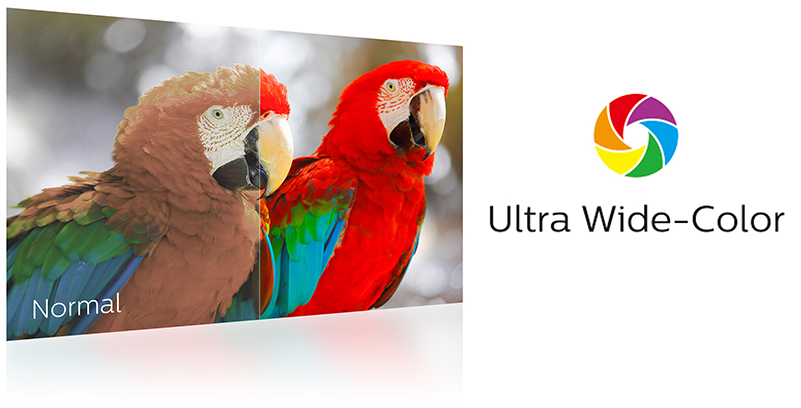 Ultra Wide-Color Technology
Ultra Wide-Color Technology delivers a wider spectrum of colors for more brilliant images. The Philips 246E9QDSB with Ultra Wide-Color wider "color gamut" (108% of NTSC gamut, 129% sRGB) produces more natural-looking greens, vivid reds and deeper blues. Bring media entertainment, images, and even productivity alive with vivid colors from Ultra Wide- Color Technology.
Ultra Narrow Border
The new Philips displays feature ultra-narrow borders, which allow for minimal distractions and maximum viewing size. Especially suited for multi-display or tiling setup like gaming, graphic design and professional applications, the ultra-narrow border display gives you the feeling of using one large display.
IPS Technology
The Philips 246E9QDSB utilizes IPS display technology, which gives you extra wide viewing angles of 178/178 degree, making it possible to view the display from almost any angle. Unlike standard TN panels, IPS displays gives you remarkably sharp images with vivid colors, making it ideal for not only Photos, movies and web browsing, but also for professional applications, which demand color accuracy and consistent brightness at all times.
AMD FreeSync technology
Gaming shouldn't be a choice between choppy gameplay or broken frames. With the new Philips monitor, it doesn't have to be. Get fluid, artifact-free performance at virtually any framerate with AMD FreeSync™ technology, smooth quick refresh and ultra-fast response time.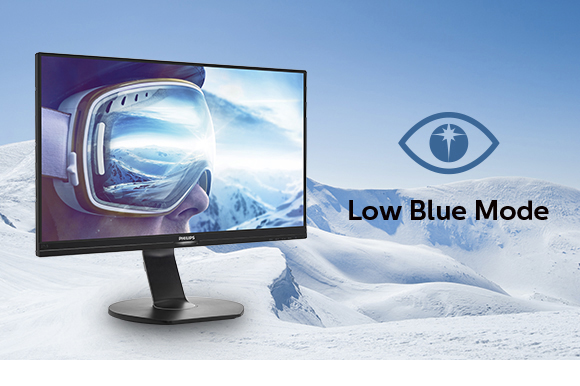 LowBlue Mode
Studies have shown that just as ultra-violet rays can cause eye damage; shortwave length blue light rays from LED displays can also cause eye damage and affect vision over time. Developed for users' wellbeing, Philips LowBlue Mode setting uses a smart software technology to reduce harmful shortwave blue light.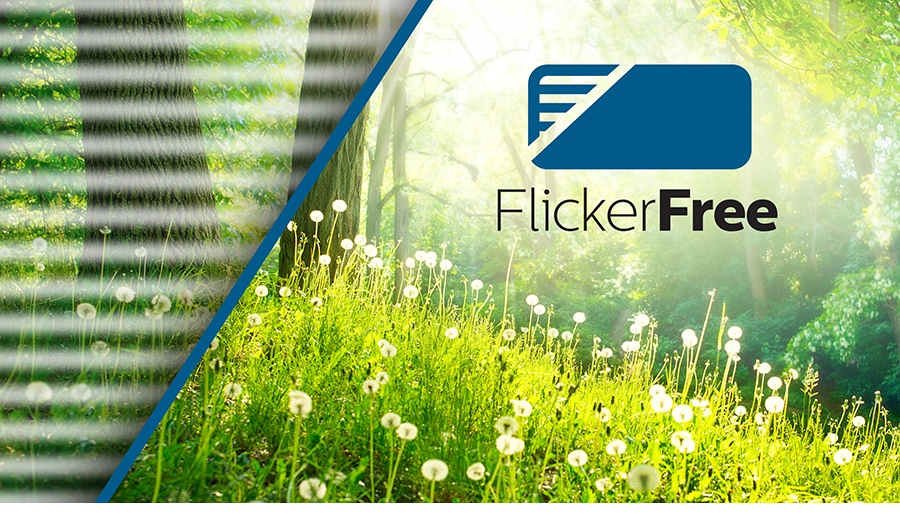 Flicker-free Technology
Due to the way brightness is controlled on LED-backlit screens, some users experience flicker on their screen which causes eye fatigue. Philips Flicker-free Technology applies a new solution to regulate brightness and reduce flicker for more comfortable viewing.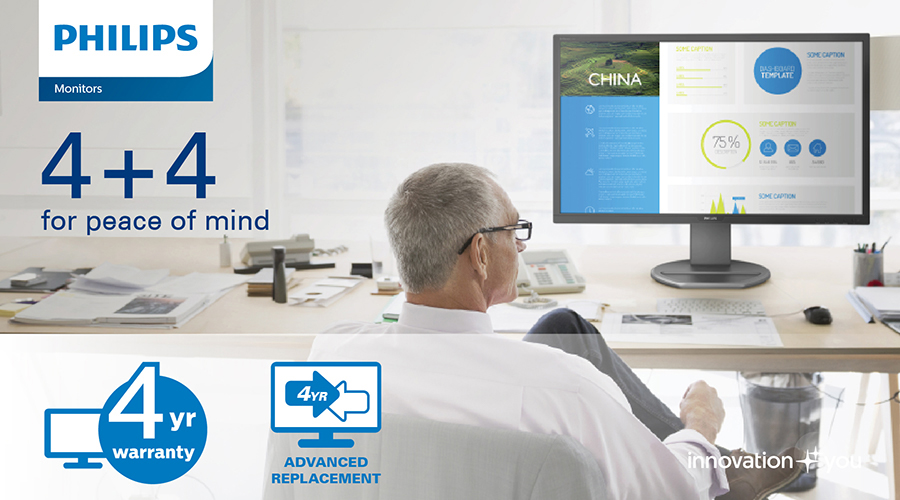 4+4 = Peace of Mind
No one gives a complete peace-of-mind and takes care of its customers as Philips does. All Philips monitors sold in the United States are covered by a 4-year advance replacement warranty. This means within 4 years if your Philips monitors have any faults verified to be covered under the warranty, Philips will ship a unit in advance prior to you returning the defective unit, making sure you have minimum downtime.
Comparison Chart
| | | | | |
| --- | --- | --- | --- | --- |
| Model | 245C7QJSB | 258B6QUEB | 257E7QDSB | 246E9QDSB |
| Series | C series – Best picture performance wrapped in the most stylish designs | B Series – For enhanced productivity, and comfort through ergonomic design | E Series - All around choice for style and performance | E Series - All around choice for style and performance |
| Panel Size | IPS 23.8-inch 1920 x 1080 @60Hz | IPS 25-inch 2560 x 1440 @60Hz | IPS 25-inch 1920 x 1080 @60Hz | IPS 24-inch Full HD 1920 x @ 60Hz |
| Response Time (typical Gray to Gray) | 5ms | 5ms | 5ms | 5ms |
| SmartContrast | 20,000,000:1 | 20,000,000:1 | 20,000,000:1 | 20,000,000:1 |
| Ultra Wide-Color | Yes. NTSC 106%, sRGB 127% | No. | No. | Yes. NTSC 108%, sRGB 129% |
| Connectivity | HDMI, DisplayPort, VGA,HDMI audio out | USB-C, HDMI, DVI-D, DisplayPort, VGA | HDMI, DVI-D, VGA, HDMI Audio out | HDMI, DVI-D, VGA, 3.5mm HDMI audio in/out |
| Stand | -5/20 degree tilt | -5/20 degree tilt, -65/65 degree swivel, 90 degree pivot, 130mm height adjustment | -5/20 degree tilt | -5/20 degree tilt |
| VESA Compatible | No | 100x100mm | 100x100mm | 75x75mm |
| Built-in Speakers | None | 2Wx2 | None | None |
| Sustainability | EnergyStar 7.0, EPEAT Silver | EnergyStar 6.0, EPEAT Gold | EnergyStar 6.0, EPEAT Silver | EPEAT Silver, RoHS, EnergyStar 7.0 |