IdeaPad 330 17.3"
Powered by 8th Gen Intel processor and NVIDIA GeForce MX150 graphics, the Lenovo IdeaPad 330 17" lets you handle tasks with efficiency and play games with delight. Wrapped in its stylish and durable body is a big 17.3-inch LED backlight anti-glare display. Coupled with Dolby Audio technology, the laptop delivers a superior entertainment experience. The 1 TB SATA HDD with 16GB Intel Optane Memory ensures abundant storage while providing accelerated speed for opening files and loading programs. You'll also love the built-in DVD-RW drive.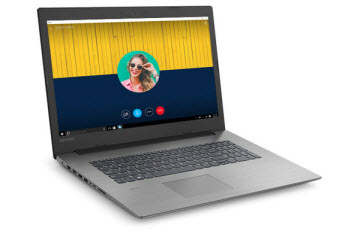 DESIGNED FOR THE FUTURE...
Loaded with a ton of next-gen technologies—powerful 8th Gen Intel Core i processing, outstanding dedicated graphic card, and plenty of storage space. Whatever your needs—from seamless multi-tasking for work or school, to immersive gaming and theater-like entertainment for afterhours—the stylish IdeaPad 330 17" will meet them now and well into the future.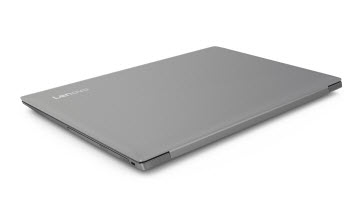 AND BUILT TO GO PLACES
Wherever you go, you can take your IdeaPad 330 17", too. It has a special protective finish to guard against knocks, bumps, and everyday wear and tear. In addition, the rubber detailing on the bottom helps to maximize ventilation and extend component life.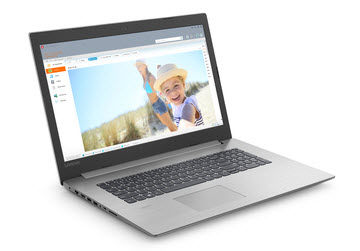 AMPLE STORAGE FOR YOUR PHOTOS, MOVIES AND MORE
A 1 TB SATA HDD can store thousands of videos, photos, and files. Plus, it comes with a DVD-RW drive, so you'll be able to watch and listen to the movies and music you already own and love.
ENJOY BIG-SCREEN ENTERTAINMENT
Featuring a massive 17.3-inch display with High Definition [HD+] resolution, the IdeaPad 330 17" laptop delivers vibrant, crisp visuals on the go. With Dolby Audio, a dramatically enhanced entertainment experience awaits. You can turn the volume right on up and still hear every detail, without any distortion.
WINDOWS 10 KEEPS GETTING BETTER
Leverage the best of Windows 10, with a new update packed with exciting features. The Photos app makes it easier and more fun to tell your story in video, while intuitive settings make it a breeze to share and connect with friends and family.
CLEANER, SAFER PRELOAD
We are committed to providing an uncluttered desktop and a safer PC experience out of the box. Our preload contains just six hand-selected applications designed to increase your productivity.