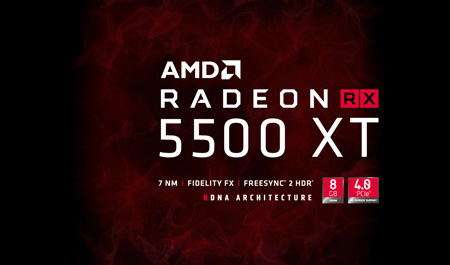 Taking 1080p gaming to the next level
The AMD Radeon RX 5500 XT graphics card takes 1080p gaming to the next level, delivering ultra-responsive, high-fidelity AAA gaming at up to 60 FPS and esports gaming at up to 90 FPS. The AMD Radeon RX 5500 XT is equipped with up to 8GB of GDDR6 high-speed memory and PCI Express 4.0 support for maximum game performance, exceptional power efficiency and outstanding value.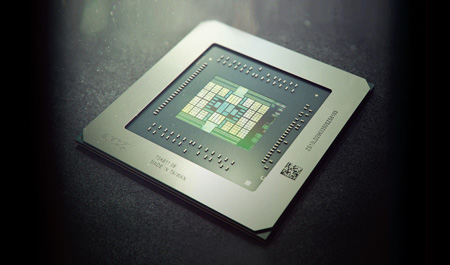 Extreme Gaming DNA
The AMD Radeon RX 5500 XT graphics card, powered by the advanced 7nm RDNA architecture, features new Compute Units delivering incredible performance and is optimized for better visual effects such as volumetric lighting, blur effects, depth of field, and multi-level cache hierarchy for reduced latency and highly responsive gaming.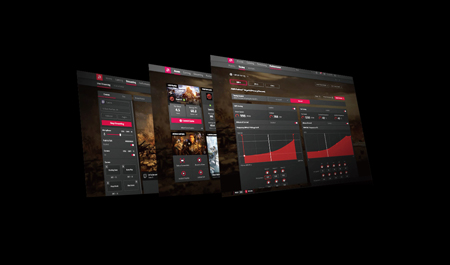 AMD Radeon Software Adrenalin 2020 Edition
The latest Radeon Software Adrenalin 2020 Edition introduces a completely redesigned user experience unleashing the full potential of your GPU, with day-0 drivers optimized for new game releases and a highly customizable gaming experience.
Two Ball Bearing
4X greater longevity
The cooling fan equipped with two-ball bearings which offer 4X longevity.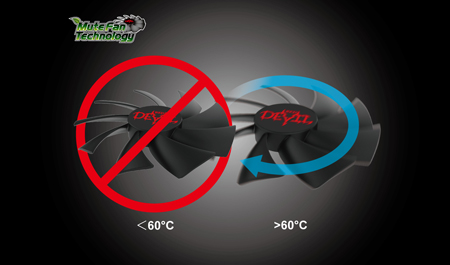 Mute Fan Technology
0db—Silent gaming
Mute Fan Technology intelligently turns off the fan at below 60 °C, providing silent gaming during medium and low load while reducing power consumption simultaneously.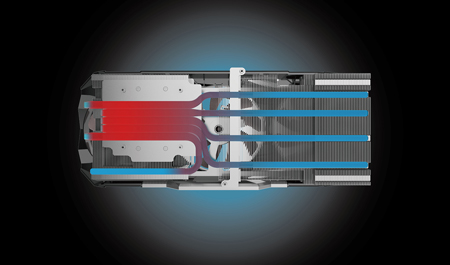 Vertical-Aluminum-Fin design
The vertical design and increased array of aluminum fins improves the spreading of heat dramatically. With such massive array of fins, the copper heatpipes can collect the heat and dissipate it efficiently.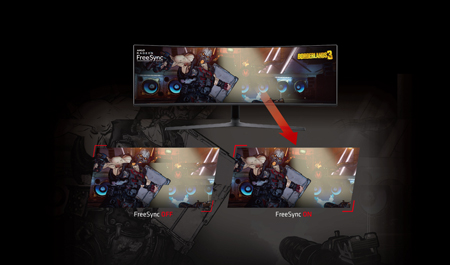 Radeon FreeSync
No Stuttering. No Tearing. Just Gaming.
Take your gaming experience to the next level. Experience stutter-free, tear-free gaming with AMD Radeon FreeSync and FreeSync 2 HDR technology, available on over 900 monitors.
Radeon Anti-Lag
When every frame counts and every click matters.
AMD Radeon Anti-Lag is the ultimate tool and a must-have feature for gamers and competitive eSport players.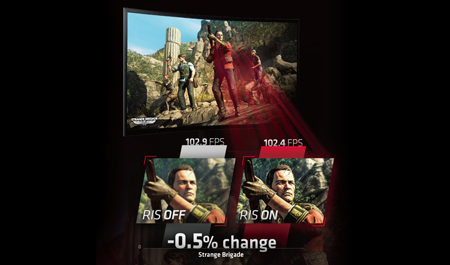 Radeon Image Sharpening
Radeon Image Sharpening (RIS) is a contrast-adaptive sharpening algorithm designed to intelligently enhance details to deliver crisp-looking visuals with minimal performance impact.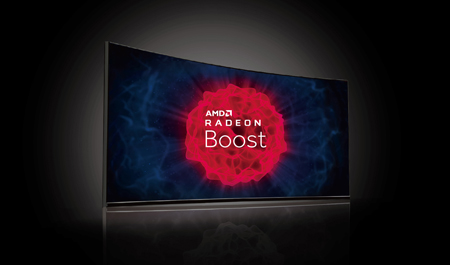 Radeon Boost
Give your games a boost of performance and fluidity during fast on-screen motion by dynamically lowering resolution of the entire frame to allow for higher FPS with no perceived impact to quality.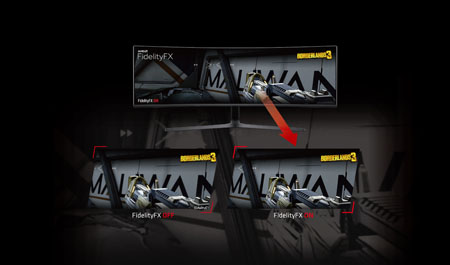 FidelityFX
FidelityFX is a collection of high-quality post-process effects that automatically collapse multiple effects into fewer shader passes to reduce overhead and free up your GPU for the visceral experience you demand.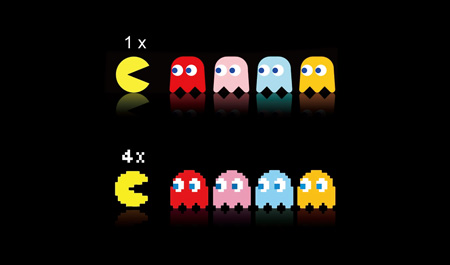 Integer Display Scaling
Play classic games and relive the retro experience by scaling on-screen images from one pixel to four pixels (or more) to deliver a retro like visual gaming experience.