An LCD TV is a flat-screen color TV featuring extremely flexible placement and mounting capabilities thanks to the LCD TV's fantastically slim profile. With bright, precise colors produced by a flat panel of "liquid" crystals, LCD TVs are lighter, take up less room, are cooler, and use less power than your grandmother's old TV.  LCD TVs feature High Definition picture resolutions and are ready for Digital TV standards.
LCD (Liquid Crystal Display) screens are made from light weight liquid crystal panels that use less power (approximately 200 watts), with no risk of burn-in. They run between 12" and 80", and include a variety of additional features, including automatically adjustable backlighting that changes to match the ambient light in your viewing room.
LED (Light Emitting Diode) backlighting is the new buzzword in LCD televisions these days. Though technically they are still LCD TVs, the term LED TV is being used to describe these new models. Some LED TVs are using what is termed "local dimming" which is a panel of LED lights behind the screen that can be controlled individually or in banks to improve the contrast capabilities of the TV. Others are using LED edge lighting which is banks of LEDs around the edge of the screen, this allows for some amazingly thin LED TVs.
PDP (Plasma Display Panel) televisions, a totally unique technology, are made of small cells, or chambers, containing electrically charged ionized gases. These chambers are very similar to a common flourescent bulb, although they are very tiny in comparison. These pixel-sized bulbs are often protected by either a sturdy acrylic or a pane of glass, making the overall weight of the television considerably heavier than a comparably sized LCD or LED HDTV. Plasma TVs are generally produced in larger sizes, ranging from 42" to 150". While most households in the US are unaffected, most plasma displays are not recommended at high altitude.
Space-saving Ultra-Slim Profile
What really sets the LCD TV apart from the old TVs is its thickness, or more specifically, its lack of it. The ultra-slim profile of the LCD TV means that despite the screen sizes exceeding 30 inches, it's never more than a few inches thick. This allows it to be hung from a wall or even the ceiling, both of which are fashionable installation methods. This opens up more space in your room for other electronics, furnishings, etc.
Absolute flat screen
With the LCD TV's perfectly flat screen, picture distortions owing to screen curvature are a thing of the past.
Ready for DTV
DTV (Digital TV) is poised to gradually replace standard analog TV. The LCD TV can support DTV signals with a built-in or external digital tuner. Most LCD TVs can support at least EDTV (Enhanced Definition TV, 480p), which provides superior picture quality to regular analog TV.
HDTV Capability
The majority of new LCD TVs will easily display an HDTV picture as they are designed to be HDTV compatible or HDTV ready by featuring a 16:9 widescreen aspect ratio and very high native resolutions. Please refer to the Screen Resolution section below for more details.
Screen size
HDTV televisions are currently available in a variety of screen sizes and dimensions. With the advent of the HDTV format, manufacturers have widely adopted the widescreen, 16:9 aspect ratio. This wider viewing aspect is meant to feel more cinematic and captivating than the previous standard definition ratio of 4:3. Along with an increased width, the HDTV standard also provides support for up to 1080 horizontal lines of resolution, also referred to as 1080i or 1080p. To learn more about HDTV resolutions, and discover the difference between 1080i and 1080p, visit our learning center by clicking here!
Choosing the right size for your new television can be much more complicated than simply going for the largest size that's available within your budget. Factors such as room size, seating distance, and features all play an important role in choosing the best tv for your budget. Also, if decor is a factor, you may not want to select a television that dominates the room. If that is a concern, we recommend cutting out a cardboard placeholder that's the same size as the television you are considering to get a general idea of how it will look.
Seating distance is also an important factor when selecting the correct screen size. Similar to the sweet spot in a movie theater, if you sit too close, then you will strain your eyes and neck by constantly shifting your focus around the screen, but if you sit too far away, then the screen won't fill your viewing radius, and may diminish the experience.
Luckily, there is a simple calculation to determine the optimal sized television based on your viewing distance:
Viewing Distance (In Inches) / 2.6 = Optimal Viewing Size
Likewise, you can also calculate the optimal viewing distance by reversing the calculation:
Size of television (In Inches) * 2.6 = Optimal Viewing Distance (In Inches)
For example, if your main seating position is 12' away from where you would like to place the television, then your optimal TV size would be roughly 55". Or, if you're shopping based on a specific 47" TV, then you would want to find a place in your home where you can sit approximately 10' away.

The following table provides a quick reference for the relationship between screen size and the viewing distance, measured from the screen of the LCD TV.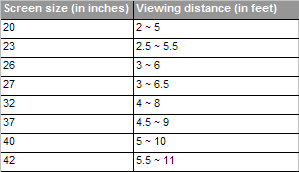 These are only recommendations - please find a viewing distance that best suits your own preferences.
Response time
The response time is the speed at which an HD television's pixels change from one color to the next and back again. Response time is measured in ms (milliseconds). The quicker a television's response time, the better the performance will be during high action movies, video games, and sports. With a slower response time, you may notice "ghosting" or image blurring during a scene that move quickly. For video games and multimedia applications, we recommend below a 4ms response time.
Native Resolution
Native resolution is the maximum resolution (detail level, in pixels) an HDTV television can support. An HD television typically provides the best viewing experience when working in its native resolution. In order to be considered an HDTV, the set needs to offer at least a 1280x720 (720p) native pixel resolution. Higher resolution 1920x1080 (1080p) panels were typically used in larger sets, although, as technology has progressed, the higher resolution has bled down into smaller sizes. A higher resolution means a greater amount of detail can be displayed on the screen - generally giving you an overall sharper and crisper image!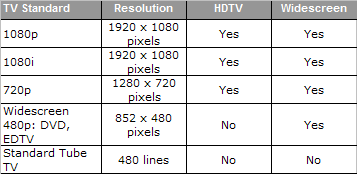 Note:
1. The "p" in "480p", "720p" and "1080p" stands for progressive scan, and the "i" in "1080i" stands for interlaced.
2. 1080p is not a TV broadcast standard yet.
Aspect ratio
The aspect ratio is the width to height proportion of a display. Widescreen HDTVs boast 16:9 or 16:10 ratios to better display movie formats. One of the things to remember, though, is that with the wider aspect ratio, you need a longer diagonal measurement to get the same screen height that you might be used to on your old TV. This is also extremely important if you have an existing entertainment center that is formatted for a different television size, as a widescreen HDTV will be shorter than your conventional standard definition television in a comparable diagonal size.
Brightness
Brightness (luminosity) is often measured in candelas or cd/m2. Most HD televisions today can provide over 500 cd/m2, which is more than sufficient for normal use. Games and movies may benefit from somewhat higher brightness levels. Brightness is commonly confused with contrast ration, which is a measurement of the capability for the set to produce dark and light detail.
Contrast ratio
The contrast ratio is the variation between brightest and darkest parts of the image, and critical to your viewing enjoyment. If the TV has a low contrast ratio, dark images will look muddy and gray, while light images will look washed out. A good contrast ratio is tough to determine, as there isn't currently a standard across all brands in the way it is measured. Also, do not be fooled by claims of much larger numbers for "Dynamic" contrast ratios – that is the difference between the blackest blacks and whitest whites, but not necessarily on-screen at the same time. Done properly, a dynamic contrast ratio can give you the appearance of higher contrast, but if not done correctly you can lose details in the shadow. We recommend using this spec when comparing models inside of the same brand - which generally means that the televisions are rated on the same scale.
Viewing angle
The viewing angle refers to the maximum horizontal and vertical viewing angles from which an LCD TV screen can be viewed at acceptable image quality. A wide viewing angle has various benefits, such as the ability to allow a group of people to view the screen at the same time. Currently, most LCD TVs are capable of at least 160 degrees, both horizontally and vertically, and some are able to exceed 170 degrees (H / V), Viewing angles that are as close to 180 degrees as possible are always preferable.
Connectivity
Most LCD TVs offer several types of input connector allowing signal sources such as a TV antenna, cable TV line, and DVD player, or gaming console to connect and provide a picture. HDMI is becoming the standard for linking various equipment, although many HDTVs come equipped with a few different options including RCA (the red-white-yellow cables) and Component (green-blue-red).
If, for example, you want to output your PC's picture to your LCD TV, you will need your LCD TV to come equipped with either a DVI or D-Sub port. For DVD players you can work with composite connectors, but component connectors are recommended for better image quality.
For in-depth information, please see our LCD TV Connector Guide.
HDTV Capability
The future of TV is definitely in High Definition. At the current time, only a portion of LCD TVs sold are HDTV-ready or HDTV compatible. This means that they are able to display HDTV resolution images, but do not feature an HDTV tuner - this requires owners to purchase an external HDTV tuner separately in order to provide the TV with an HDTV picture signal.

HDTVs that are built with internal tuners are able to accept HDTV signals directly over the air (by connecting an antenna) without the help of an external tuner. These TVs are called Integrated HDTVs.

Some newer LCD TVs are not only integrated HDTVs but Digital Cable Ready (DCR) as well. These LCD TV sets are able to receive over the air HDTV programming, but more importantly, they are used to tune into digital cable programming by inserting a CableCard from the cable provider.

Please note that digital cable programs are broadcast digitally and are not automatically offered in HDTV resolution, but digital cable programming can include HDTV channels if the cable provider carries them.
Sound
LCD TVs are generally equipped with built-in speakers and are sometimes able to provide surround sound audio. This can be an attractive option for the budget user, but users interested in building a complete home theater system may want to look into a separate speaker system. While a common home stereo system can adequately enhance an HDTVs sound quality, only a surround sound system can match audially what the LCD and PDP TVs produce visually.

Important note: Certain LCD TV sets do not feature built-in speakers and may require the purchase of optional external speakers. Please be sure to look at each LCD TV's detailed specifications carefully.
Average Home User
The average home user may simply be looking for a replacement for an older analog TV. Moderate screen sizes with satisfying image quality and preferably HDTV compatibility are among the things home users can look for. LCD TV sets that fall into the range of specifications in the table below may be suitable choices:
Movie Buffs
DVD movies look amazing on high-resolution HDTVs which is why movie enthusiasts love to watch their movies on LCD and Plasma screens. In addition to displaying HDTV programming, movie buffs also want to be able to connect to future HDTV movie players, such as HD-DVD or Blu-Ray disc players. Remember, a hi-def sound system will be required to mimic movie theater-like audio.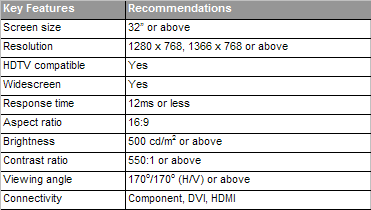 Gamers
Microsoft's Xbox systems and Sony PlayStation 3 both support HDTV output. To enjoy the picture quality offered by these next-gen consoles, a gamer's television set needs to provide high native resolutions and the proper input connectors. In addition, lower response times are important as they help to reduce ghosting or streaking during gameplay, especially during racing, or when displaying fast-paced images.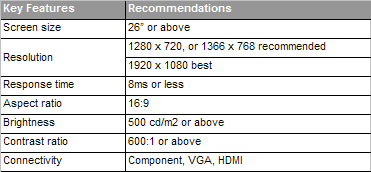 Computer/HTPC Users
LCD TVs are great choices for HTPC (Home Theater PC) users who use their computer primarily for movies and games. As a result, the recommended features and specs are similar to those for movie buffs and gamers. Of course, the LCD TV should provide standard computer connectors, namely the DVI and D-Sub (VGA) ports.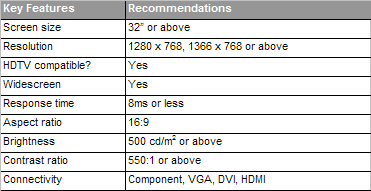 Small Room/ On a Budget
A small TV in the kitchen or reading room can be pleasant additions to the house. Ideal TVs here would have very thin profiles that allow flexible positioning, including hanging on a wall. As smaller sized LCD TVs often come at less cost, the recommendations made here may also be considered by those who are currently on a limited budget.