Phantom Gaming
2.5Gb/s LAN
The intelligent Phantom Gaming 2.5Gb/s LAN platform is built for maximum networking performance for the demanding requirements of home networks, content creators, online gamers and high-quality streaming media. Boost networking performance up to 2.5X the bandwidth compared to the standard gigabit Ethernet, you'll enjoy fast and uncompromised connectivity for gaming, file transfers and backups.

Automatically detects and accelerates game traffic ahead of other network traffic for smoother, stutter-free in-game performance and a true competitive edge.


2T2R Intel 802.11ac
WiFi Dual Band (2.4/5GHz)
2T2R 802.11ac WiFi 2.4/5Ghz (160MHz) module that supports up to 1.73Gbps wireless networks and Bluetooth v5.0. Experience up to 289% speed boost compared to your old WiFi!
Dual Intel LAN Teaming
The dual LAN with Teaming function enabled on this motherboard allows two single connections to act as one single connection for twice the transmission bandwidth, making data transmission more effective.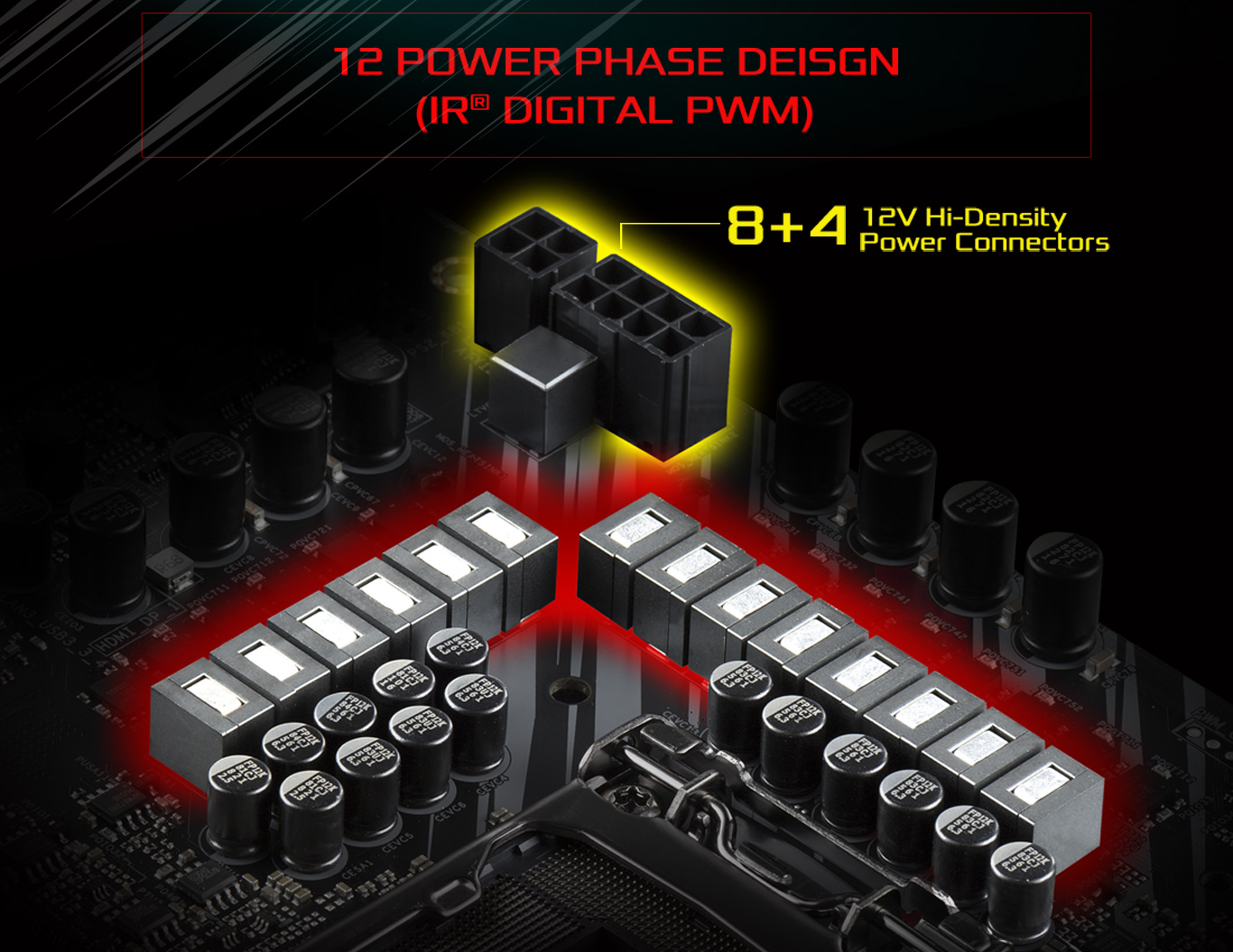 Fully Supports 9th Gen Intel® Core™ Processors
Featuring sturdy components and completely smooth power delivery to the CPU. Plus, it offers unmatched overclocking capabilities and enhanced performance with the lowest temperature for advanced gamers as well.


In addition to built-in RGB illumination, it also features onboard RGB headers and an addressable RGB header that allows the motherboard to be connected to compatible LED devices such as strips, CPU fans, coolers, chassis and so on. Users may also synchronize RGB LED devices across Polychrome RGB Sync-certified accessories to create their own unique lighting effects.


*The addressable RGB LED header supports WS2812B addressable RGB LED strip (5V/Data/GND), with a maximum power rating of 3A (5V), a max of 80 LEDs and length within 2 meters.
**The RGB LED header supports standard 5050 RGB LED strip (12V/G/R/B), with a maximum power rating of 3A (12V) and length within 2 meters.


Welcome to a new world of cinematic audio that delivers unprecedented levels of audio realism, dynamics and punch to gaming sound. Whether you're gaming or watching a movie, Reality 3D technology lets you enable 5.1/7.1 surround sound for an additional layer of transience to your listening experience even with just a pair of headphones or stereo speakers.


Z390 Taichi Ultimate
Z390 Phantom Gaming 9
Z390 Taichi
Z390 Phantom Gaming 6
Z390 Extreme 4
Z390 Phantom Gaming SLI/ac
Z390 Phantom Gaming-ITX/ac
Form Factor
ATX
ATX
ATX
ATX
ATX
ATX
Mini-ITX
Power Phase
12
12
12
12
12
10
8
DIMM
4
4
4
4
4
4
2
PCIe x16
3 (x16, x8, x4)
3 (x16, x8, x4)
3 (x16, x8, x4)
3 (x16, x8, x4)
3 (x16, x8, x4)
2(x16, x8)
1
PCIe x1
2
2
2
3
3
4
0
SLI&CFX
SLI & CFX
SLI & CFX
SLI & CFX
SLI & CFX
SLI & CFX
SLI & CFX
No
M.2(SSD & WiFi)
4
(3 SSD=PCIe Gen3 x4 & SATA3,
1 WiFi Key E Module)
4
(3 SSD=PCIe Gen3 x4 & SATA3,
1 WiFi Key E Module)
4
(3 SSD=PCIe Gen3 x4 & SATA3,
1 WiFi Key E Module)
3
(2 SSD = PCIe Gen3 x4 & SATA3,
1 WiFi Key E(PCIe & CNVi))
3
(2 SSD = PCIe Gen3 x4 & SATA3,
1 WiFi Key E(PCIe & CNVi))
3
(2 SSD = PCIe Gen3 x4 & SATA3,
1 WiFi Key E Module)
3
(2 SSD = PCIe Gen3 x4 & SATA3,
1 WiFi Key E Module)
Onboard Graphic Output
HDMI 1.4
DP
HDMI 1.4
DP
HDMI 1.4
DP
HDMI/D-Sub/DP
HDMI/D-Sub/DP
HDMI, DVI
HDMI 2.0
DP
TB*1 Type-C
SATA3
8
8
8
8
8
6
4
Front USB 3.1 Gen2 Type-C
1
1
1
0
0
0
0
Front USB 3.1 Gen1 Type-C
0
0
0
1
1
0
0
Rear USB 3.1 Gen2
3 Type-A, 1 Type-C
3 Type-A, 1 Type-C
3 Type-A, 1 Type-C
2 (Type-A+C)
2 (Type-A+C)
2 (Type-A+C)
1 *Thunderbolt Type-C, 4 Type-A
USB 3.1 Gen1
8 (4 Front, 4 Rear)
8 (4 Front, 4 Rear)
8 (4 Front, 4 Rear)
8 (4 Front, 4 Rear)
8 (4 Front, 4 Rear)
8 (4 Front, 4 Rear)
4 (2 Front, 2 Rear)
LAN
Dual Intel LAN
AQUANTIA 10G
Dual Intel LAN
Phantom Gaming 2.5G
Dual Intel LAN
Intel Gigabit LAN
Phantom Gaming 2.5G
Intel Gigabit LAN
Phantom Gaming 2.5G
Intel Gigabit LAN
WiFi
2T2R 802.11ac
2T2R 802.11ac
802.11ac
N/A
N/A
802.11ac
2T2R 802.11ac (PCIe)
Audio
7.1 CH, Realtek 1220
7.1 CH, Realtek 1220, Creative Sound Blaster Cinema 5
7.1 CH, Realtek 1220
7.1 CH, Realtek 1220, Creative Sound Blaster Cinema 5
7.1 CH, Realtek 1220
Realtek 892 + Nichicon Caps
7.1 CH, Realtek 1220, Creative Sound Blaster Cinema 5