AQUA COOLING ARMOR
The water passage of this custom cooling armor was skillfully designed to ensure the heat of the CPU, VRM and chipset can be dissipated efficiently. Coolant is split into three passages so that each area can be cooled separately without interfering with each other. This design also lowers the water resistance inside the cooling block, allowing faster water flow to maintain the best cooling efficiency.


Supports Up to DDR4-5000
Unlike traditional memory signal designs that are easily distorted, Hyper DDR4 uses an optimized trace design, and the memory circuitry is ideally isolated, thus providing pure memory signals for compatibility, stability and performance.


14 POWER PHASE DESIGN (IR® DIGITAL PWM)
Featuring sturdy components and completely smooth power delivery to the CPU. Plus, it offers unmatched overclocking capabilities and enhanced performance with the lowest temperature for advanced gamers as well.



Intelligently delivering higher currents and driving up to a 60A continuous current for each phase, thus providing improved thermal results and superior performance.


Server-Grade Low-Loss PCB
The server-grade PCB prevents PCB bending and improves signal integrity, giving higher PCIe 4.0 and memory performance as well as system stability and giving a reliable and long-lasting system without any compromise.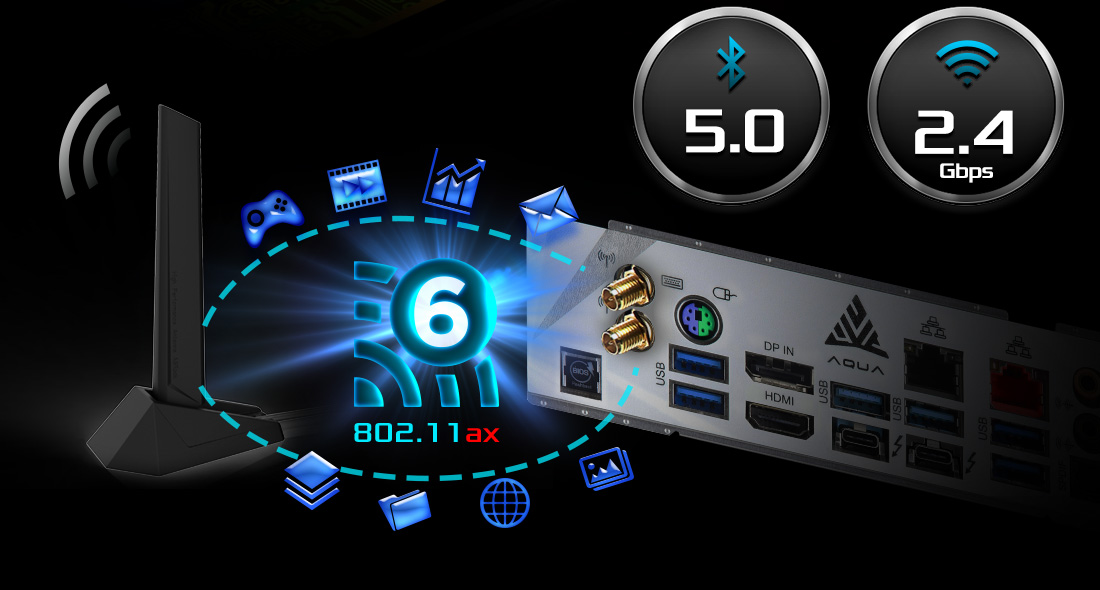 Wi-Fi 6 802.11ax
Welcome to the new Wi-Fi standard! ASRock's motherboard is equipped with a next-generation Intel® Wi-Fi 6 802.11ax adapter. The speed will work up to 2.4Gbps, and it will also natively operate with both 2.4Ghz and 5Ghz simultaneously. Significant improvement in bi-directional MU-MIMO support is another attractive feature as well.



AQUANTIA® 10Gb/s BASE-T Ethernet
The new 10Gb/s network standard was specially designed to satisfy the user who is seeking immediate performance improvements. Based on AQUANTIA's AQtion™ client controller, it offers blazingly fast 10-gigabit/sec transfer speed over a Cat6 cable. The 10Gb/s Ethernet is not only fully compatible with 5Gb/s, 2.5Gb/s & Gigabit Lan but also delivers lightning-fast transfer speed, making it perfect for media centers, workstations and gaming PCs.


RULE YOUR LIGHTING - POLYCHROME RGB
ASRock motherboards deliver stunning performance and superior aesthetics to rule your colorful lighting! ASRock offers a very comprehensive control to use the built-in RGB LEDs or the connected LED strips, CPU fans, coolers, chassis and any RGB devices smoothly. Devices can be synchronized across the Polychrome RGB Sync-certified accessories as well.

The addressable RGB LED header supports WS2812B addressable RGB LED strip (5V/Data/GND), with a maximum power rating of 3A (5V), a max of 80 LEDs and length within 2 meters.
The RGB LED header supports standard 5050 RGB LED strip (12V/G/R/B), with a maximum power rating of 3A (12V) and length within 2 meters.
Thunderbolt™ 3 Technology
Thunderbolt™ 3 technology brings speed and versatility to the most advanced USB Type-C, offering a fast and simple level of connection for work or home. It enables lightning-fast data transfer up to 40Gbps and connects up to 3 Thunderbolt™ 3 devices with a single wire, and even provides quick charging with 5V@3A (15W). Just experience the world's fastest connectivity with Thunderbolt™ ready motherboards!

STEEL SLOT WITH NEW-GEN PCI EXPRESS 4.0
The next-generation PCI Express 4.0 is capable of performing at twice the speed compared to the previous 3rd generation. ASRock's exclusive Steel Slot with extra anchor points are added to ensure signal stability and also make sure heavy graphics cards can be safely installed in the PCI-E slot.


A SOLID M.2-SOLUTION PERFORMER
Dual Hyper M.2 for SSD
Supports the next-generation PCI Express 4.0 M.2 SSDs and gives a lightning-fast data transferring experience.
M.2 Armors
Good M.2 SSD protection is important for longevity and stability. ASRock provides a completed M.2 armor solution that makes SSDs run at a certain low temperature.
M.2 ARMOR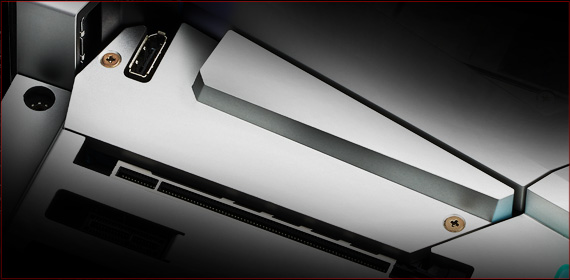 Flexible Integrated I/O Shield
Unlike most so-called pre-mounted I/O shields that are only decorated with fancy color schemes, we reserve more tolerance space and allow our IO shield to be adjustable during installation, thus ensuring it fits the chassis perfectly without any mechanical issues.