ASUS Z490 SERIES
For more than 10 years, ASUS motherboards have been BEST ― that's Best-selling, Easy to use, Stable and Trusted – with over 540 million sold and most awards won. Whether you're crafting a build for work or gaming, a diverse selection of models and innovative features make it easy to find the perfect board to suit your needs. Build your next rig with ASUS — the world's No.1 motherboard brand.
UNLEASH MAXIMUM PERFORMANCE
With an industry-leading teamed power stage VRM design, a new daisy-chain signaling topology for better DDR4 RAM overclocking, ASUS OptiMem technology, and AI Overclocking to intelligently boost the performance of Intel® 10th Gen Core™ processors, ASUS motherboards provide the rock-solid foundation you need to harness the full potential of the components in your build for top-tier gaming.
ROBUST POWER DESIGN
Extremely reliable power, digitally controlled.
Digital power control and an array of teamed power stages with ProCool II connectors, high-quality alloy chokes, and durable capacitors provide reliable power when pushing CPU performance to the limit.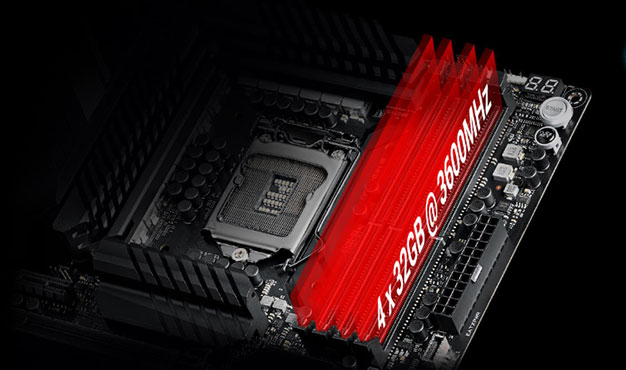 BOOSTED MEMORY
Record-breaking performance with ASUS OptiMem technology.
ASUS OptiMem technology proprietary trace layout allows memory kits to operate at higher frequencies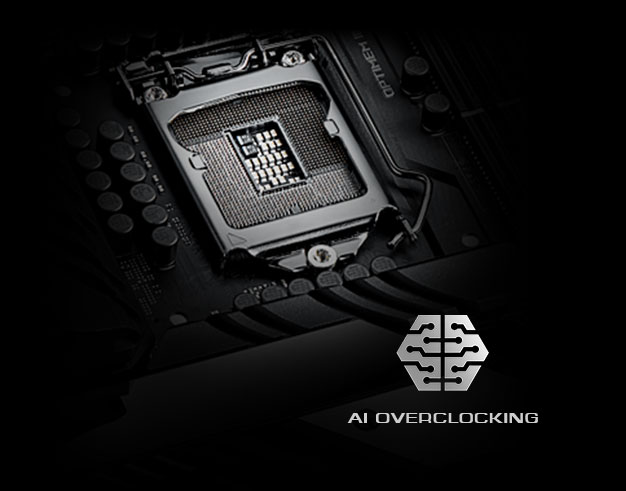 AI OVERCLOCKING
Overclocking doesn't have to involve frequent reboots or complex calculations!
ASUS AI Overclocking can lend you a helping hand in pushing your CPU to its limits. Its proprietary algorithm carefully grades the quality of your CPU's silicon and predicts its optimal clock speed and voltage settings in a given system. Dedicated control hardware and software keep an eye on temperature, fan speeds, and power draw to ensure there's enough cooling power when the system is under load.
COMPREHENSIVE COOLING
Maintaining system stability is paramount under high load. ASUS Z490 motherboards employ large VRM and chipset heatsinks that effectively dissipate heat for reliable sustained performance. New AI Cooling technology balances thermals and acoustics by automatically reducing fan speeds under steady-state loads to minimize noise levels while maintaining component temperatures.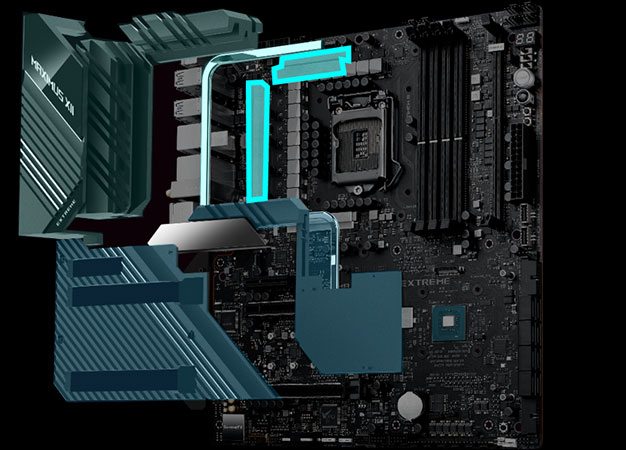 ENHANCED HEATSINK
An array of enhanced cooling solutions, including newly designed VRM heatsinks with heatpipes, effective passive PCH heatsinks, and dedicated M.2 heatsinks ensure ASUS Z490 series motherboards deliver efficient, stable operation even when pushed to the limit.
AI COOLING
AI Cooling is an all-new system that can reduce system fan noise by up to 37% under sustained loads. AI Cooling works in tandem with our industry-leading Q-Fan intelligence and kicks in when the CPU is operating under a steady load. It slows the fan while maintaining a consistent CPU temperature, ensuring that your cooling system isn't making any more noise than necessary to keep temperatures low.
FASTEST CONNECTIVITY
Wi-Fi 6 support from Intel AX201 adapters, abundant USB 3.2 Gen 2x2 ports, and onboard Thunderbolt™ 3 headers ensure you can expand your system as needed and enjoy exceptionally smooth online and LAN play.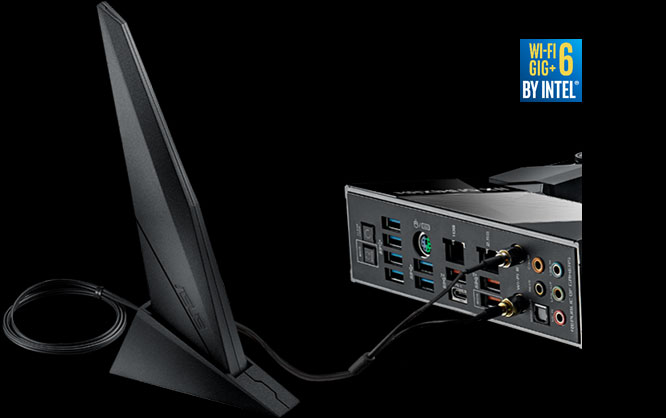 Wi-Fi 6 (802.11ax)
The latest Wi-Fi 6 (802.11ax) standard delivers high-efficiency wireless connectivity for better gaming performance on compatible networks. It also offers Bluetooth 5.1 for connections that are up to 2X faster and 4X farther-reaching than before.

INTEL 2.5G ETHERNET
Onboard Intel 2.5G Ethernet gives your wired connection a boost. Up to a 2.5X performance improvement over standard Ethernet connections gives you faster file transfers, the lowest-latency gaming, and smoother high-res video streaming.
THUNDERBOLTEX 3
Experience blistering speeds and single-cable convenience.
The THUNDERBOLTEX 3 expansion card adds twin Thunderbolt™ 3 ports that support up to 40Gbps of bi-directional bandwidth. Integrated DisplayPort 1.4 inputs enable single-cable connectivity for displays with up to 8K resolution.

USB 3.2 Gen 2x2
USB 3.2 Gen 2x2 Type-C ports provide ultimate flexibility and blazing fast data-transfer speeds of up to 20Gbps.
The ASUS ROG Maximus XII Hero packs substantial power, smart cooling, and faster memory support to unleash maximum performance from 10th generation Intel
®
Core™ processors. A 14+2 teamed power stage VRM design, DDR4 4800+ overclocking support, onboard Intel Wi-Fi 6 (802.11ax), 5Gbps LAN, Intel
®
2.5Gb LAN, Bluetooth v5.1, Triple M.2 slots, and Aura Sync RGB lighting make the Hero the perfect centerpiece for your high-end build.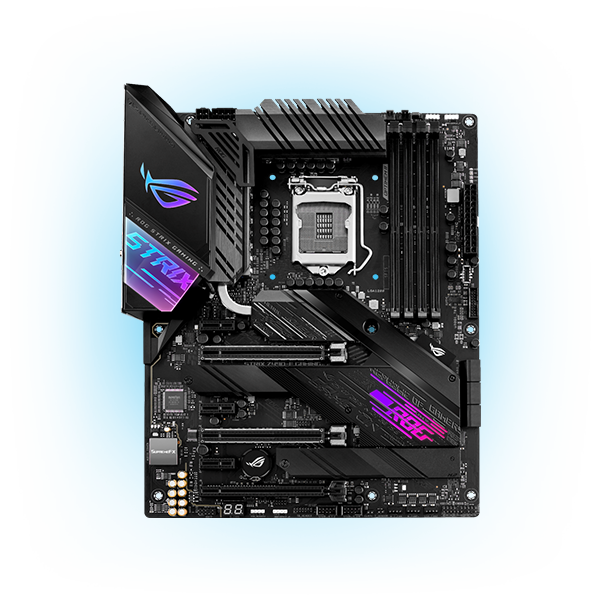 The ASUS ROG STRIX Z490-E GAMING delivers the perfect balance of power and style that enthusiasts crave. Cyberpunk-inspired design, boosted power delivery, and optimized cooling make this board stand out. 14+2 teamed power stage VRM design, DDR4 4600+ overclocking support, onboard Intel Wi-Fi 6 (802.11ax), Intel
®
2.5 Gb Ethernet, Bluetooth v5.1, dual M.2 slots, and Aura Sync RGB lighting deliver speed to go with this board's style.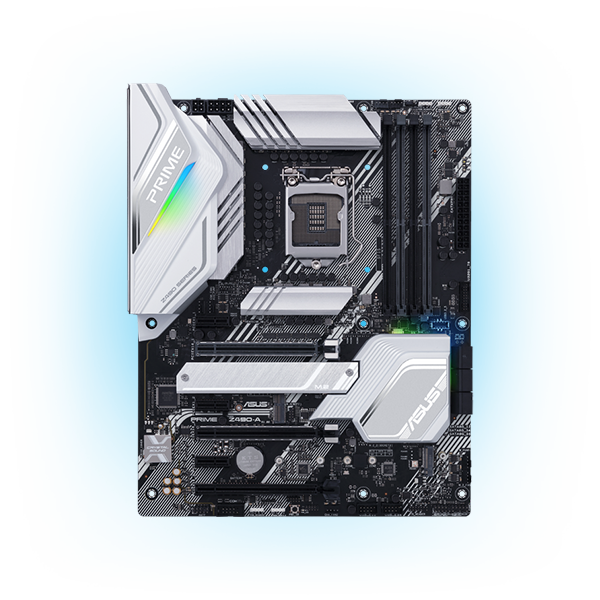 The ASUS Prime Z490-A blends a distinguished design with rock-solid all-around performance. Builders can take advantage of a range of tuning options via the Prime Z490-A's intuitive software and firmware features. A 12+2 teamed VRM design with integrated power stages, dual M.2 slots, Intel
®
2.5 Gb Ethernet, a USB 3.2 front panel Type-C header, a Thunderbolt™ 3 header, and Aura Sync RGB lighting make the Prime Z490-A a stylish and reliable all-rounder.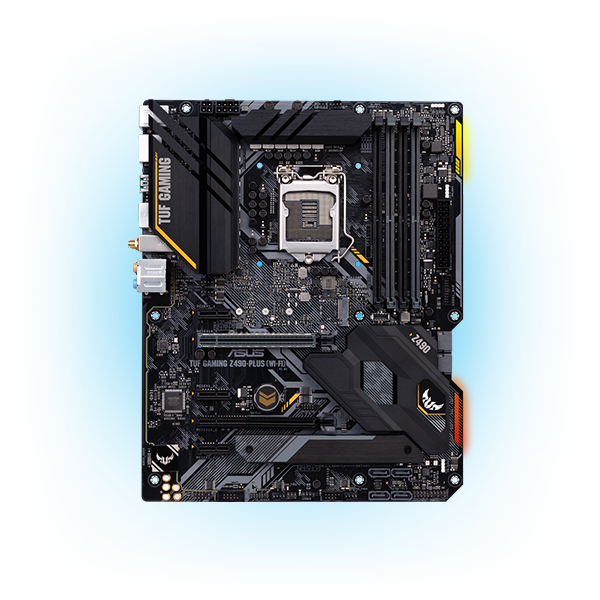 The ASUS TUF Gaming Z490-Plus (WiFi 6) motherboard delivers reliable 24/7 performance with military-grade TUF components and game ready features. Aggressive style and Aura Sync RGB LEDs give you the freedom to personalize your build. A 12+2 teamed power stage VRM design, dual M.2 slots, USB 3.2 front panel Type-C support, Intel
®
Wi-Fi 6 (802.11ax), and 1Gb LAN provide a TUF foundation for 10th generation Intel
®
Core™ processors.