StudioBook Pro 15
W500G5T-XS77
StudioBook 15
H500GV-XS76
StudioBook 17
H700GV-XS76
Display
15" 4K/UHD
Delta E<1.5
15" 4K/UHD
Delta E<1.5
17" WUXGA 16:10
Delta E<2
Pantone Validated 
Yes
Yes
Yes
GPU 
NVIDIA Quadro RTX 5000
NVIDIA GeForce RTX2060
NVIDIA GeForce RTX2060
Processor
Intel Core i7 9th Gen
Intel Core i7 9th Gen
Intel Core i7 9th Gen
RAM & Speed
48GB
32GB
32GB
Storage
1TB + 1TB PCIe SSD (Raid 0)
512GB + 512GB PCIe SSD (Raid 0)
512GB + 512GB PCIe SSD (Raid 0)
OS 
Windows 10 Pro 
Windows 10 Pro 
Windows 10 Pro 
Weight
4.37 lbs
4.37 lbs
5.27 lbs
Top-Notch Performance
You will need strong horsepower for demanding graphical workloads, so we have paired powerful Intel Core CPUs with cutting-edge NVIDIA Quadro and GeForce GPUs in our StudioBooks to give you exceptional and stable performance.
Professional Software Compatibility
Independent software vendor (ISV) Certification ensures the very best performance, stability and experience when you are working with Adobe, Autodesk apps and more.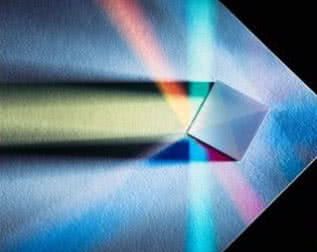 Unparalleled Realism
Vivid, accurate colors are vital for creatives, and that's why our laptop displays have a wide DCI-P3 color gamut. It's perfect for color-critical projects, allowing you to match your camera's color settings or achieve your final desired color in print.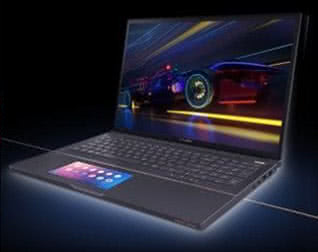 We innovate, you create.
We are constantly pushing the boundaries of innovation. The unique ScreenPad™ Plus allows you to enjoy the productivity and efficiency benefits of using two separate LCD displays on a single portable device.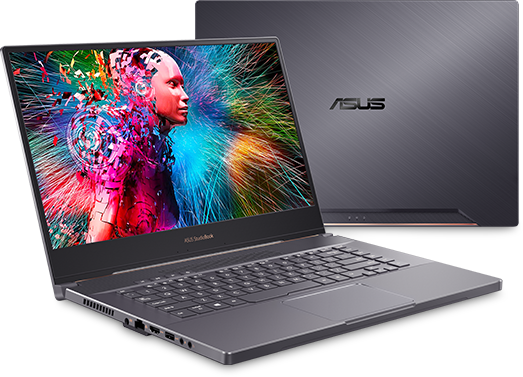 ProArt StudioBook Pro 15 provide amazing performance for super-smooth 3D animation and high-resolution video editing workflows with its NVIDIA Quadro RTX 5000 graphics, the 15.6-inch PANTONE Validated 4K UHD display ensures pixel-perfect imagery every time.
Intel® Core™ i7
9th Gen

NVIDIA® Quadro®
RTX™ 5000

15.6" 4K
UHD Display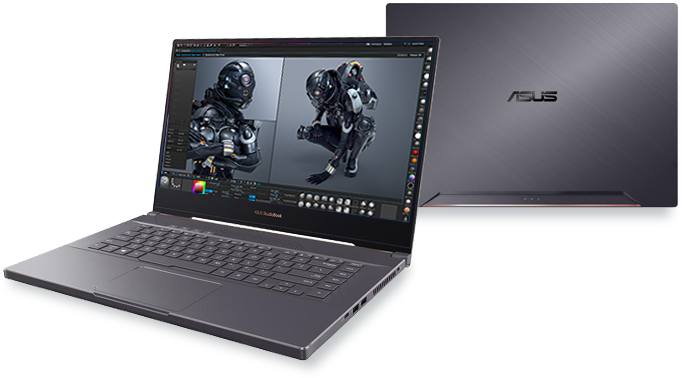 ProArt StudioBook 15 offers you the perfect balance of graphics, performance and portability with the Intel Core i7-9750H processor. The NVIDIA GeForce RTX 2060 delivers performance in droves, allowing you to easily tackle graphics-intensive tasks such as 3D rendering, video editing and content creation.
Intel® Core™ i7
9th Gen

NVIDIA® GeForce
RTX™ 2060

15.6" 4K
UHD Display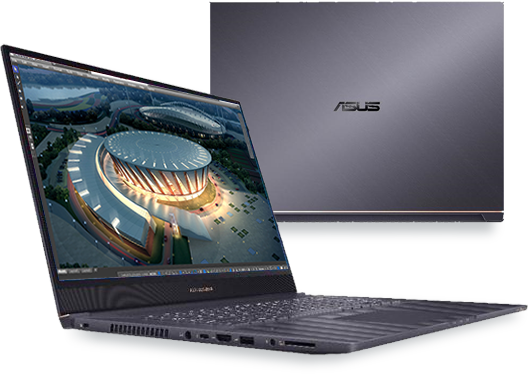 ProArt StudioBook 17 is built to handle anything you can throw at it without a fuss, with a high-performance Intel Core i7 processor and GeForce RTX 2060 Graphics. This precision-crafted laptop features an innovative NanoEdge display, with a high screen-to-body ratio which provides a 17" display in a 15" body.
Intel® Core™ i7
9th Gen

NVIDIA® GeForce
RTX™ 2060

NanoEdge and compact design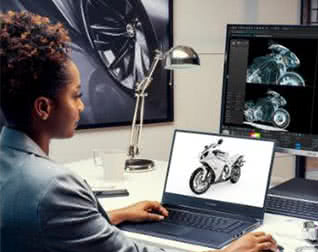 Graphics & Animation
Visualizing and creating artwork, illustration, graphic design or web projects can be a complex process involving many diverse tools, such as Adobe Photoshop, Illustrator and InDesign. ASUS ProArt series is engineered to ensure you work seamlessly and efficiently with color-accurate results.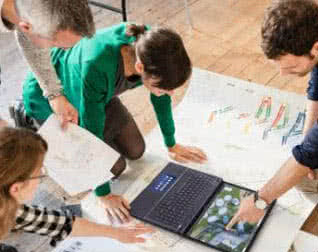 Architecture
Planning, designing and constructing involves art, beauty and science and technology. ASUS ProArt StudioBook series provides you the tools to focus on bringing your concept to life with BIM software, using tools like Revit, Archicad and Lumion for planning, 3D modeling, rendering and collaborative work.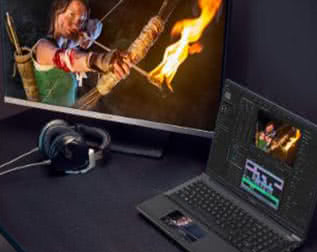 Filmmaking & Video Editing
Today's complex and ultra-high-resolution workflows for recording, editing, post-production work and rendering demand tools to run Adobe Premier, Final Cut Pro or DaVinci Resolve smoothly. ASUS ProArt series will do the heavy lifting for you, so you can hit your deadline without compromising your creative vision.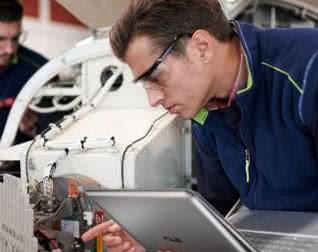 Product Design & Manufacturing
Whether you're designing the next big thing in technology, automobile or fashion with a 2D sketch before moving onto 3D modeling and printing, ASUS ProArt series run tools like Creo, Rhino, SolidWorks or Keyshot, making modeling and rendering more efficient with a whole new optimized workflow.