Meet ASUS ZenBook Duo 14 UX482
ASUS ZenBook Duo 14 UX482 lets you get things done in style: Calmly, efficiently, and with zero fuss. The 4K secondary touchscreen works seamlessly with the main 14 inch Full HD touchscreen, giving you endless ways to optimize and personalize your workflow. It's your powerful and elegant next-level companion for on-the-go productivity and creativity, featuring the brand-new tilting ScreenPad™ Plus secondary display that offers effortless ergonomics and seamless workflows. A series of handy built-in apps help boost your productivity. Quick Key allows one-tap automation of complex keyboard sequences, and Handwriting lets you input text intuitively.
There are also useful quick controls such as App Switcher, ViewMax and Task swap for intuitive interactions between the main display and ScreenPad™ Plus. Task Group lets you lock into work mode by opening multiple tasks with a single touch. And now you can drag apps or in-app toolbars onto ScreenPad™ Plus to give you more room to work on the main display, wherever you are. Take notes, sketch out your ideas, or do precision graphical editing in the most intuitive way ever. Powered by the latest 11th Gen Intel® Core™ processors, ZenBook Duo 14 brings you all the benefits of tomorrow's technology, today. This ultra-powerful combination ensures that ZenBook Duo 14 takes professional-quality tasks in its stride, such as multi-layer photo or video editing, 3D graphics rendering.



ASUS ZenBook Duo 14
UX482EA-DS71T




ASUS ZenBook Duo 14
UX482EG-XS74T

Display
14" FHD Touch Display
+ Tilting ScreenPad™ Plus
14" FHD Touch Display
+ Tilting ScreenPad™ Plus
Processor
Intel® Core™ i7-1165G7
Intel® Core™ i7-1165G7
RAM & Speed
8GB
16GB
Storage
512GB PCIe SSD
1TB PCIe SSD
GPU
Intel® Iris Xe Graphics
Intel® Iris Xe Graphics
KB
Backlit ErgoLift
Backlit ErgoLift
WiFi/Audio/ Streaming Features
WiFi 6 (802.11ax) + Bluetooth 5.0
WiFi 6 (802.11ax) + Bluetooth 5.0
OS
Windows 10 Home
Windows 10 Pro
Accessory
Sleeve, Stand, Stylus
Sleeve, Stand, Stylus
Weight
3.46lb
3.57lb
Endless Possibilities with New Tilting ASUS ScreenPad™ 2.0
ZenBook Duo 14 comes with the new tilting ScreenPad™ Plus, a secondary touchscreen that automatically tilts up to an angle of 7°, which reduces glare and reflections for improved readability. It is powered by the new ScreenXpert 2 software, which has been upgraded to make cross-screen multitasking and creativity even easier. Boost your productivity with the built-in apps, and revolutionize your creative workflows with the exclusive new Control Panel app.
Experience the Ultimate Productivity
ASUS ScreenPad™ Plus gives you on-the-go computing like you've never experienced before. It's a full-width 4K secondary touchscreen that works seamlessly with the main 14" FHD touchscreen, giving you endless ways to optimize and personalize your workflow. Drag an app or window onto the App Switcher icon to launch the app on ScreenPad™ Plus for multi-window experience. Use Window Flick to move apps between the two screens by flicking the top of an app to send it instantly to the other screen. Maximize your viewing experience by dragging an app onto the ViewMax to extend your screen to secondary display. Drag apps or Windows on ScreenPad™.

Redefine the Way You Work
With built-in ScreenPad™ Plus functions, your two displays now work seamlessly together – adaptive apps, lots of handy tools and effortless window management. ScreenPad™ Plus is ultimate enhancement for your creative workflow. Use Touchpad Mode to turn ScreenPad™ Plus into a large full-width touchpad temporarily with a three-finger tap. Customize the multi-screen setups that you use the most and access with quick tap on Task Group icon. Tap the App Navigator icon to view all open apps or windows on ScreenPad™ Plus – launch, close or move app or window onto main display.

Customize Your Workflow with Control Panel
Control Panel is an exciting new tool that gives you precise and intuitive control over your creative apps. With Control Panel, you can easily change brush size, change saturation, adjust layer opacity, and much more. Four types of control are available – Dial, Button, Slider, and Scroll – and each work in a different way to help smooth your creative workflow. Control Panel works with Adobe Photoshop, Lightroom Classic, Premiere Pro and After Effects.
Designed for Creators
ScreenPad™ Plus gives you effortless app multitasking, and we work closely with third-party developers – including professional video-editing software developer Corel®, with more to come – to optimize ScreenPad™ Plus for the ultimate productivity. ScreenPad™ Plus is your gateway to endless possibilities.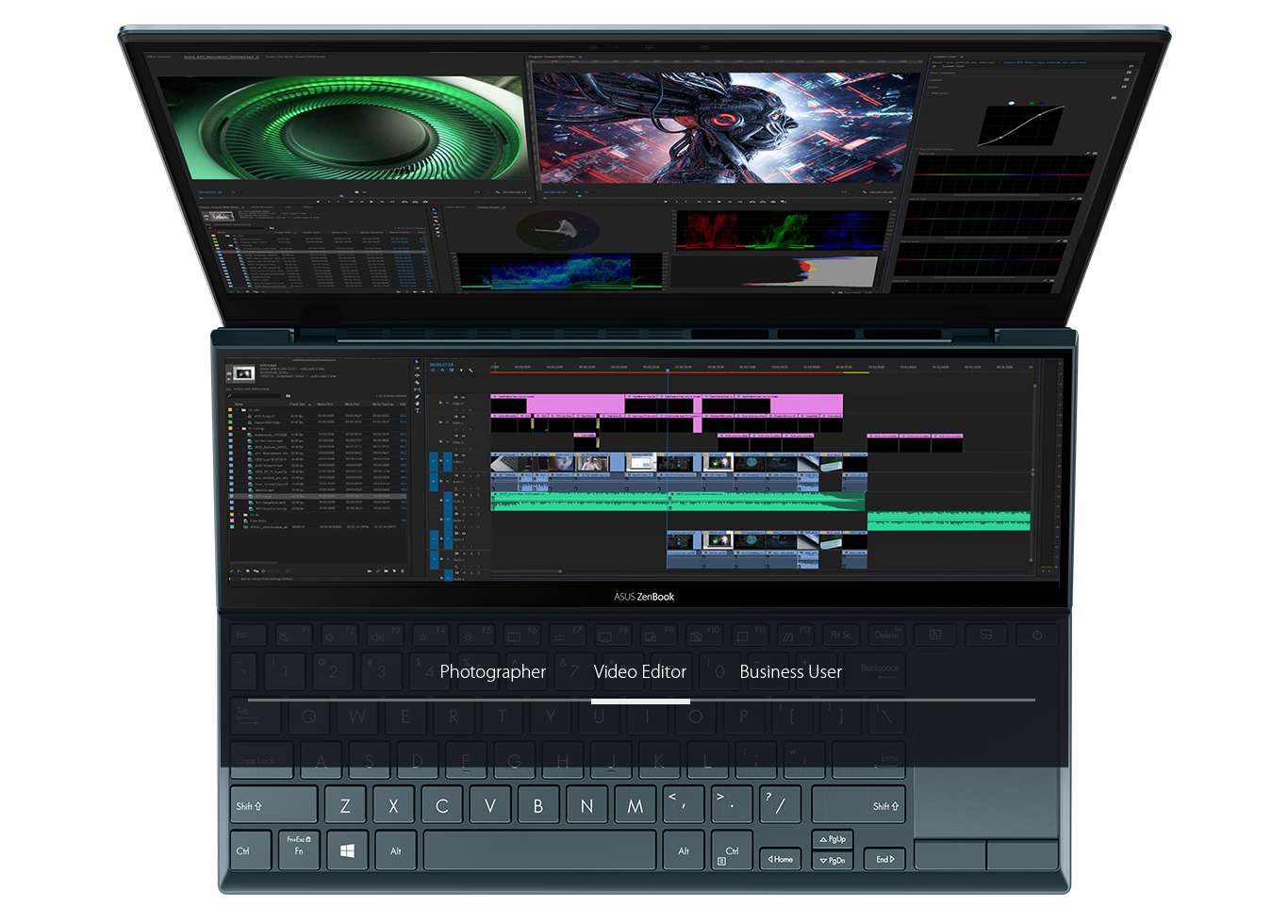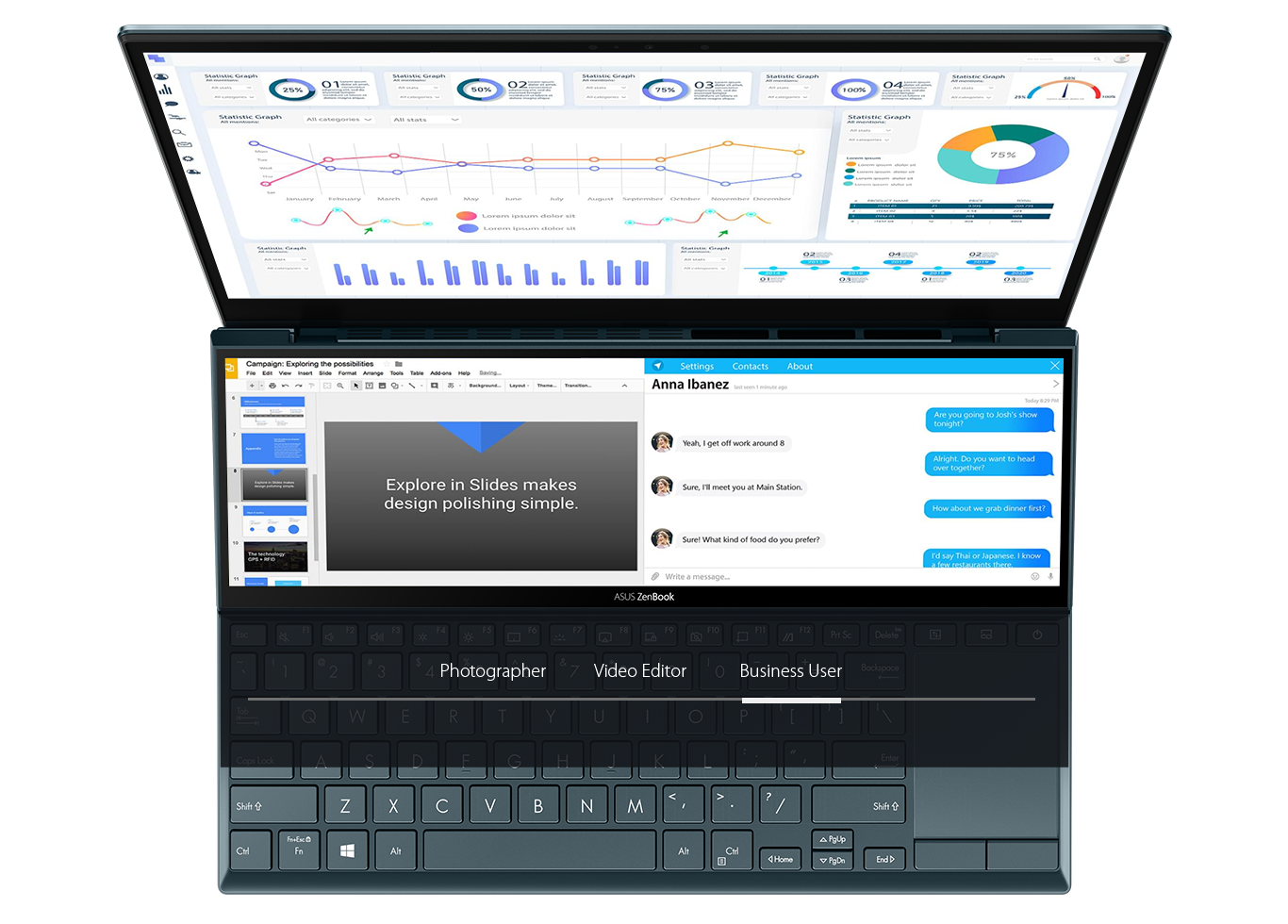 Two Seamless Displays
ZenBook Duo 14 gives you a superbly immersive viewing experience, with a four-sided frameless NanoEdge display that's super-bright – up to 400 nits – and has ultraslim bezels for an expansive 93% screen-to-body ratio. It's also PANTONE® Validated for professional-grade color accuracy, and TUV Rheinland-certified for low blue-light emissions, it's comfortable to use for long creative sessions.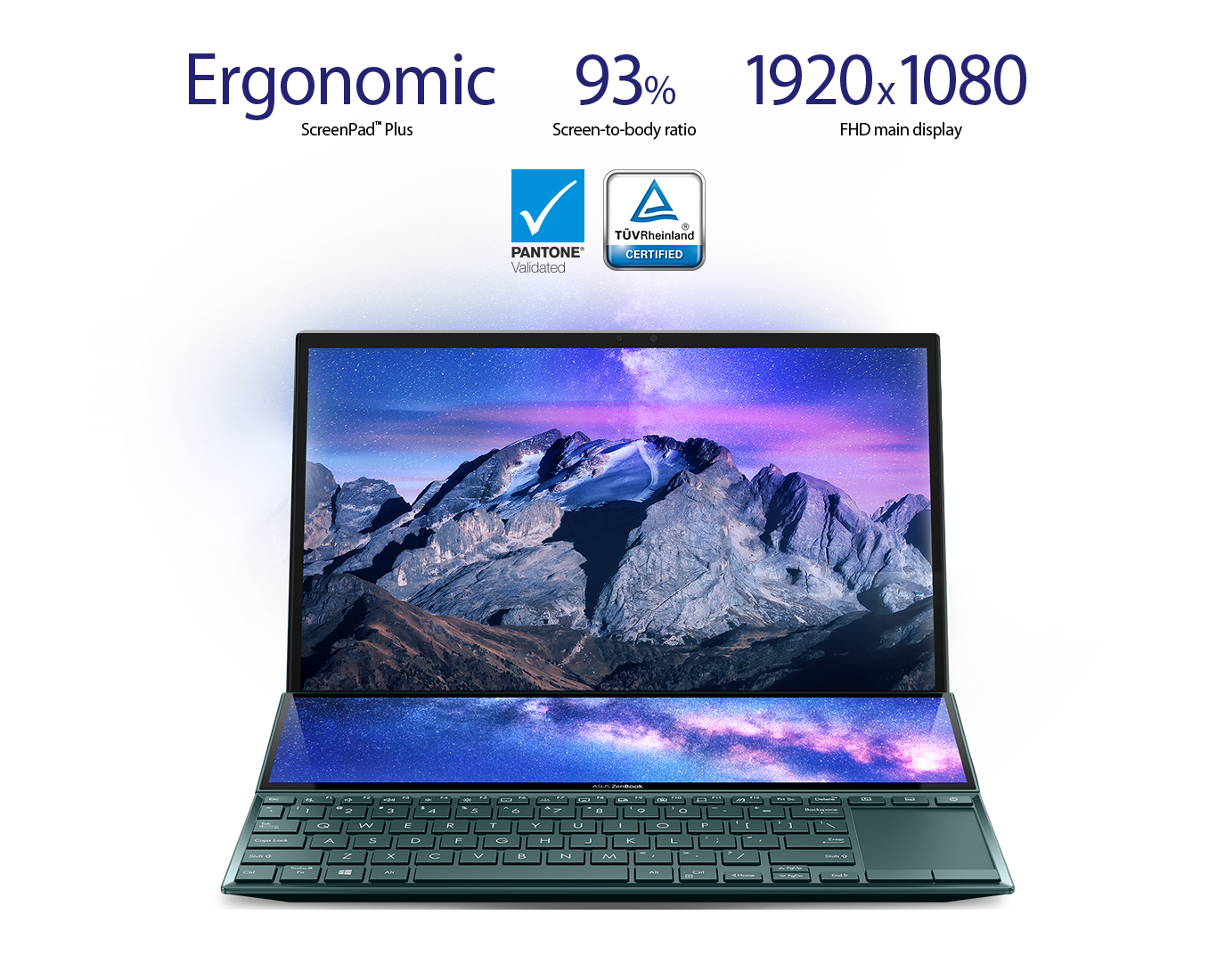 Next-Generation Connectivity
For easy connections to peripherals, ZenBook Duo 14 has comprehensive high-performance I/O capabilities including a pair of the latest Thunderbolt™ 4 USB-C® ports. These support Power Delivery and DisplayPort, and the 40 Gbps bandwidth lets you connect an external 8K display or two 4K UHD displays. ZenBook Duo 14 also includes WiFi 6 (802.11ax), enhanced with ASUS WiFi Master Premium technology, so you can easily create and share on the go.