Crucial X8 Portable SSD
Best for:
Creatives, Console Gaming, On-the-Go Computing
1TB
2TB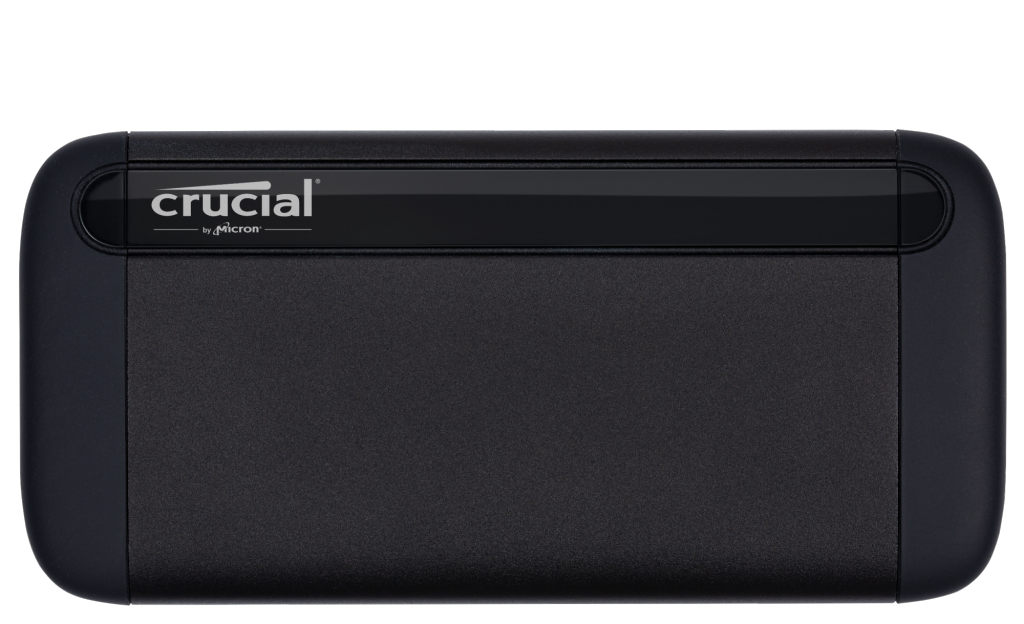 Up to 1050MB/s
500GB to 2TB Capacities
Size: 110mm x 53mm x 11.5mm
Weight: 97 grams
Drop-proof up to 2 meters
USB-A adapter included.
Metal Enclosure
Crucial Goes Portable
We've been working hand in hand with Micron to build award-winning internal SSDs for over ten years. Now, we've carried our expertise outside the computer with the Crucial family of portable SSDs. Never leave your files, backups, movies, games or photos behind with up to 2TB of storage. Our portable drives are up to 7.5x faster than traditional hard drives. They work with a wide variety of devices and protect your files with a sleek and durable design.

So, whether you're downloading videos for off-line travel, organizing family photos, collaborating with classmates, or heading off on your next great adventure, our portable SSDs are ready to go wherever you do.
Your Memories,
Stored Your Way
Safeguard photos and videos for peace of mind.
Crucial's portable SSDs have enough room to backup and protect up to 10,000 photos, 50 hours of video, 3,000 songs, or 200GB of documents with room to spare. The durable X6 and X8 are shock, vibration, and extreme temperature resistant, and have been tested to withstand a drop up to 7.5 feet (2.2 meters).
Your Movies,
Stored Your Way
Hours of entertainment, no internet required.
No Wi-Fi? No problem. With the Crucial X6 and X8, you can fit over 50 hours of your favorite movies and entertainment in your pocket. Our light-weight portable drives weigh less than your car keys. Transfer movies up to 7.5x faster than traditional hard drives. Connect your drive to a tablet or laptop and enjoy hours of entertainment.
Your Games,
Stored Your Way
Skip the wait, get in the game faster.
Ditch old, bulky hard drives with the Crucial X8 – it's up to 7.5x faster than old school HDDs and you can play your games straight from the drive. When your console needs more room for the latest titles, Crucial's portable SSDs help you expand your library without deleting your old favorites. With read speeds up to 1050MB/s and capacities up to 2TB, the X8 has speed, space, and style to spare.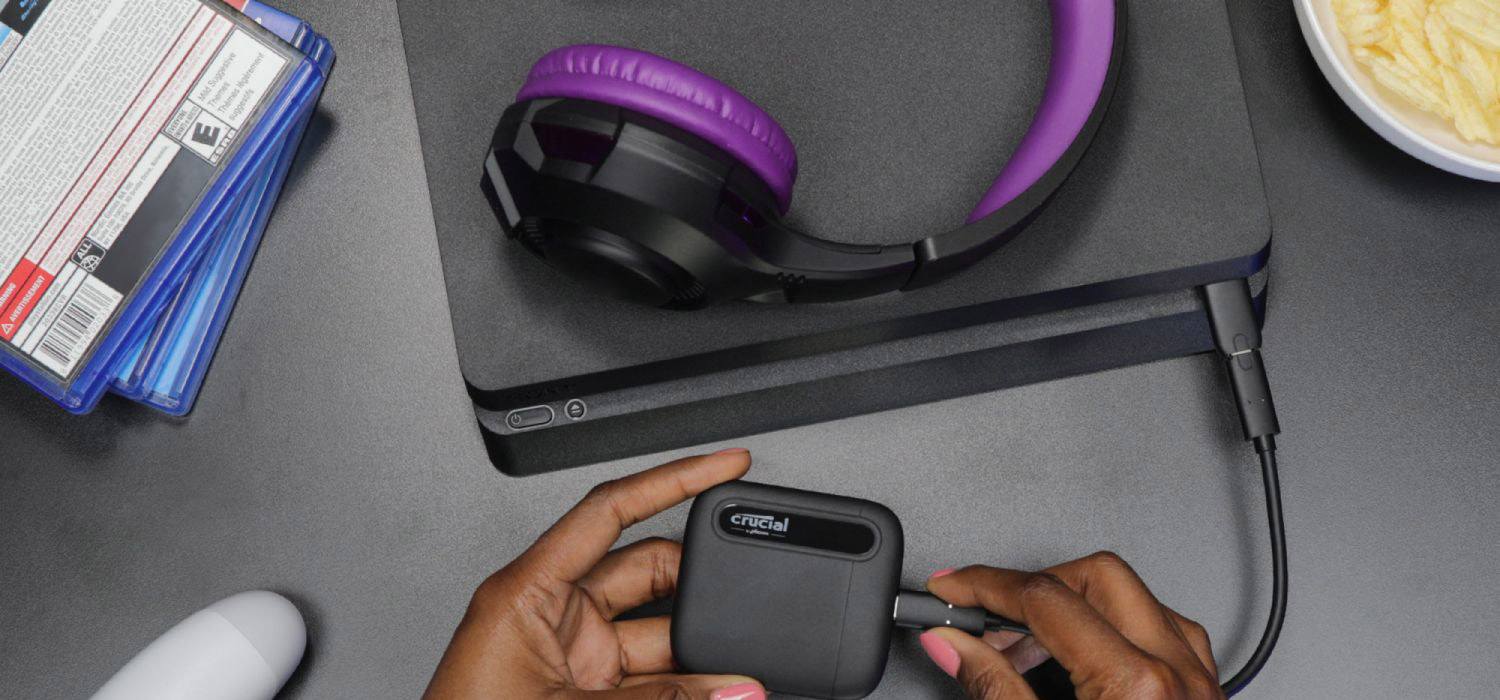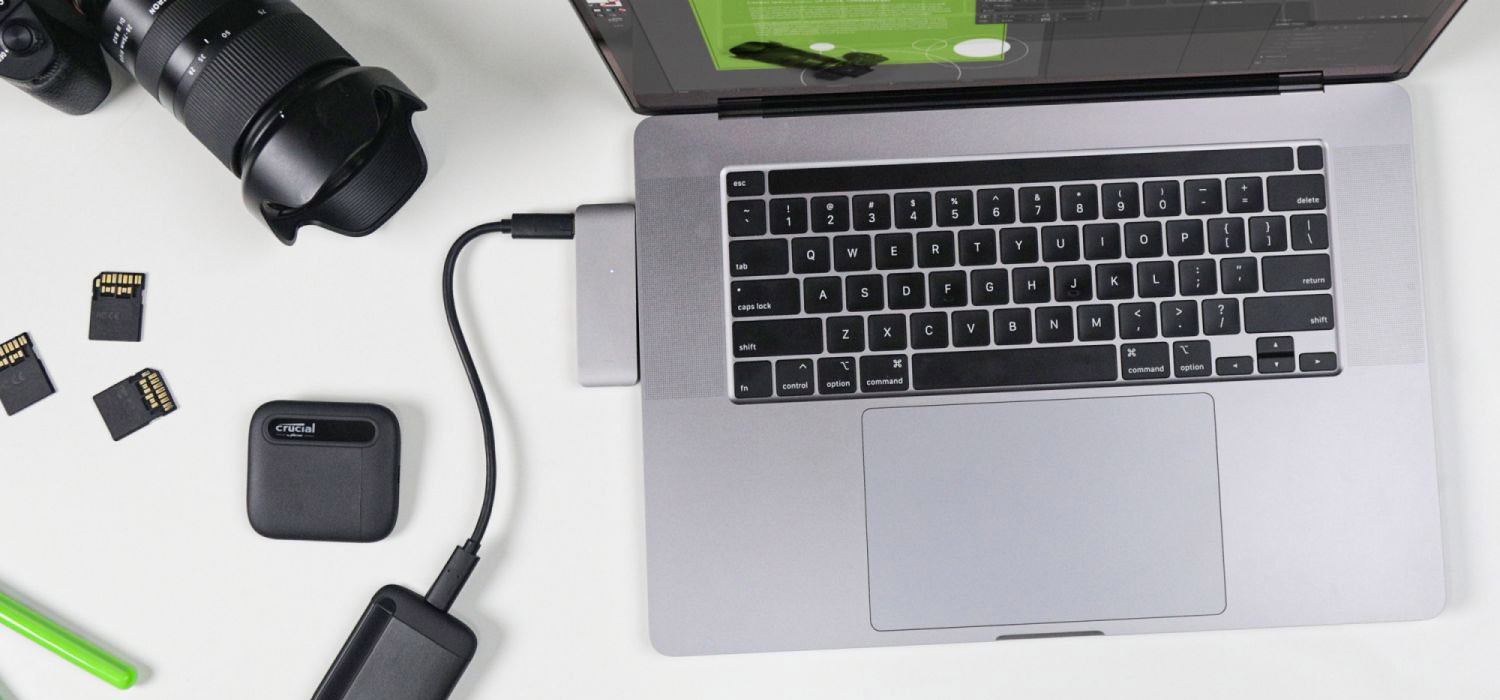 Your Creativity,
Stored Your Way
Create and edit straight from the drive.
Editing photos and videos? Or maybe you have a passion for scrapbooking and illustration. Crucial portable SSDs enable you to create, edit, and share your best shots and clips in real-time straight from the drive. Not only that, it's fast – in fact, up to 100x faster than USB flash drives and up to 7.5x faster than traditional hard drives. With up to 2TB of storage for your Mac or PC, there's plenty of space to create without limitations.