Meet today's storage needs and prepare for the growing demands of tomorrow with the Intel® SSD 660p Series built on Intel® QLC 3D NAND technology.
The Intel® SSD 660p is the first QLC-based client PCIe SSD in the industry, continuing Intel's leadership in flash cell technology and quality manufacturing.
Features At-a-Glance

Model Name
 Intel® Solid State Drive 660p Series
Capacity (GB)
512, 1024 (1TB), 2048 (2TB)
NAND Flash Memory
64-Layer, QLC, Intel® 3D NAND Technology
Performance3
Sequential Read: Up to 1,800MB/s, Sequential Write: Up to 1800MB/s
Random 4KB Reads: Up to 250,000 IOPS, Random 4KB Writes: Up to 250,000 IOPS
Interface
PCIe 3.0x4, NVMe
Form Factor, Height, Weight
80mm M.2 2280, S3, <10 grams
Power Consumption
Active: 100mW, Idle: 40mW
Operating Temperature
0° C to 70° C
Warranty
5-Year Limited Warranty
PERFORMANCE AND
VALUE BUILT-IN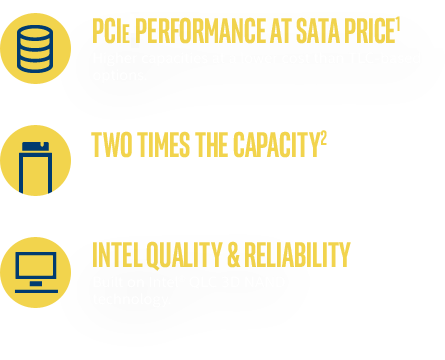 More Capacity
More Value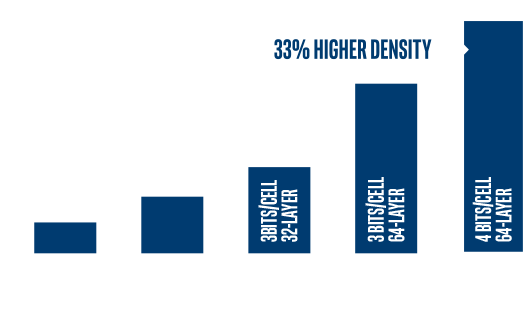 The Intel® SSD 660p Series packs up to 2x more data capacity in identical footprints, while achieving faster read performance and lower power consumption.2
QLC technology makes this SSD the perfect fit for everyday computing. This is the future of storage empowered by Intel's innovation.
1 Intel® SSD 660p 512GB vs Intel® SSD 545s 512GB ($109.99) Source: Intel.com
2 2x more capacity in identical footprints based on specification comparisons between the Intel® SSD 660p (up to 2TB) and Intel® SSD 600 (up to 1TB)
3. IOMeter Test and System Configurations: Intel® Core™ i7-8700K @ 3.70GHz, Gigabyte motherboard, NVIDIA® Geforce 2109.18.13.4195, BIOS: AMI P1.90, Chipset: Intel® INF 10.0.20.0, Memory: 16GB (4x4GB) Corsair DDR4-2400, Microsoft® Windows 10 Enterprise 64-bit using native NVMe storage driver. Performance values vary by capacity.

Intel technologies' features and benefits depend on system configuration and may require enabled hardware, software, or service activation. Performance varies depending on system configuration. No computer system can be absolutely secure. Check with your system manufacturer or retailer to learn more.
Intel disclaims all express and implied warranties, including without limitation the implied warranties of merchantability, fitness for a particular purpose, and non-infringement, as well as any warranty arising from course of performance, course of dealing, or usage in trade. The benchmark results may need to be revised as additional testing is conducted. The results depend on the specific platform configurations and workloads utilized in the testing, and may not be applicable to any particular user's components, computer system or workloads. The results are not necessarily representative of other benchmarks and other benchmark results may show greater or lesser impact from mitigations.
Tests document performance of components on a particular test, in specific systems. Differences in hardware, software, or configuration will affect actual performance. Consult other sources of information to evaluate performance as you consider your purchase. Software and workloads used in performance tests may have been optimized for performance only on Intel microprocessors.
Intel, the Intel logo, and Xeon are trademarks of Intel Corporation or its subsidiaries in the U.S. and/or other countries.
Other names and brands may be claimed as the property of others.