The Marvel's Avengers Collector's Edition Packaging Has Arrived
Bring home exclusive Marvel's Avengers packaging designed by world-famous painter/muralist Tristan Eaton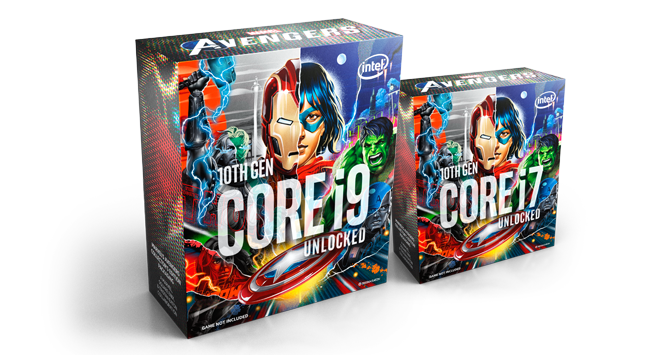 Intel® Core™ Desktop Processor featuring
Marvel's Avengers Collector's Edition Packaging


Powering a Mighty
Collaboration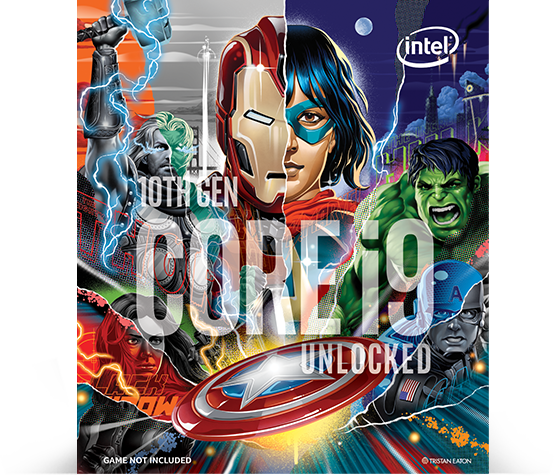 Since his early days skating around London, from comic bookstores to modern museums, lifelong Avengers fan & painter/muralist Tristan Eaton has always been drawn to two things: the Marvel Universe and exploring the intersection of pop culture and high art. Excited to tap into his passions, he applied his signature graffiti and collage artistic style to the world's best known Super Heroes, creating a custom piece of art, exclusively for Intel. And now, you can enjoy Tristan's Marvel's Avengers artwork when you pick up an Intel® Core™ Desktop Processor featuring Marvel's Avengers Collector's Edition Packaging.
Bring Marvel's Avengers to Life with In-Game PC Optimizations, Powered by Intel
ENHANCED ENEMY DESTRUCTION
You want more destruction with your Super Heroes? You've got it. With a high-end Intel-powered PC, you can finally see exactly how much more damage these kinds of awesome abilities can deal. More armor shards, in more detail, with more destruction, flying in more pieces and places. As you see the fallout from every powerful blow, stomp, blast or smash, you'll always feel like you are in the thick of the action, making every battle experience one you won't soon forget.
SUPER-CHARGED HEROICS
You've never seen Earth's Mightiest Heroes battle like this before. By optimizing the game engine to take advantage of Intel hardware and features, each Heroes signature moves are richer and more engaging. With each hammer throw or Hulk-sized smash, a high-end Intel processor lets you see the full effect of the force and shockwave of the Avengers strength ripple across the screen. More detailed rubble and debris fly everywhere and stay on screen longer, making you feel and look as powerful as a Super Hero should.
REACTIVE WATER SIMULATION
Even the water looks better on a high-end Intel powered processor. With the optimal balance of cores, threads and frequency, any interaction with water becomes a richer, more responsive experience.