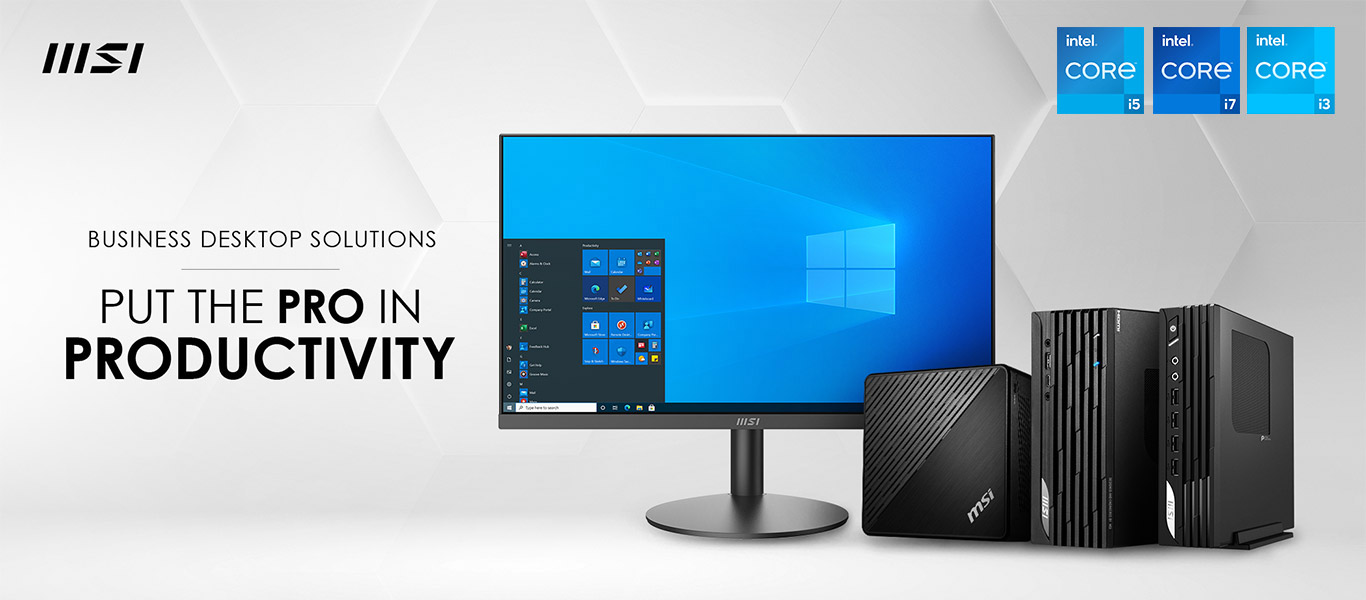 Reliable and Efficient
Business requires reliable hardware with low maintenance needs. We've redefined every single step of our quality testing process from the factory to your hands to ensure your MSI systems stay up and running to serve you better and longer. MSI offers reliable solutions for a variety of users ranging from business enterprises to individuals that seek to work more efficiently.

PRO AP241 11M All-in-One PC is equipped with an eye-care IPS panel meshed with strong computing performance to provide you the best work experience while also protecting your health. The 23.8-inch size, 2 color ways and space-saving design make PRO AP241 the perfect fit for any house or office workspace.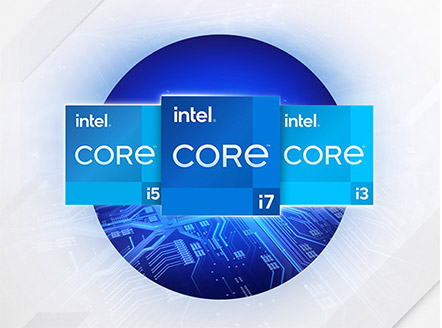 Stable and Powerful
PRO AP241 is compatible with powerful, desktop-grade Intel® Core™ processing with Intel graphics featuring the Intel Xe graphics architecture, enabling users to work more efficiently thanks to multi-monitor support and stunning visuals.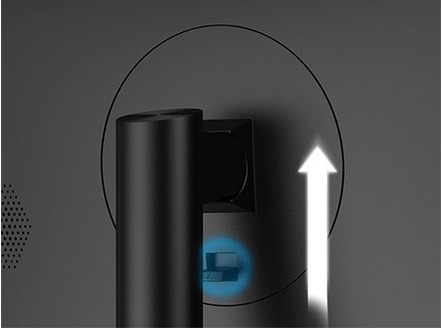 Tool-less Design
Assemble and disassemble the PRO AP241 with just your hands. Other components like RAM and storage are also accessible within the chassis for future upgrades.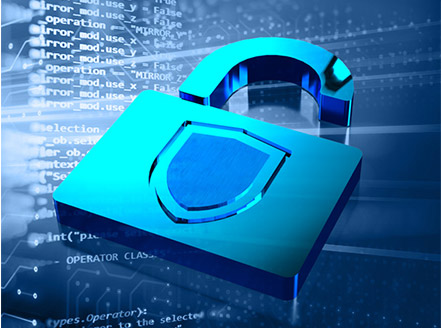 Trusted Platform Module Support
TPM technology is designed to provide hardware based, security-related functions. Store your sensitive data and passwords by using encryption keys for advanced security.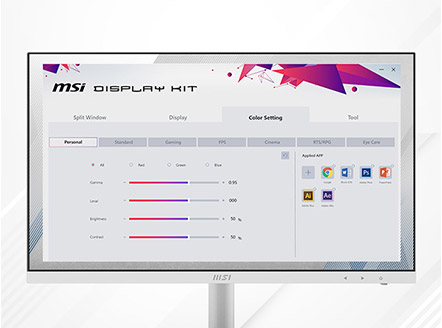 Display Kit Software
The MSI exclusive Display Kit software provides convenient tools to adjust display & color modes, virtual keyboards, and window configurations among other settings.
SHOP NOW

The PRO DP Series business desktops aim to improve efficiency, stability, and flexibility for commercial spaces. Ready for various scenarios, PRO DP Series desktops can fit many computing roles like restaurants, offices, schools, and even the healthcare industry. The Intel-based PRO DP21 and AMD-based PRO DP20Z are sure to offer any business a reliable and easy-to-use computing solution.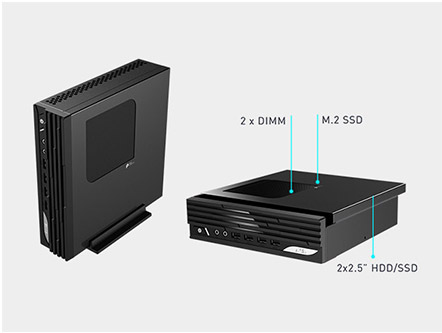 Easy Maintenance
Both the PRO DP20Z and PRO DP21 use Desktop-grade processors and provide easy access to the M.2 and 2.5" SSD expansion slots in addition to the RAM. This reduces downtime and increases the potential lifespan of the device, perfect for handling critical tasks.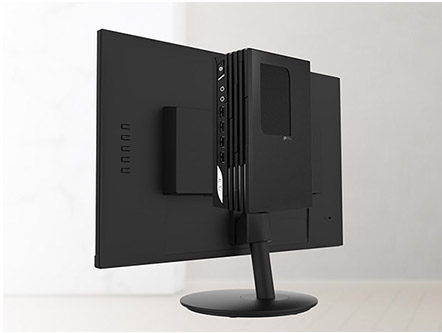 VESA Mount Support
The VESA Mountable design allows users to attach the PRO DP20Z and PRO DP21 anywhere they like, letting them make good use of their space in their home or work environment. Both devices can be set vertically or horizontally depending on their use case.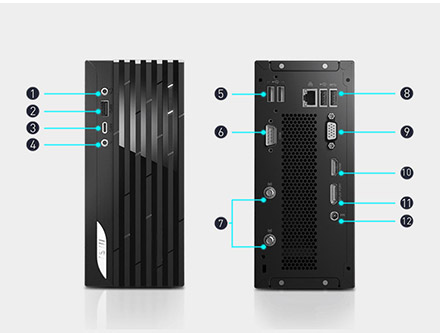 Various I/O Ports
With a various array of I/O ports, connect all necessary devices at the same time for improved multi-tasking to make work more efficient.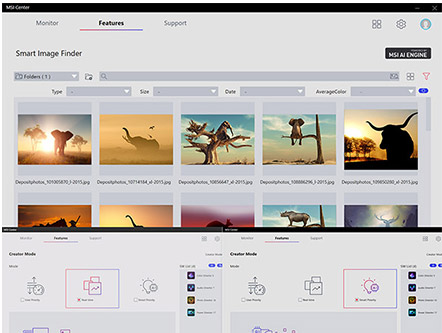 MSI Center
MSI Center software takes optimization to the next level using A.I. to help prioritize and allocate resources, accelerating the performance of software that you work with every day.
SHOP NOW

Flaunting a modern, cube-like design that fits in the palm of your hand, the aptly named Cubi series mini-PC lineup consists of the Cubi 5 10M and Cubi N. These versatile computers are perfect to rest deskside or flush against the backs of monitors and support dual monitor use, helpful for viewing multiple web pages and programs simultaneously.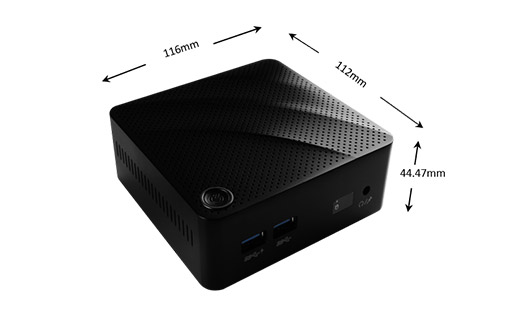 Palm-Sized PC
Smaller than a lunchbox and with less volume than a large soda can, MSI Cubi N is the smallest mini-PC of its kind. With a 0.45-liter case that still provides all the elements of a desktop-worthy PC.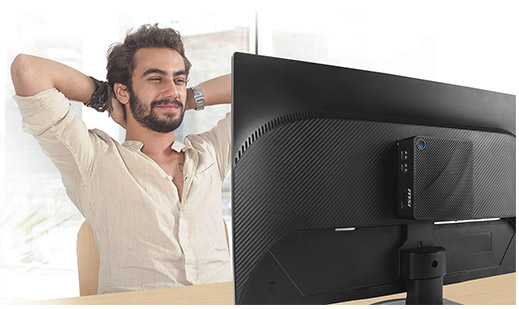 Mountable to a Monitor
Cubi N is designed in a mini size that supports standard VESA-mounting. Mount the Cubi N to the back of a monitor and make the PC completely invisible.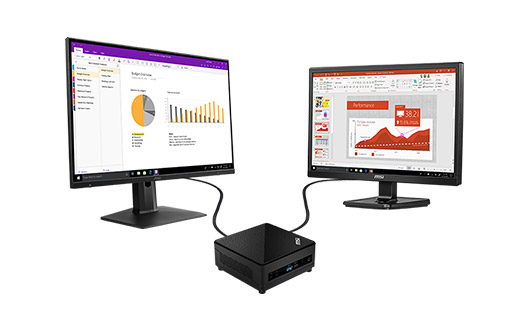 Do more work simultaneously.
Are you looking at a lot of webpages and applications on a small monitor? With the HDMI and DP ports, MSI Cubi 5 can support dual monitors, so you can do and view more.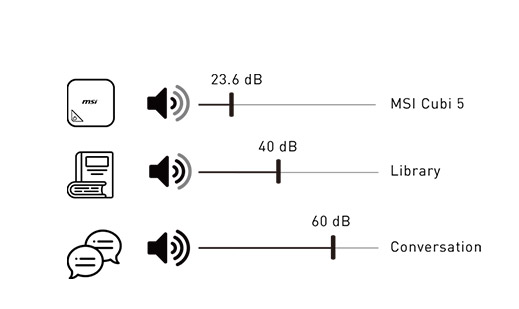 Quiet, Energy-Efficient Design
MSI Cubi 5 has an excellent thermal design and low noise fan, resulting in a low noise level of only 23.6 dB in idle mode.
SHOP NOW